This post may contain affiliate links, which won't change your price but will share some commission.
Thanks to Terlato Wines for sending over a copy of Katie Workman's Dinner Solved! and a bottle of Greystone Cellars Merlot to pair with this recipe. As always, all opinions are 100% my own.
There's nothing like a simple, delicious meal that pleases the whole family. Even the picky eaters less adventurous members of the family. And that's something that Katie Workman really focuses on in her book, Dinner Solved!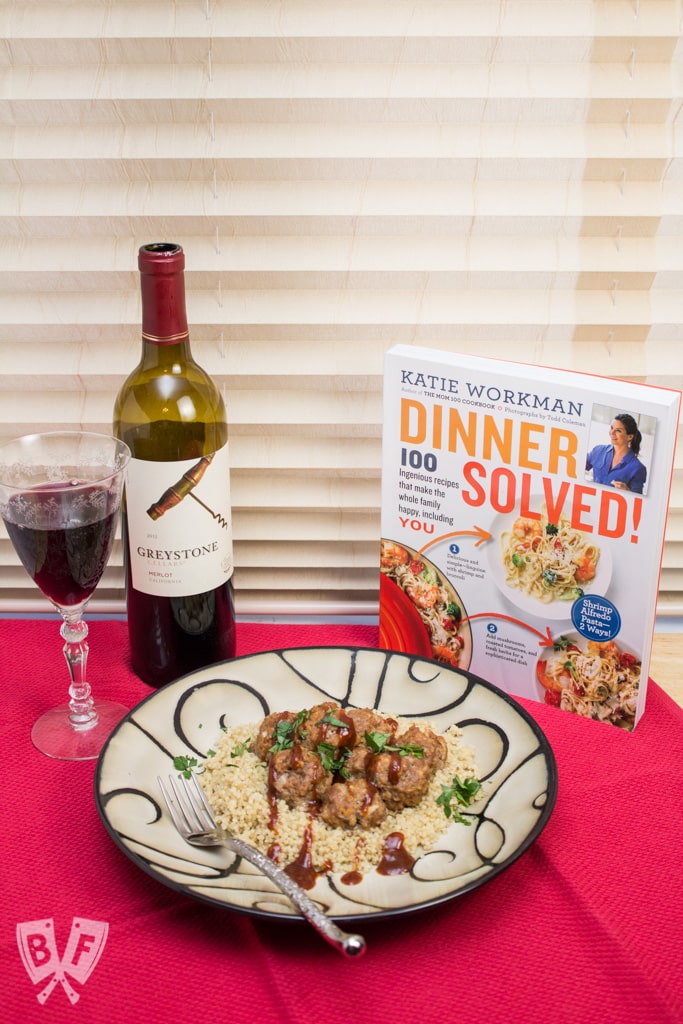 With summer vacation, birthday parties, work deadlines and lots of travel, this book couldn't have come to me at a better time. It took a lot of the stress of meal planning out because the recipes are all so versatile and easy to adapt for the whole family to enjoy.
This cookbook is thoughtful and well organized, and Workman's point of view and voice are friendly and encouraging throughout. I really appreciate the call outs that are repeated throughout, such as sidebars that show what parts of the recipe kids can help with, what can be made ahead of time, and variations to make things vegetarian or vegan-friendly.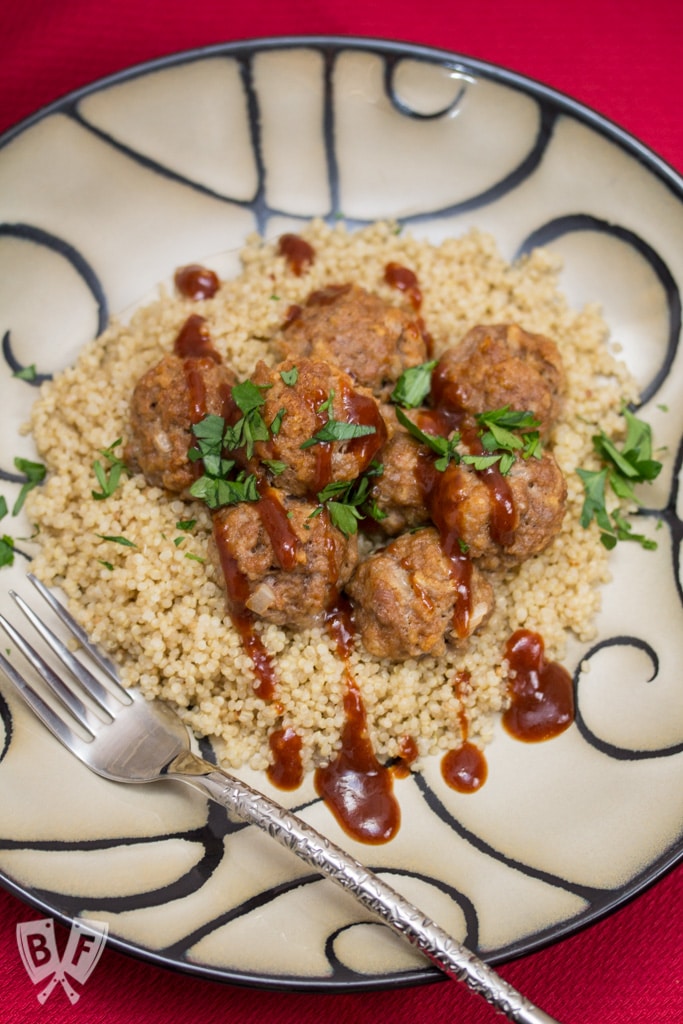 There are also some great tidbits such as a section called Good Items That Jack Up the Flavor or the Interest in a Dish and helpful information on less mainstream ingredients (my favorite is called Kohlrabi: The UFO of Root Vegetables).
Her Fork in the Road concept is totally rocking my world (and my dinner table)! For instance with this meatball recipe, you can make a few simple swaps to the full (or partial) recipe to make it a spicy if you're craving a bit of kick. The Mexican Tortilla Chicken Soup can be bulked up with the addition of black beans and corn to turn all (or part) of the recipe into a heartier stew.
The Skirt Steak with Chimichurri was a huge hit with my family - I divided the sauce in half and added cilantro & jalapeño to the rest so we had 2 different sauces - one for the heat-seekers in my family and one for everyone else. I liked putting some of each on my steak (and it was AWESOME slathered on our grilled sweet potatoes, too!).
The Maple-Barbecue Pork Meatballs were a nice change of pace from the typical Italian-style beef or turkey meatballs that my family tends to gravitate toward. The grated apple helps keep them nice and tender, and the sweetness of the maple syrup works beautifully with the smoky barbecue sauce. And I love that they bake in the oven instead of fussing with pan-frying in batches. Easy peasy.
The wine pairing suggestion for this dish was spot on, too. The rich, smoky, fruity notes worked so well with the smoky/sweet meatballs. And it's always advisable to imbibe in a bit while cooking dinner, too.
Big Flavors: How did you get into cooking?
Katie: I really taught myself to cook from cookbooks.  I loved reading them as a kid.  The Silver Palate was my first favorite and I read it cover to cover, and cooked my way through the book (not quite Julie and Julia style, but close!).My mom was quite a good cook, too, and food was definitely a central part of our home.
Big Flavors: Where do you get inspiration for new recipes?
Katie: Absolutely everywhere.  From prepared foods at a deli counter at a nice supermarket, from a greenmarket, from a restaurant menu, still from cookbooks and food magazines.  I also love it when a friend asks me to make something — you probably saw that the Mexican Tortilla Soup recipe, from Dinner Solved!, was a direct response to my friend Catherine saying she wanted a good recipe for this dish.  I also get inspired by leftovers - I love turning them into something new.  And my kids and my husband — just thinking of what they would really be into.  Or a new appliance, like the Spiralizer.  And I do love to cook with the seasons.
Big Flavors: What is your favorite comfort food?
Katie: Difficult question.  Our go-to-family comfort food is turkey tacos.  My sons love rice and beans.  I crave sushi morning noon and night, which is one of the few things I don't make myself.  Popcorn, always.
Big Flavors: What is the last meal you cooked for yourself at home?
Katie: A chicken dish with a Parmesan Fontina sauce laden with spinach, and some soft sundried tomatoes I hauled back from Italy.  Gary and I ate it over more sauteed spinach, the kids ate it over pasta.  I'm making it again for my blog next week.
Big Flavors: Do you have any tips for getting people into the habit of family meals?
Katie: Prep your week!  Find 20 minutes at the beginning of the week and (hopefully with a food processor, my favorite appliance) chops some onions and shallots, mince some garlic, chop some fresh ginger, squeeze some lemons.  then as the week unfolds you've given yourself a leg of on getting that dinner on the table.  And pick a couple of recipes ahead of time, get those ingredients in the fridge, and try not to make a 6:00 run to the supermarket an obstacle to making dinner.
Big Flavors: What are your go-to recipe suggestions (from either of your cookbooks) for days when you're short on time but still want to enjoy a home-cooked meal?
Katie: A lot of people - including me - rely on the Fresh Mozzarella Pasta Casserole from Mom 100.  A jar of vodka sauce, some fresh mozzarella, and a box of pasta.  Done.  Chicken breasts with a pan sauce.  Done.  And again, tacos.
Big Flavors: Since you're a NYC resident, do you have any new or unique food spots to recommend? I'm in Westchester and am down your way quite often.
Katie: You would think as a food person I would have lots of restaurant recs, but I'm almost always cooking!  And when I go out, it's more often than not for sushi.  Chef's Club is a fun experience where the menu changes all the time.  I'm excited to check out the new downtown Eataly, where I always spend too much money.  I just read about the new Deninos  where I want to go, as I am a sucker for a great clam pizza.
Print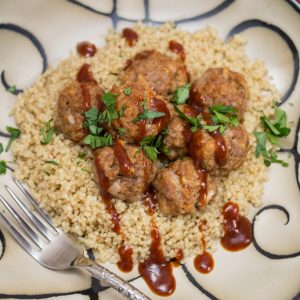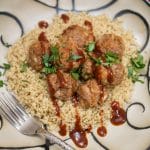 Maple-Barbecue Pork Meatballs
Author:

Prep Time:

20 minutes

Cook Time:

15 minutes

Total Time:

35 minutes

Yield:

6

Serving (makes about

42

small meatballs)

1

x

Category:

Main Dish

Method:

Oven

Cuisine:

American
---
Description
These sweet, comforting meatballs can easily be made spicy if you're craving a bit of kick.
---
Canola or vegetable oil, for oiling the pan

¾ cup

panko bread crumbs

½ cup

barbecue sauce, plus more for dipping if you like

½ cup

grated peeled apple

⅓ cup

minced onion

1

large egg, lightly beaten
Kosher or coarse salt, to taste

1 tablespoon

maple syrup, or see the Fork in the Road for a spicy swap-in

1 ½

pounds ground pork
---
Instructions
Preheat the oven to 375°F. Lightly oil a rimmed baking sheet.
Combine the bread crumbs, barbecue sauce, apple, onion, egg, and salt in a large bowl. Add the maple syrup and stir to blend. Add the pork and combine well using your hands, but try not to squeeze the mixture too much. Form 1-inch-round meatballs and place them on the baking sheet.
Bake the meatballs until cooked through, 16 to 20 minutes. Serve hot, with extra barbecue sauce on the side.
---
Notes
Fork in the Road: Spicy Pork Meatballs:
Instead of the maple syrup, add 2 teaspoons chili powder and a pinch of cayenne pepper to the apple mixture. Add the pork, combine, and bake as directed.
To go half sweet and half spicy, divide the panko mixture at the beginning of step 2 into 2 bowls. Add 1 ½ teaspoons maple syrup and half the pork to one bowl, and 1 teaspoon chili powder, a small pinch of cayenne, and the other half of the pork to the other bowl. Blend, form, and bake as directed (be sure to separate the spicy and non spicy meatballs on the baking sheet).
What the Kids Can Do:
Measure the ingredients, maybe peel and grate the apple, blend everything up, and form the meatballs.
Make Ahead:
The baked meatballs can be refrigerated, covered, for up to 3 days. Reheat briefly in the microwave, or in a 300°F oven for 10 minutes.
Reprinted with permission from Katie Workman
Nutrition
Serving Size:

1

Calories:

376

Sugar:

2.8 g

Sodium:

144 mg

Fat:

21.1 g

Carbohydrates:

12 g

Fiber:

5.2 g

Protein:

35.2 g

Cholesterol:

0 mg
Keywords: meatballs, kids cooking, spicy meatballs, pork
Recipe Card powered by
Thanks again to Katie for taking the time to chat! You can learn more about her over at The Mom 100 or follow her on Facebook, Instagram, Pinterest and Twitter.