This post may contain affiliate links, which won't change your price but will share some commission.
We had a bit of thinly sliced zucchini and yellow squash leftover from when we made Ratatouille, and I thought it would be great simmered in with some grape tomatoes for a nice pasta dinner.
The sauce turned out wonderfully! It was a bit sweet from the tiny tomatoes, tangy from the balsamic, and had a little kick from the red pepper flakes. It went especially well with a batch of My Favorite Garlic Bread and a glass of red wine. It was most definitely Italian husband approved 🙂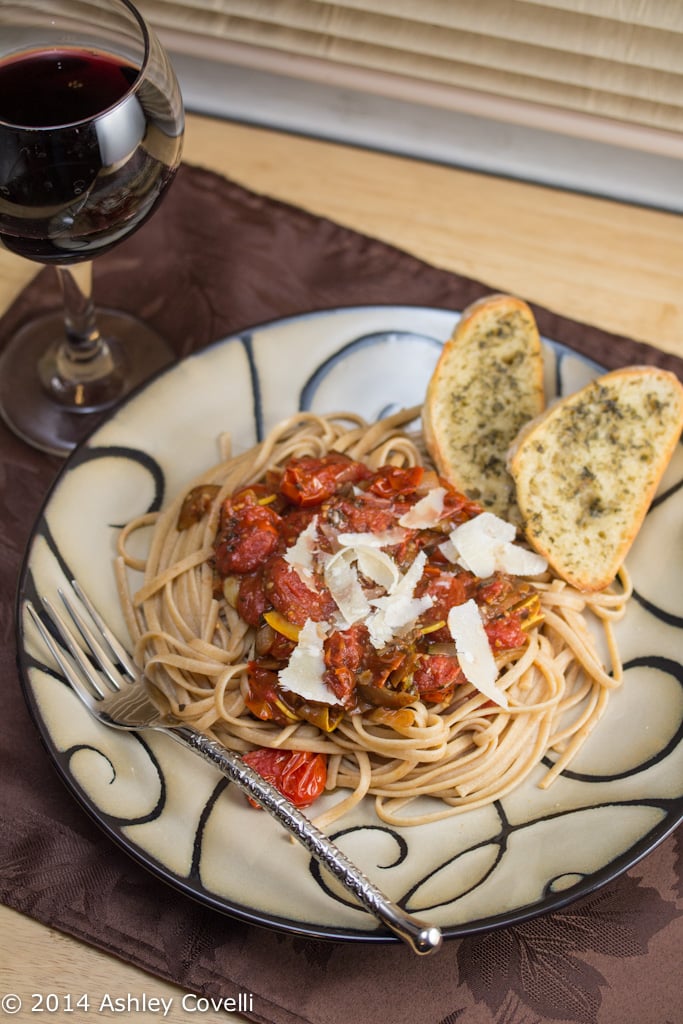 Linguine with Tomato and Summer Squash Sauce
Big Flavors from a Tiny Kitchen – Ashley Covelli
Serves 4
2 tablespoons extra virgin olive oil
1 medium yellow onion, diced
3 cloves garlic, minced
1 teaspoon dried oregano
1 teaspoon dried basil
1 teaspoon dried parsley
1 teaspoon dried savory
Pinch of red pepper flakes
4 cups grape or cherry tomatoes
½ cup zucchini, quartered and thinly sliced
½ cup yellow squash, quartered and thinly sliced
Kosher salt and freshly cracked black pepper, to taste
⅓ cup balsamic vinegar
For serving:
12 ounces whole grain linguine*
Freshly grated Parmesan cheese (optional, but highly encouraged!)
Heat oil in a large, non-stick skillet over moderate heat. Add onion and garlic and sauté until tender. Add oregano, basil, parsley, savory and pepper flakes and stir to combine. Cook for 30 seconds, until fragrant. Add tomatoes, zucchini and squash and season with salt and pepper. Stir well and let cook for a few minutes. Add balsamic vinegar and stir.
While the sauce is reducing, cook linguine according to package instructions, making sure to reserve a bit of the pasta water.
As the sauce reduces, the tomatoes will start to pop and melt down into the pan. You can help them on their way a bit by pressing gently (and carefully so you don't squirt molten hot tomato juice anywhere!) down with the back of your spoon/spatula. If you find that the sauce is a bit thick, add in a ladleful of the starchy pasta water, and continue to cook.
The sauce is ready when the tomatoes have all burst and everything holds together. Feel free to reduce it further if you like a thicker sauce, or add more pasta water to think it out if you'd like. It should take 30-45 minutes total.
Stir a bit of the sauce into the drained pasta, to keep it from sticking together. Serve linguine with a healthy dose of sauce on top. Garnish with Parmesan cheese and enjoy!
*Optional: use Gluten Free
Big Flavors Rating: 4 Stars