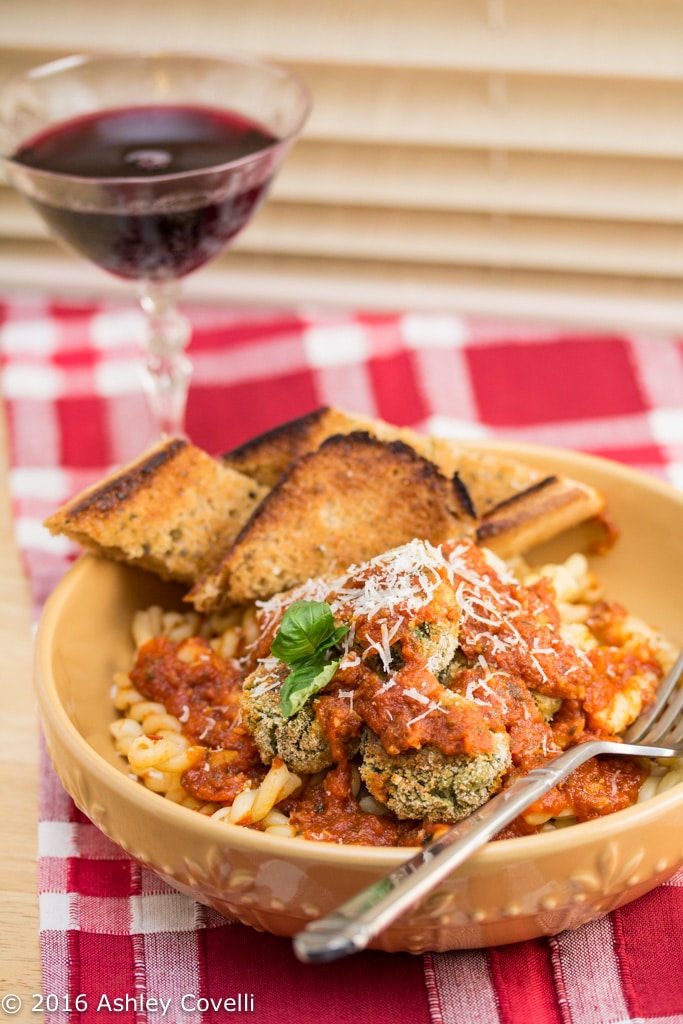 Italian-Style Veggie Polpette
This post may contain affiliate links. Thank you for supporting the brands that keep me creative in my tiny kitchen!
This is part 2 of a feature on Hilltop Hanover Farm & Environmental Center in Yorktown Heights, New York. You can find part 1 here.
Farm fresh veggies and herbs are blended with 2 types of beans to form this delicious, meat-free spin on meatballs. Perfect for Meatless Monday!
I brought home some gorgeous greens from the farm along with a jar of Hilltop Hanover's Marinara Sauce (made from their own heirloom tomatoes!) and thought it would be fun to cook up a spin on traditional pasta with meatballs.
The Fordhook chard was so vibrant and delicious – I knew it would be a great addition!
I also used some of the scallions from the farm – it was so cool that these things were in the ground that morning and made their way to my plate that night!
I actually ended up making this recipe twice. I wasn't able to get the texture totally perfect for frying (which was my original idea), but baking was a great alternative.
The first time I made them, I used regular breadcrumbs. The second time I went with panko. Both were good, but the panko definitely made them a little more firm.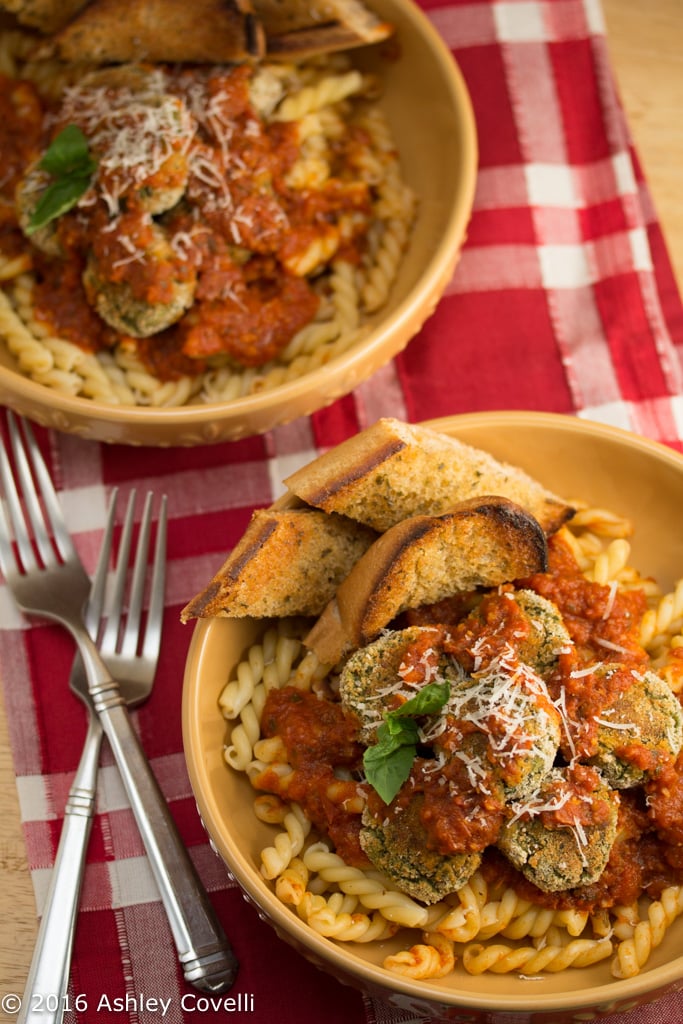 I let my son pick out the pasta that I served this over – he loved the look of gemelli!
And as for the sauce – go with whatever your favorite is. I absolutely fell in love with Hilltop Hanover's marinara – it was just bursting with ripe tomato flavor.
My husband is Italian and he's big on not using sauce straight from the jar. Homemade is preferable, but if he's using a jarred one, he always adds more flavor to it by sautéing garlic and sometimes onion or shallot, a bay leaf and red pepper flakes in oil until the garlic starts to brown before adding the sauce. He lets it reduce for a looooong time, seasons it with salt and pepper and adds red wine for the final 5-10 minutes of cooking time.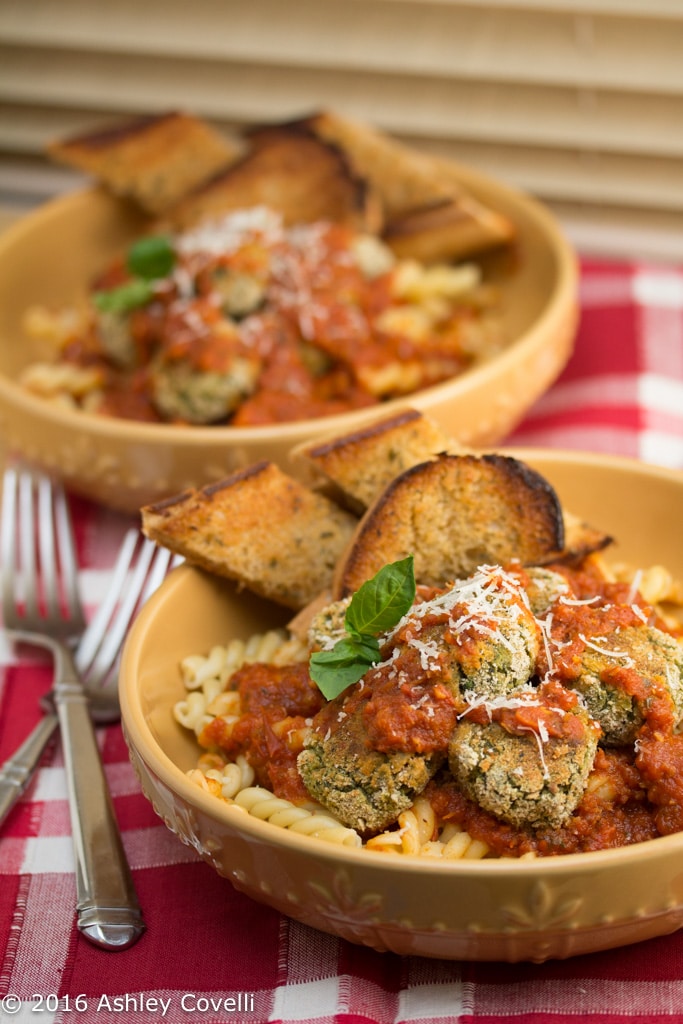 I just told him to trust me with this one – I dumped it right from the jar into the saucepan to warm up, then served it.
It. Was. Perfection.
I'm definitely going to be picking up more the next time I visit the farm. Italian hubby approved!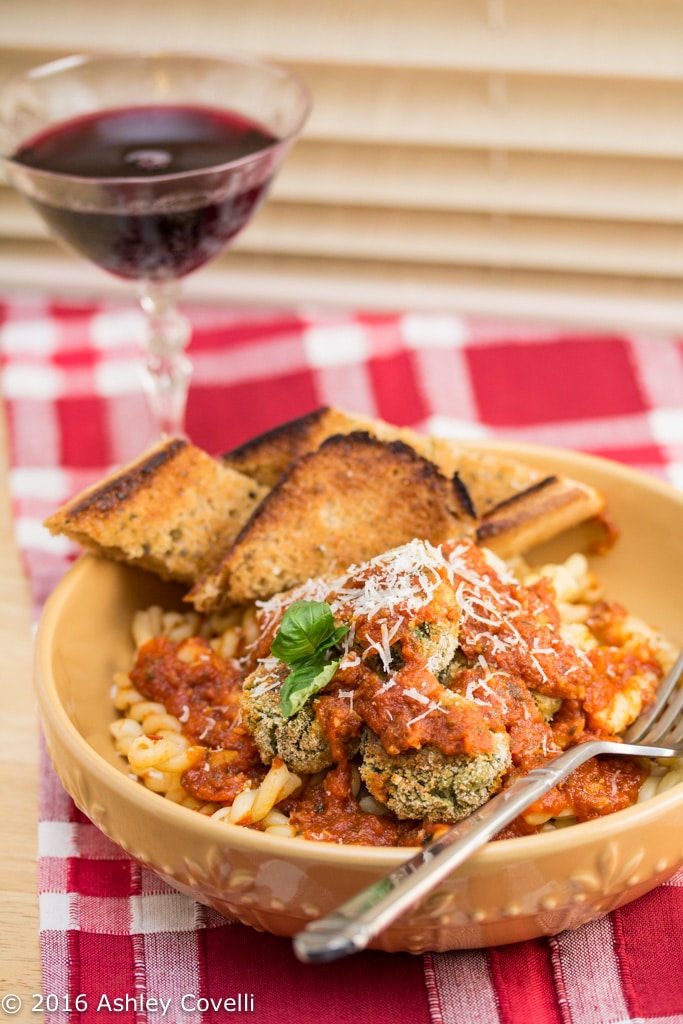 Oh, and I highly recommend serving this with My Favorite Garlic Bread – it's great for dipping into the sauce!
Carbs on carbs… you can't go wrong!
Thanks again to Michelle and Hilltop Hanover for sending me home with so many delicious goodies to cook with in my tiny kitchen!
Print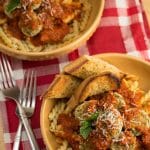 Italian-Style Veggie Polpette
Yield:

4

Servings (about

7

polpette per serving)

1

x
---
---
---
---
Recipe Card powered by