This post may contain affiliate links, which won't change your price but will share some commission.
Break out your pizza stone! This pizza dough can be prepared either 22, 12 or 6 hours in advance.
My mom got me a pizza stone a while back, and I've never used it to make a pizza completely from scratch. It was great for Garlic Naan and for heating up leftover/frozen pizza, but how had I never made my own pizza dough to bake on this beauty?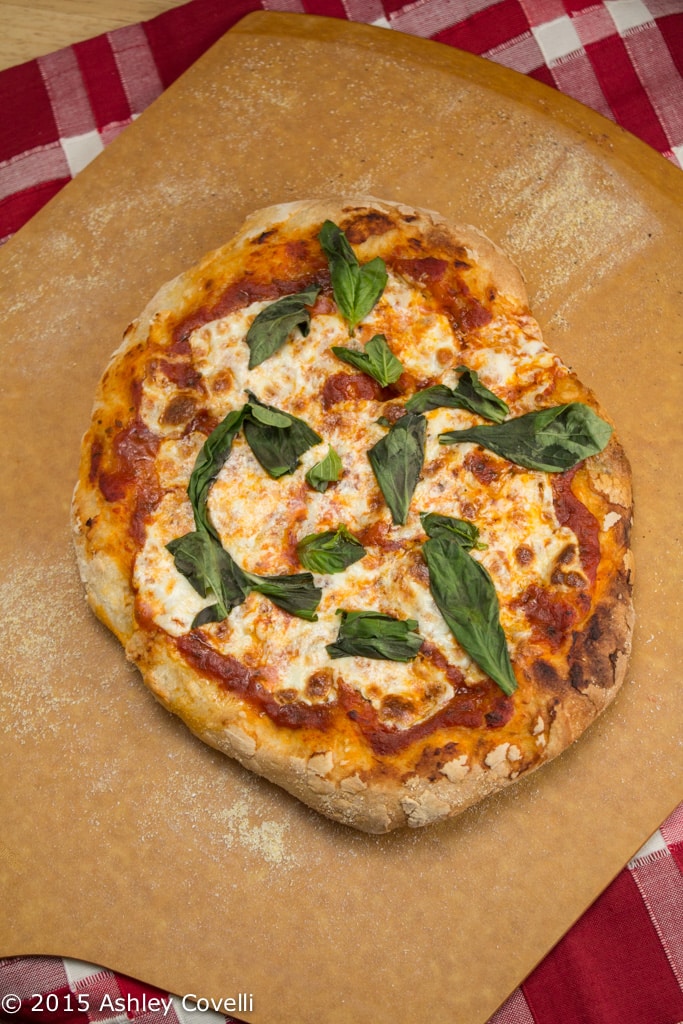 Deb over at Smitten Kitchen had exactly the recipe that I was looking for. I've made this super simple crust twice now, and both times it has been wonderful! It gets nice and crispy on the pizza stone, and looked absolutely beautiful.
I topped my pizza with some jarred pizza sauce, tore some fresh mozzarella over that and drizzled a little extra virgin olive oil over everything. After baking, I scattered fresh basil leaves on top and served it. I can't wait to try out more topping combinations, too!
My Italian husband was majorly impressed 🙂
3 cups (375 grams) all-purpose flour (bread flour works too)
Slightly heaped ⅛, ¼ or ½ teaspoon active dry yeast (for Overnight, All-Day, or Part-Day Schedules respectively, above)
1 ½ teaspoons sea or kosher salt
1 ¼ cup water, plus an additional tablespoon or two if needed
Head to Smitten Kitchen for the full recipe.