This post may contain affiliate links, which won't change your price but will share some commission.
I set out to make an Indian feast for dinner, and I wanted to make some naan to go with the Lamb Rogan Josh that I had planned. I've made Malabar Parantha in the past, but never naan. I picked this particular naan recipe for a few reasons. First of all, I had some buttermilk that I wanted to use up. Secondly, I've been following Jen's blog, Beantown Baker for yeeeeears now, and she loved this one. Also, I really love garlic and my mom gave me a pizza stone for my birthday, and I wanted to finally give it a try. Win/win/win/win! This takes a bit of time to come together, because it needs to rise, but it's totally worth it for any garlic lover. I think I rolled them a little too thick, but they were wonderful! They were great for sopping up the sauce from the curry. I even got a nice bread bubble on one of them from when it was baking. Yum!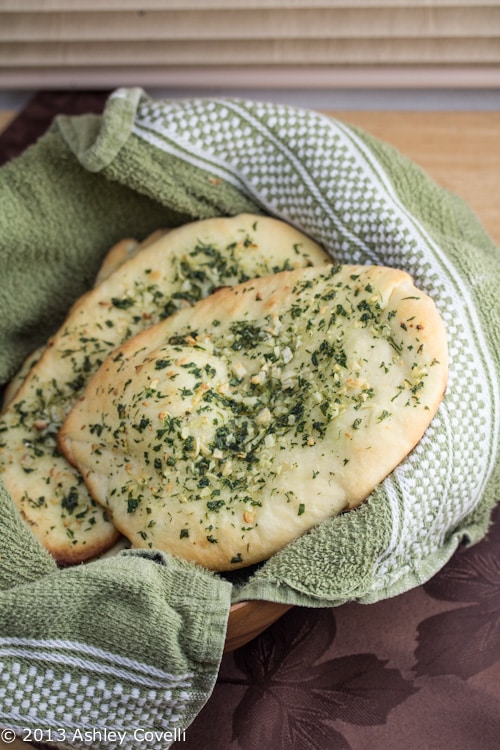 Garlic Naan
Beantown Baker adapted from The Joy of Cooking
YIELD: 4
ingredients:
2 cups bread flour
½ teaspoon salt
1 ⅛ teaspoons active dry yeast
¾ cup yogurt or buttermilk, at room temperature
2 tablespoons butter, melted, or vegetable oil
1 teaspoon to 1 tablespoon water, as needed
2 tablespoon butter, melted
6 cloves garlic, minced
¼ cup chopped cilantro
4 cloves garlic, minced
directions:
Combine the bread flour, salt, and active dry yeast in a large bowl or the bowl of a heavy-duty mixer.
Add the yogurt, butter, and water.
Mix by hand or on low speed until a soft ball of dough is formed. Knead for about 10 minutes by hand or with the dough hook on low to medium speed, until the dough is smooth and elastic.
Transfer the dough to an oiled bowl and turn it once to coat with oil. Cover with plastic wrap and let rise at room temperature for about 1 ½ hours. Set a rack in the lowest level of the oven and place a pizza or baking stone on the rack.
Preheat the oven to 475°F for 45 minutes. (If you do not have a pizza or baking stone, preheat the oven, place an inverted baking sheet, preferably heavy-gauge, on the rack, and heat the baking sheet for 5 minutes.)
Meanwhile, punch down the dough and divide equally into 4 pieces. Roll into balls, cover, and let rest for 10 minutes. While rising, combine the melted butter, garlic, and cilantro in a small bowl.
Roll out each ball of dough on a floured surface to an oval about 8 to 10 inches long and ¼ inch thick. Brush the tops with the butter mixture.
Sprinkle the top with more minced garlic.
Place as many dough ovals as will fit without touching each other directly on the baking stone or sheet and bake until each oval is puffy and just beginning to turn golden, 6 to 7 minutes.
Fold the naan in half, place in a cloth-lined basket, and keep covered. Bake the remaining dough. Serve warm.
Big Flavors Rating: 4 Stars