This post may contain affiliate links, which won't change your price but will share some commission.
Cool cucumbers, cabbage and mint are the finishing touches on this spicy Asian chicken salad.
I first heard of this dish from one of my best friends in college, whose parents were from Laos. The first time she ordered it and I snagged a bite, I was in pure food heaven!
So when it was on the menu one week for Blue Apron, I knew I had to try it for myself!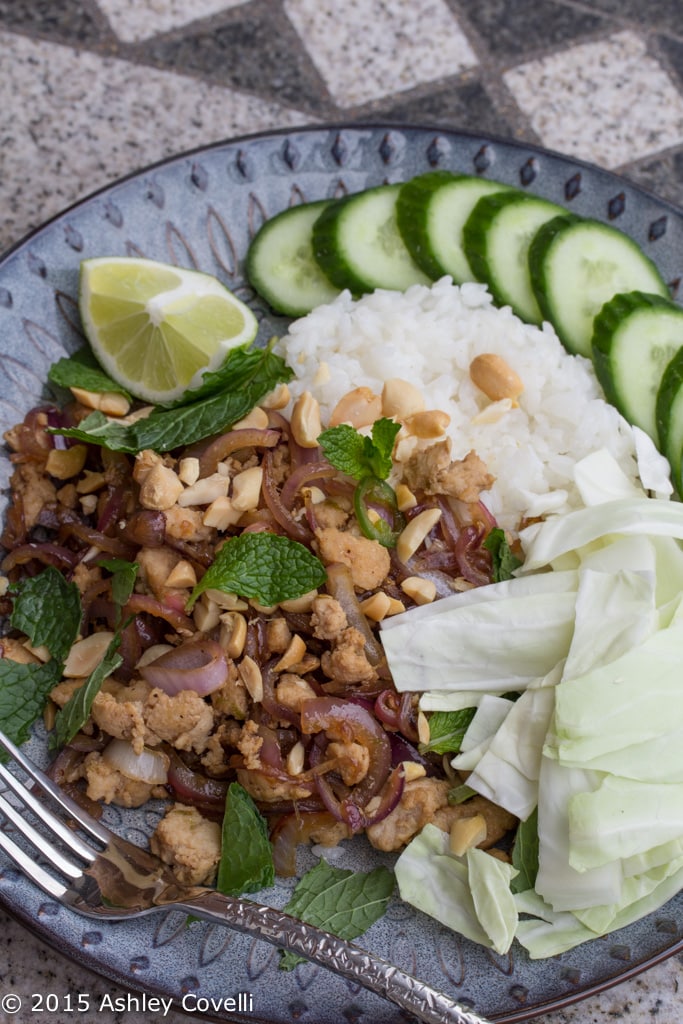 I've made larb a few times at home (like this Chicken Larb and this Beef Larb), but this version included a few key ingredients that I hadn't used before - coconut palm sugar and golden mountain syrup. Those ingredients really deepened the flavor of this sweet-and-spicy dish, and brought it to the next level.
I was a little skeptical of eating this with chunks of raw cabbage, but it was a perfect accompaniment. This was a delicious meal, and we'll definitely be having it again!
10 Ounces Ground Chicken
½ Cup Sushi Rice
1 Lime
1 Persian Cucumber
½ Pound Green Cabbage
1 Red Onion
1 Bunch Mint
2 Tablespoons Golden Mountain Sauce
1 Tablespoon Coconut Palm Sugar
1 Serrano Chile Pepper
¼ Cup Peanuts
See Blue Apron for the full recipe.