This post may contain affiliate links, which won't change your price but will share some commission.
Since I had such a good time coming up with a recipe for dinner last night using only items already in my kitchen, I decided that I wanted to do the same tonight. I once again gave Dino a choice of what protein I should cook with (his options were tofu, ground beef, tilapia or pork tenderloin) and tonight, he chose ground beef. I took it out of the freezer to thaw and thought about what flavors I could combine once dinnertime came. I decided to take a stab at making larb. One of my best friends from college loves dishes like this. Her parents are from Laos, so I sent her a quick text to ask if it would be blasphemous to serve it over rice noodles. She recommended that I seek out a local store that would have sticky rice already prepared, but I wanted to make this meal without having to track down any extra ingredients that I didn't already have on hand, so I opted to steam some rice in the rice cooker instead. It was great. I really need to trust myself more in the kitchen, as the flavors here were really wonderful together. I used some grass-fed beef from a local farm that I love. The fresh herbs at the end liven it up, and the mix of fish sauce, chili sauces and lime juice add a nice complexity to the meat. I liked the addition of crunchy chopped peanuts on top. This dish really hit the spot, and my toddler loved it, too! He's a pretty adventurous little eater, and that is pretty exciting 🙂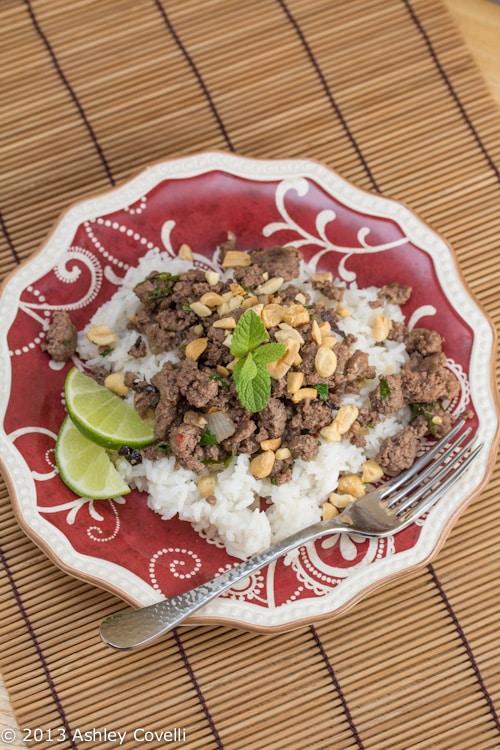 Beef Larb
Ashley Covelli
Serves 4
1 tablespoon peanut oil
2 cloves garlic, minced
1 small onion, diced
1 ½ teaspoons fresh ginger, grated or minced
1 pound lean ground beef (preferably grass-fed)
1 tablespoon lime juice
1 tablespoon fish sauce
1-2 tablespoons sweet chili sauce (depending how sweet you like it)
1 ½ teaspoons chili garlic sauce
1 tablespoon mint, thinly sliced
1 tablespoon purple basil, thinly sliced
1 tablespoon cilantro, chopped
lime wedges, for garnish
chopped peanuts, for garnish
steamed jasmine rice, for serving
Heat oil in a large, non-stick pan over moderate heat. Add garlic, onion and ginger and sauté for a few minutes, stirring occasionally, until the onions start to soften. Add beef and break it up in the pan with whatever utensil you're using to stir. Cook until golden brown all over, making sure to stir it and break the beef up into small bits.
Add lime juice, fish sauce, sweet chili sauce and chili garlic sauce and stir to combine. Let this heat through for a couple of minutes and remove from heat. Stir in chopped herbs.
To serve, put a pile of rice on each plate. Top with beef mixture, sprinkle with peanuts and lime wedges. Enjoy!
Big Flavors Rating: 5 Stars