This post may contain affiliate links, which won't change your price but will share some commission.
Thanks to Mockmill for sponsoring this post. As always, all opinions are 100% my own.
Freshly milled grain adds a whole new dimension + loads of nutrition to this simple breakfast cereal.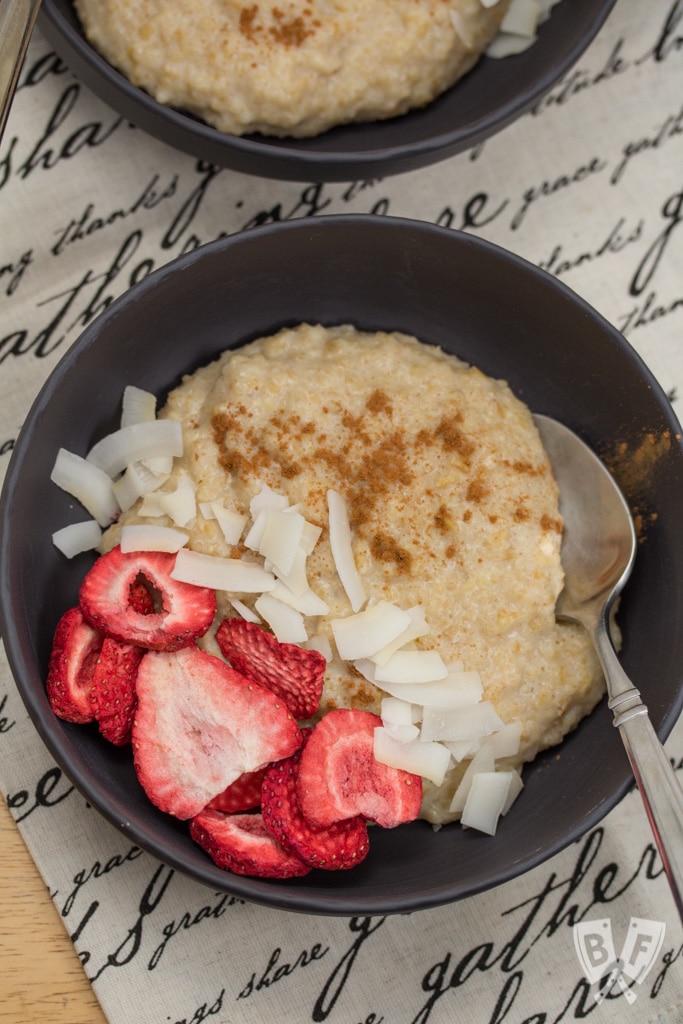 Ever since I got the Mockmill attachment for my KitchenAid mixer, I've been experimenting with all sorts of fresh flours and cracked grains. I can't believe how easy it is to mill things in my own kitchen.
Not only does this mean that the things I'm making are super fresh, but they are also much more nutritious than their store-bought counterparts. And the sky is the limit when it comes to what types of things you can mill at home.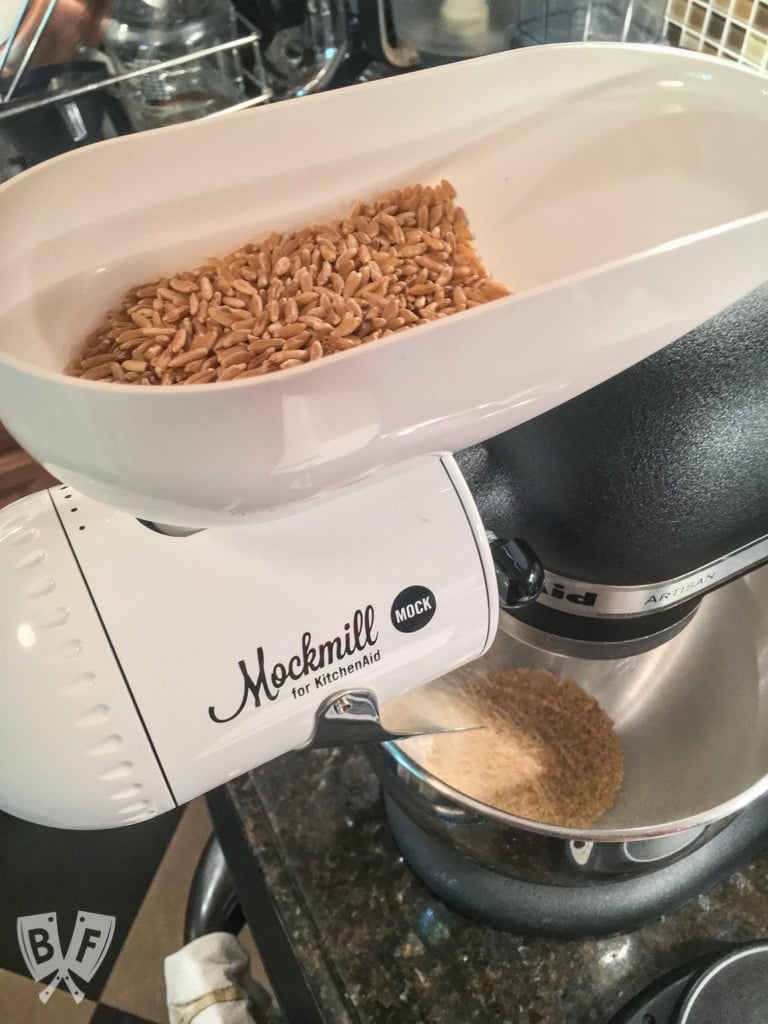 This is especially exciting for people who want/need to use alternatives to wheat for keeping recipes gluten-free. Or for those that want to experiment with adding a little bit of, say, spelt or quinoa flour to a recipe. I mean, have you seen how expensive bags of already milled specialty flours are at health food stores?
Buying a bag of those items whole and throwing them into your Mockmill right before you need them for a recipe is much more cost-effective, and the whole grains and legumes last much longer in whole form than they do once they've been processed into flour.
Many whole grains are available in bulk bins, too, so you can play around with different quantities, depending on your storage situation.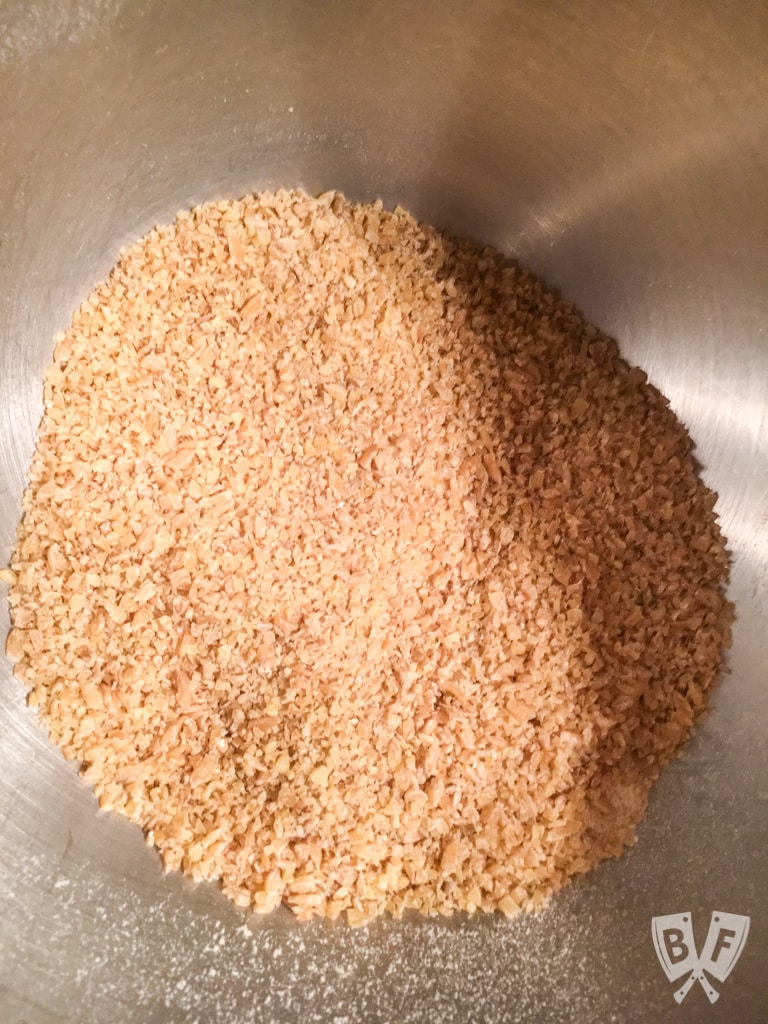 The first thing I made with my Mockmill was cracked kamut for breakfast porridge. It was super simple to process. I just picked a coarseness on the dial, poured 1 cup of whole kamut berries into the hopper, and turned my stand mixer on to speed 8. It took just over a minute and my cup of kamut berries turned into 1 ¼ cups cracked kamut.
We love things like steel-cut oats and porridges that have some bite to them, so I went for a bit of a rough grind, but by all means feel free to go finer by turning the dial a bit further. It's really simple to adjust!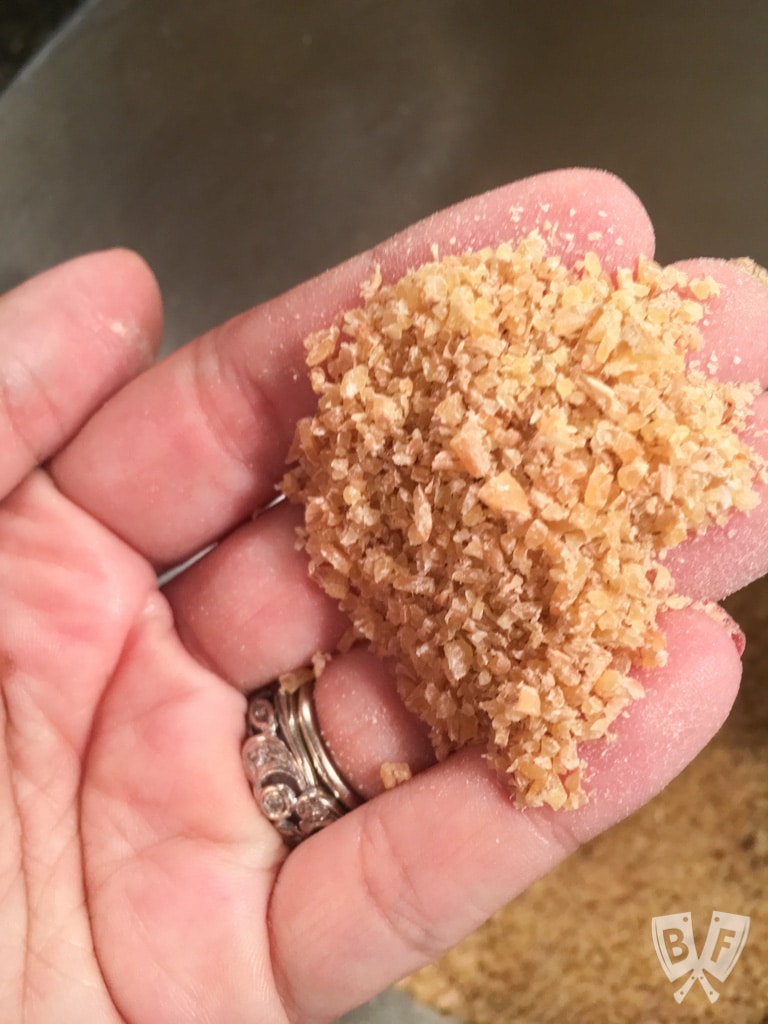 In order to make the porridge, all I did was bring the cracked kamut, some almond milk and a bit of salt to a boil, then lowered it to a simmer for 10 minutes. I then took it off the heat and stirred in a little bitter and maple syrup.
I topped it with some dried strawberries, coconut chips and a little cinnamon.
Easy peasy. And my family absolutely loved it. My 4-year-old said it was the best ever. High praise from a really tough critic!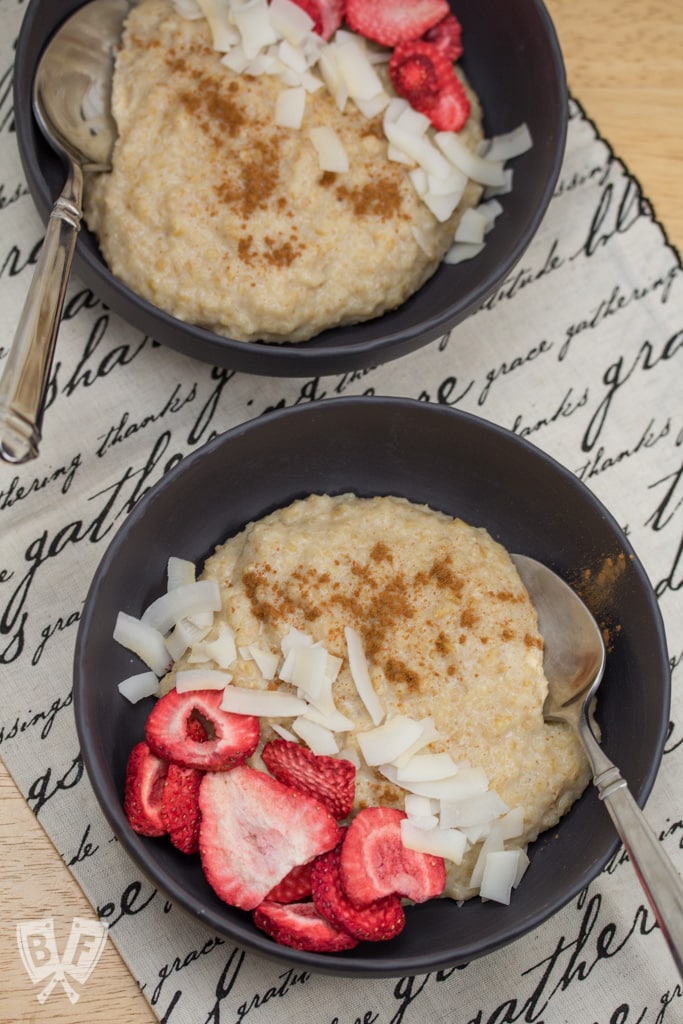 If I had a time machine and had access to this mill when my son was an infant just moving into solid foods, I would have made all of his baby cereals with this mill. The infant rice cereal that you buy at the store has so much extra... stuff in it, and this would be a wonderful way to know exactly what you're feeding your little one.
This porridge was a hearty, filling meal that my family is anxious to have again (and again and again)! And I'm excited to try out other grains and blends at the breakfast table.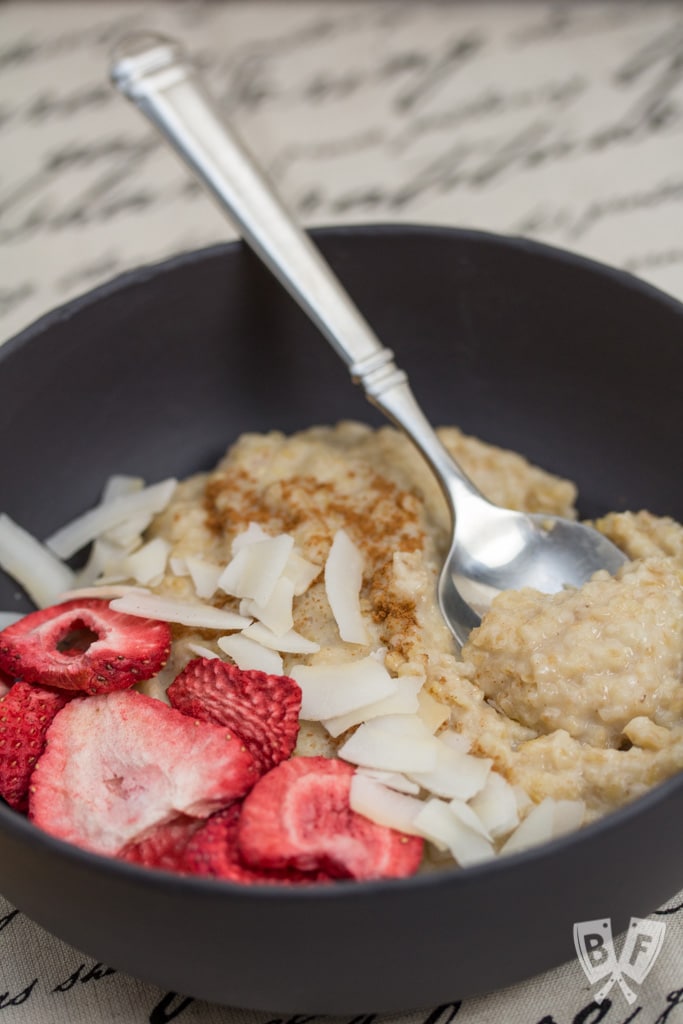 I've started baking with fresh milled grains as well, and it's opening up a whole new world of (delicious) possibilities. I'll be sharing my recipe for the Cracked Pepper, Parmesan + Scallion Biscuits that I teased on Instagram here soon!
Now, back to milling at home. There's a lot of information out there, and it can be overwhelming. Here are a few tidbits that I found particularly useful to expand my knowledge of this new (to me) process:
In white flour, the bran and germ, which contain most of the grain's fiber, minerals, vitamins & unsaturated fats are discarded. Milling at home without sifting allows you to use the entire grain and retain all of its nutrients.
When looking at product packaging, "whole wheat" doesn't mean "whole grain".
Most commercial whole wheat flour has faced just as much processing as white flour. Many commercial wheat flours even add just enough bran to give it a "natural" brown color.
Nutrients slowly degrade with oxidation, so fresh milled flours retain the most vitamins & minerals.
With home milling, you can mill only what you need - whole wheat berries stay fresh longer.
Hard white wheat berries are good for bread making.
Soft white wheat berries are good for pastries and biscuits.
Fresh milled flour will typically require more liquid in recipes than store bought.
The Mockmill uses stones to grind, which can produce very fine flours and won't wear down over time. It's also very easy to disassemble and clean.
Use a kitchen scale! Measuring flours by weight is one of the keys to accurate baking. It's an inexpensive way to avoid lots of headaches. Trust me.
Want your own Mockmill?
Big Flavors readers are able to get their hands on an exclusive starter kit that includes a Mockmill, 2 pounds each of 4 different types of whole grains (there are standard and gluten-free options), the book Flour Power: A Guide to Modern Home Grain Milling, plus shipping for just $179. The Mockmill alone is usually more than that price - this is a really fabulous deal!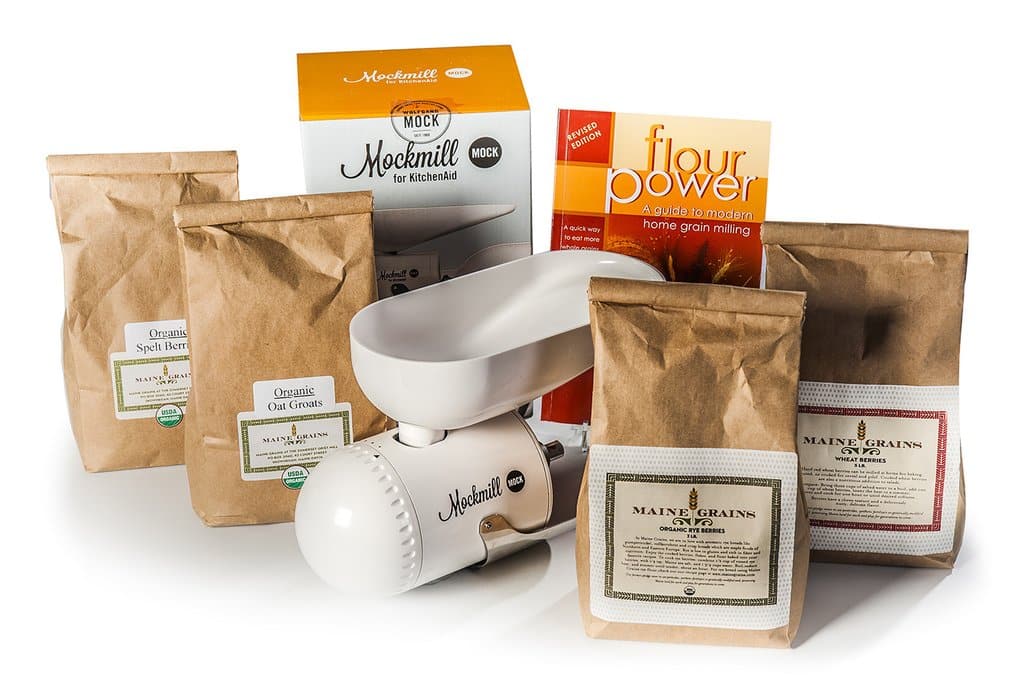 Another resource that I've found really helpful in working with fresh milled flours is Erin Anderson's The Homemade Flour Cookbook. It has a wealth of information that I've found really helpful so far, particularly with baking.
I'm looking forward to sharing more recipes for freshly milled goodies with you in the coming weeks. Pasta is definitely on my list to try soon. Homemade pasta is always delicious, and I imagine it'll be even better with fresh milled flour!
In the meantime, I think I'll make myself another bowl of this porridge...
Print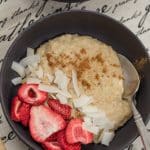 Kamut Breakfast Porridge
Author:

Prep Time:

5 minutes

Cook Time:

12 minutes

Total Time:

17 minutes

Yield:

3

-

4

Servings

1

x

Category:

Breakfast

Method:

Stovetop

Cuisine:

American
---
Description
Freshly milled grain adds a whole new dimension + loads of nutrition to this simple breakfast cereal.
---
1

cup

(7 ounces) kamut berries

3 ¾

cups

unsweetened almond milk

½ teaspoon

kosher salt

1 tablespoon

butter (or dairy-free butter substitute)

4 tablespoons

pure maple syrup
For Garnish:
Dried or fresh fruit (I used dried strawberries & coconut chips)
---
Instructions
Mill kamut berries on a medium setting (I used the sixth coarsest setting on the Mockmill dial). You should end up with about 1 ¼ cups cracked kamut.
In a medium saucepan, combine cracked kamut, almond milk and salt and stir to combine. Bring to a boil over high heat, then reduce heat to medium-low and simmer, stirring occasionally, until thickened to your liking, about 10 minutes.
Remove from heat, then stir in butter and maple syrup. Garnish with cinnamon and fruit, if desired.
---
Nutrition
Serving Size:
Calories:

364

Sugar:

21 g

Sodium:

446.1 mg

Fat:

8.8 g

Saturated Fat:

2.5 g

Carbohydrates:

64.2 g

Fiber:

7.3 g

Protein:

11 g

Cholesterol:

10.2 mg
Keywords: milling, Mockmill, porridge
Recipe Card powered by