This post may contain affiliate links, which won't change your price but will share some commission.
I remember the first time I tried goat cheese. I was hesitant to taste it because it sounded "different". "Weird", even.
And then I took a bite...
And I tried not to leap across the table and devour the entire party-sized portion all by myself.
That was about a decade ago. Since then, it has been a top contender for my favorite cheese, and I've been doing my best to make up for lost time.
So when I saw a cookie recipe that included goat cheese, I was immediately intrigued.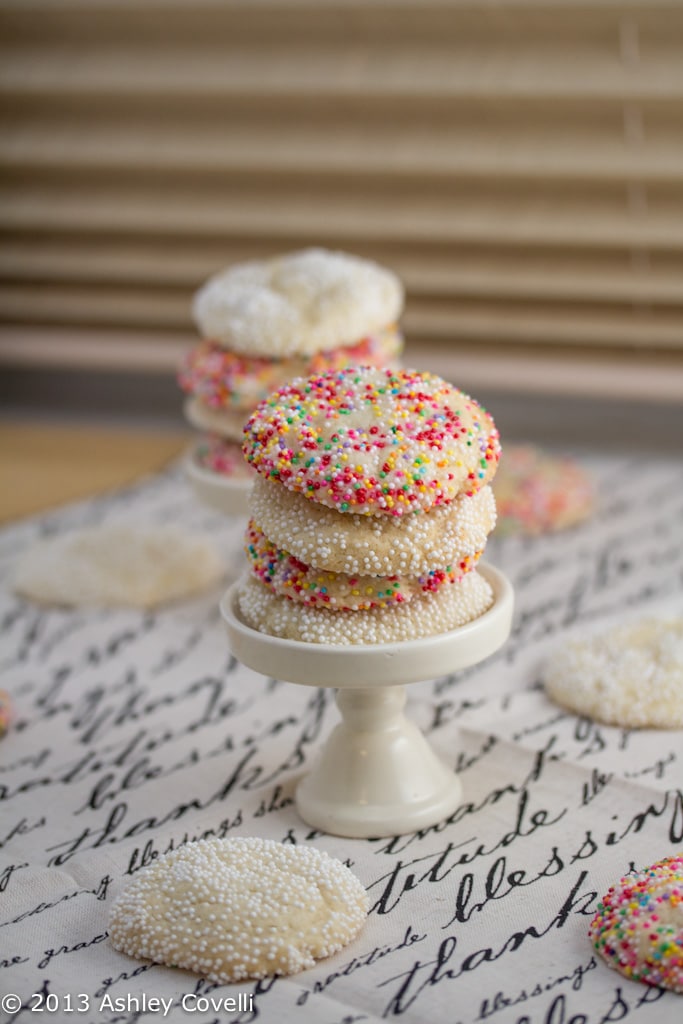 This is the second type of cookie that I picked out for our Supper Club's annual cookie/candy swap. (The first, Espresso-Chocolate Shortbread Cookies, were phenomenal!!).
These were nice and soft, and beautifully festive from being rolled in nonpareil sprinkles. I really liked the contrast of the multi-colored against the white that I saw in the original post, so I did the same.
These cookies are really tasty. They don't taste like goat cheese at all, which I knew going in to the kitchen. After trying them, I think that upping the amount of goat cheese would be a good way to get a little more of that tangy flavor into them, but I'd assume that the dry ingredients would have to be tweaked a bit to compensate for that.
Either way, they were a hit! They were best while they were still fresh, and may even benefit from a super quick zap in the microwave before eating leftovers.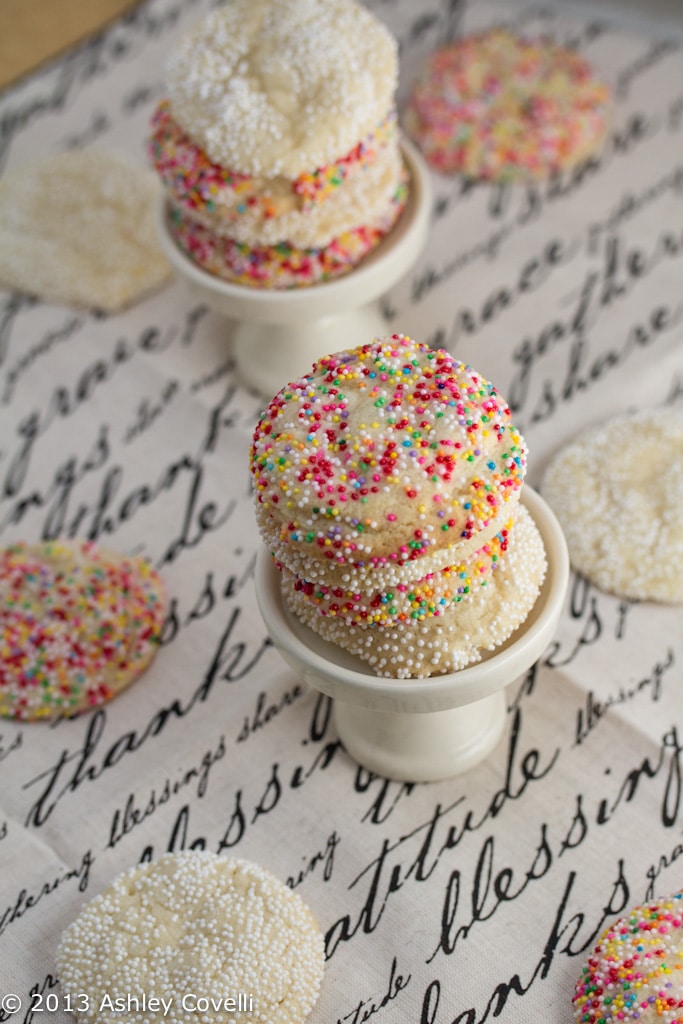 Goat Cheese Sugar Cookies
Love & Olive Oil (Adapted from Cooks Illustrated)
Yield: 36 cookies
Total Time: 1 hour
2 ½ cups unbleached all-purpose flour
½ teaspoon baking soda
1 teaspoon baking powder
½ teaspoon salt
1 ½ cups sugar
⅓ cup (3 ounces) soft goat cheese, room temperature
6 tablespoons (¾ stick) unsalted butter, melted
¼ cup vegetable oil
1 large egg
2 tablespoons milk
1 teaspoon vanilla extract
nonpareil sprinkles or sanding sugar (optional)
Preheat oven to 350 degrees F. Line a baking sheet with a silicone mat or parchment paper.
In a bowl, whisk together flour, baking powder, baking soda, and salt. Set aside.
Combine sugar, goat cheese, and melted butter in a large bowl and whisk until mixture forms a smooth paste (a few lumps are ok). Whisk in oil. Add egg, milk, and vanilla extract and stir until smooth. Fold in flour mixture until incorporated and no dry ingredients remain.
Pour sprinkles or sugar into a small bowl. Dough will be soft, but should still be workable. If not, refrigerate it for 15 to 20 minutes until it is. Use a small cookie scoop to portion out about 1 tablespoon of dough, then roll in sprinkles/sugar to coat. Arrange on prepared baking sheet, leaving about 2 inches of space between each cookie.
Bake for 10 to 12 minutes, until cookies are just set and slightly cracked. Cool on the baking sheet for 3 minutes, then transfer to a wire rack to cool completely. Store in an airtight container at room temperature for up to 1 week.
Big Flavors Rating: 4 Stars