This post may contain affiliate links, which won't change your price but will share some commission.
We were out to dinner at the Mexican restaurant down the street tonight when I had a great idea...I wanted to mimic a dessert that we have had out at an Asian restaurant after dinner, using our new deep fryer. Yes...I'm busy thinking about other restaurants and food while I'm eating my current food. I'm obsessed. Anyway, my idea worked, and it turned out phenomenal! It's super easy, and totally hit the spot.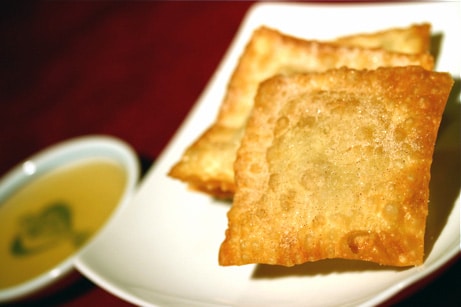 Deep Fried Banana Ravioli with Honey
1 ripe banana, mashed
12 wonton wrappers
cinnamon sugar
honey
6 cups of grapeseed oil (for deep frying)
Have a small bowl of warm water handy for dipping your finger into so that you can seal the ravioli. Put some of the mashed banana in the middle of a wonton wrapper, making sure to leave plenty of room around the edges - I used about 1-2 teaspoons per ravioli). Dip your finger in the water and run it around all four edges of the wrapper. Place another wrapper on top and press down on all sides, squeezing out any excess air. Pinch the edges closed with the tines of a fork. Repeat until you run out of banana.
Deep fry at 375°F for 1 ½ - 2 minutes until golden, flipping over to get the back nice and golden also. Remove to a paper towel lined plate to drain. Sprinkle on some cinnamon sugar while still hot so that it adheres to the ravioli.
Serve with honey for dipping. If you're feeling naughty, add some vanilla ice cream and enjoy the cold/hot deliciousness that ensues!
MacGourmet Rating: 5 Stars