This post may contain affiliate links, which won't change your price but will share some commission.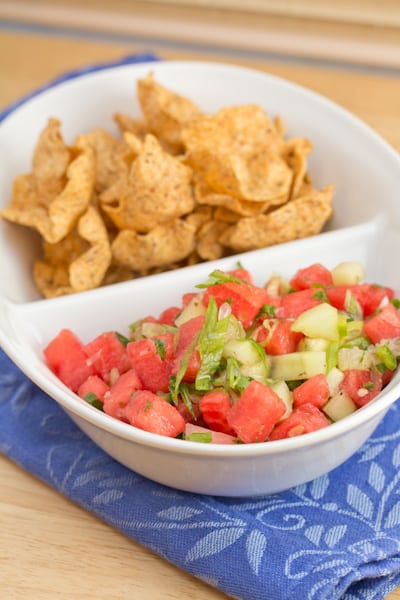 I was in the mood for some fruit salsa, and I found this really easy recipe. I thought the watermelon sounded nice and refreshing - and it was! This stuff is great - and the addition of pieces of lime rather than just juice makes it stand out. There's a bit of heat from the jalapeño, and the watermelon and cucumber are nice and refreshing. This is simple to put together and could easily be scaled up for a big party.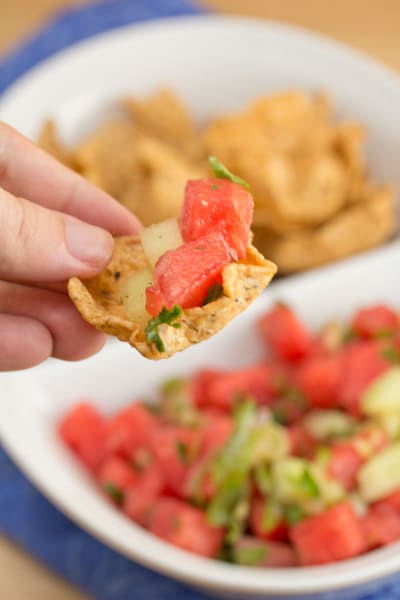 Chunky Watermelon Salsa
Bon Appétit July 1996
yield: Makes about 3 ½ cups
This cool salsa is the ideal accompaniment for grilled shrimp.
1 lime
2 cups ½-inch pieces seeded watermelon
1 cup ½-inch pieces seeded peeled cucumber
¼ cup thinly sliced green onions
2 tablespoons minced fresh cilantro
2 teaspoons minced seeded jalapeño chili
1 teaspoon sugar
Using small sharp knife, cut peel and white pith from lime. Cut lime into ¼-inch pieces. Place in medium bowl. Add all remaining ingredients to same bowl. Season with salt and pepper. Toss to blend. Cover and refrigerate at least 30 minutes. (Can be prepared 2 hours ahead. Keep refrigerated.) Serve chilled.
Big Flavors Rating: 5 Stars