This post may contain affiliate links, which won't change your price but will share some commission.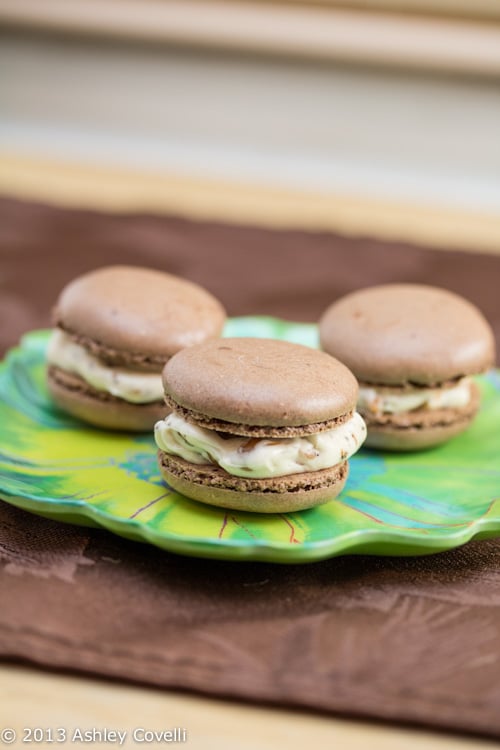 I've been wanting to try my hand at making macarons for quite a while now. So when Joanne of Eats Well With Others came up to visit my tiny kitchen, I asked if she'd be up for making them again. She's made them a few times (most recently red freaking velvet ones!!) so I figured I'd be more comfortable making them with someone who had successfully baked them before. Our original idea was to make chocolate macarons and then use some sort of caramel frosting to make little football lace designs on the tops since it was Superbowl Sunday. But then...the fun started...
Do you see this?! This freak of nature was a giant clump of cocoa powder that somehow re-formed inside the pastry bag and made it almost impossible to pipe the batter onto our baking sheets. In the words of Liz Lemon...WHAT THE WHAT?!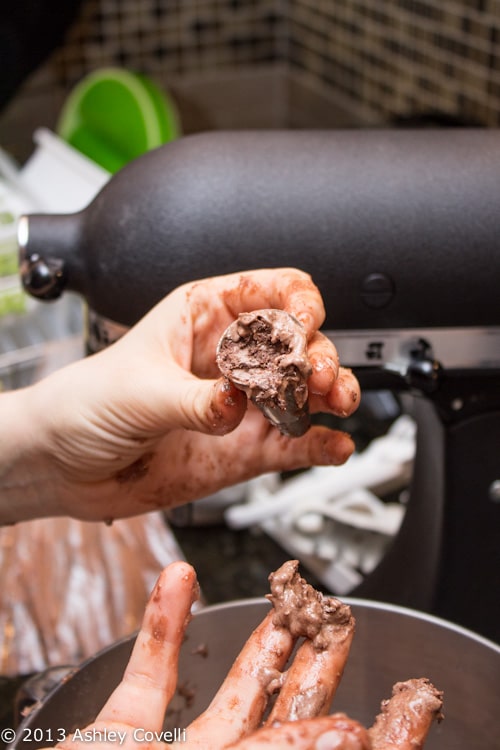 Once we got past the initial clumps, Joanne piped the awesome chocolate macaron batter into little mounds on the silpat-lined baking sheets.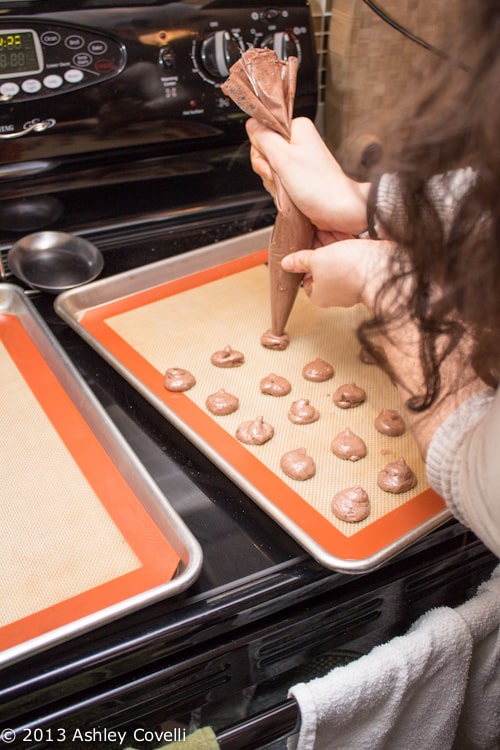 Then, it was on to the "salted" caramel buttercream. I say "salted" because after we made the caramel (which had some issues of its own...we aren't even gonna go there. Let's just say we don't think it's a reliable recipe). I added a few notes to the recipe in brackets. I mean, you really would be in trouble if you used a whole egg and not an egg white to try to form soft peaks. But we realized that when we were reading it and managed to make it work. So we tasted it, and then I said, "hey...how is this SALTED caramel? It didn't call for any salt! We decided to add some espresso salt that I had in my pantry to the caramel. It tasted ah-mazing! There were a few gigantic slightly larger chunks of hardened caramel that we decided to pick out of the buttercream. I mean, really, who wants to end up in a dentist's office after breaking their tooth on a giant chunk-o-dessert, right?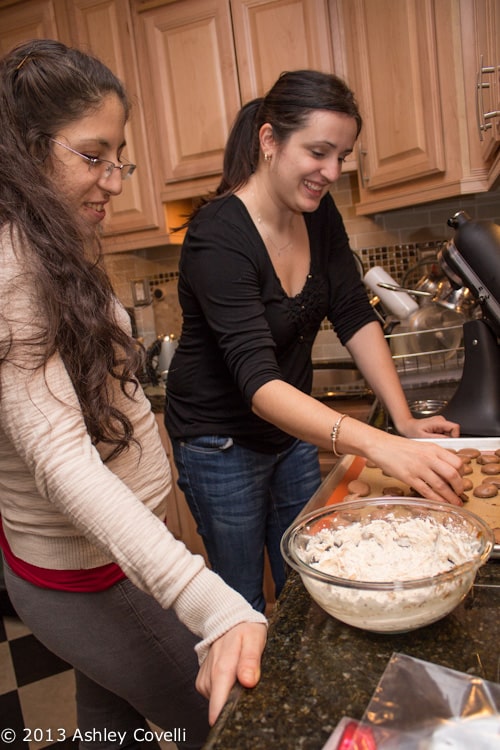 Troubles aside, we decided that it was a success - I mean, those macs had beautiful feet! Hooray!! They tasted wonderful, and we had a BLAST making them. I thought it would be funny to take one extra photo of the "runners up" in our macaron beauty pageant. Just to show you that they weren't all the beauties featured in the first photo of my post. I affectionately named that one in the back Jabba the Hut. It was a combo of the one gigantic and the one tiny macaron shells that were leftover after we paired all of the similarly sized ones up. Too funny. Still just as delicious as the rest.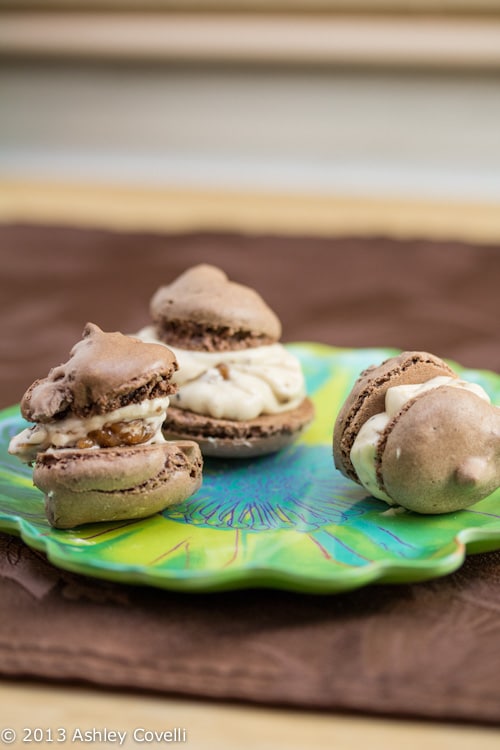 I'll definitely try my hand at these again...but I won't be repeating this buttercream recipe.
Chocolate Macarons
David Lebovitz via Vanilla & Lace
1 cup (100 gr) powdered sugar
½ cup powdered almonds (about 2 ounces, 50 gr, sliced almonds, pulverized)
3 tablespoons (25 gr) unsweetened Dutch-process cocoa powder
2 large egg whites, at room temperature
5 tablespoons (65 gr) granulated sugar
Preheat oven to 375 degrees F (180 degrees C).
Line two baking sheets with parchment paper and have a pastry bag with a plain tip (about ½-inch, 2 cm) ready.
Grind together the powdered sugar with the almond powder and cocoa so there are no lumps; use a blender or food processor since almond meal that you buy isn't quite fine enough.
In the bowl of a standing electric mixer, beat the egg whites until they begin to rise and hold their shape. While whipping, beat in the granulated sugar until very stiff and firm, about 2 minutes.
Carefully fold the dry ingredients, in two batches, into the beaten egg whites with a flexible rubber spatula. When the mixture is just smooth and there are no streaks of egg white, stop folding and scrape the batter into the pastry bag (standing the bag in a tall glass helps if you're alone).
Pipe the batter on the parchment-lined baking sheets in 1-inch (3 cm) circles (about 1 tablespoon each of batter), evenly spaced one-inch (3 cm) apart.
Rap the baking sheet a few times firmly on the counter top to flatten the macarons, then bake them for 15-18 minutes. Let cool completely then remove from baking sheet.
Big Flavors Rating: 5 Stars
[Espresso Salted] Caramel Buttercream
adapted from Let the Baking Begin
For the buttercream
1 egg [white]
100 grams unsalted butter, room temperature
6 tablespoons sugar
2 tablespoons water
For the caramel
½ cups sugar
3 tablespoons water
¼ cup heavy cream
[generous sprinkle of espresso salt]
To make the Buttercream
Combine the sugar and water in a small saucepan. Turn your stove to medium heat. Cook the syrup to soft ball stage (that's when a drop of syrup, dropped into a glass of water can be formed into a soft ball). Whip the egg [white] to soft peaks. Carefully pour in the syrup between the whip attachment and the bowl while continuing to whip. Whip until the bowl feels cool to the touch. Meanwhile, whip the room temperature butter to whiter in color and fluffy, about 2 minutes. When the egg has cooled, continuing to whip, drop 1 tablespoon of butter at a time. The mixture might become runny and might look curdled, continue to whip and it will come together into a smooth buttercream. Set aside.
To make the Caramel
Heat the cream and keep ready to be combined with the syrup. Combine the water with sugar and cook at medium heat, until amber in color. Be very careful to not overcook the syrup, as when it starts turning slightly amber it will take about 30 seconds to go from good amber, to burnt amber (unusable). Take off the heat. Slowly add the heavy cream into the syrup, keeping your hands as far as possible from the steam cloud that will form as soon as you start adding warm milk to extremely hot syrup. Once the bubbles have subsided, start mixing with a wooden spoon, to form a homogenous caramel. Let cool to room temperature.
Start whipping the butter cream again. Add the caramel into the buttercream, 1 tablespoon at a time, until smooth, but still some chunks of caramel present. The buttercream will become a little bit more runny then in the beginning, but that's ok. [Stir in espresso salt to taste]
Sandwich the cookies with a dollop of caramel buttercream.
Let the macarons sit in a covered container, in the fridge overnight. Then, remove from the fridge and let come to room temperature before devouring
Big Flavors Rating (with tweaks): 5 Stars