This post may contain affiliate links, which won't change your price but will share some commission.
I came across this recipe on Flipboard and had all of the ingredients on hand, so I whipped it up for lunch. It was really tasty! The lemon and herb combination is great, and the parmesan adds a nice saltiness. I added quite a bit of pepper at the end, and it was great!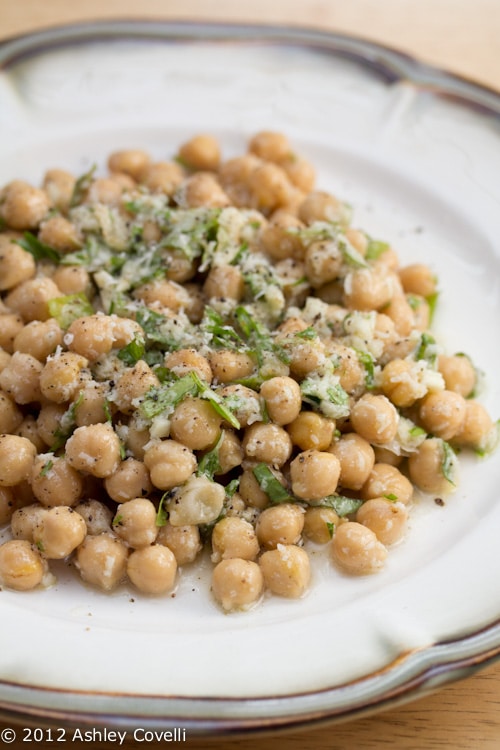 Chickpea Salad with Lemon, Parmesan, and Fresh Herbs
Bon Appétit
The beauty of this basic recipe is that it can be tweaked in numerous ways. For a spicy version, add some sriracha sauce. Try swapping out the lemon juice for lime juice and use feta cheese instead of Parmesan and mix in some chopped fresh cilantro and chopped red onion or shallot. For a curried chickpea salad, leave out the Parmesan and add curry powder to taste, dried currants, sliced green onions, and shredded carrots.
2 servings
PREP TIME: 10 minutes
TOTAL TIME: 10 minutes
1 15- to 15 ½-ounce can chickpeas (garbanzo beans), rinsed, drained
2 tablespoons chopped fresh basil
2 tablespoons chopped fresh Italian parsley
2 tablespoons fresh lemon juice
4 teaspoons extra-virgin olive oil
1 small garlic clove, pressed
⅓ cup (packed) freshly grated Parmesan cheese
Coarse kosher salt
Combine rinsed and drained chickpeas, chopped fresh basil, chopped Italian parsley, fresh lemon juice, extra-virgin olive oil, and pressed garlic clove in medium bowl. Add grated Parmesan cheese and toss gently to blend all ingredients thoroughly. Season chickpea salad to taste with coarse kosher salt and freshly ground black pepper.
DO AHEAD Chickpea salad can be made 4 hours ahead. Cover and refrigerate. Serve salad chilled or at room temperature.
Nutritional Information
One serving contains:
Calories (kcal) 362.6
%Calories from Fat 40.2
Fat (g) 16.2
Saturated Fat (g) 4.0
Cholesterol (mg) 13.3
Carbohydrates (g) 35.8
Dietary Fiber (g) 7.5
Total Sugars (g) 1.9
Net Carbs (g) 28.3
Protein (g) 18.6
Sodium (mg) 378.1
Big Flavors Rating: 4 Stars