This post may contain affiliate links, which won't change your price but will share some commission.
Stonefire sent me a sampler pack of their new line of Naan Crisps a while back to try out. I was really excited to develop a recipe to use with them, but after attempting to just taste all of the flavored varieties, well… they disappeared. And quick.
The crisps are great because they're made without any artificial preservatives, and the texture is nice and crispy and light as air. The Everything flavor is like an everything bagel without the heaviness of, well, a bagel. It's nice to be able to enjoy that flavor in smaller portions. The Garlic Parmesan are really garlicky, which was perfect for me and my garlic-loving husband.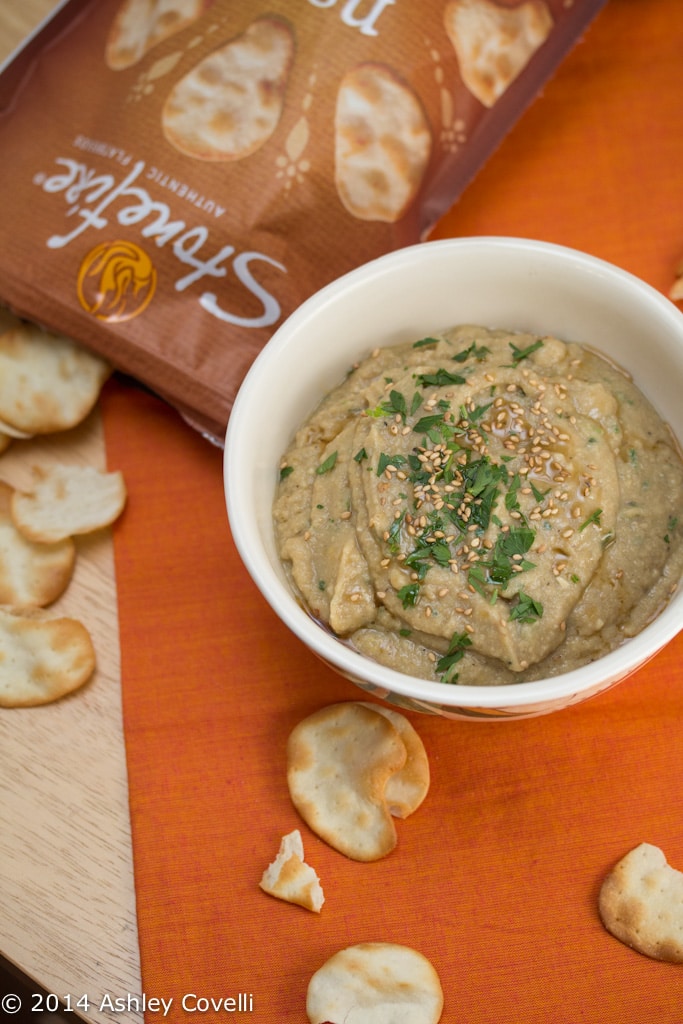 I was really into the Tandoori Spice flavor - I think it would be great dipped into a chutney of some sort. Really, really good. I managed to save the Original Naan Crisps to pair with a gorgeous Charred Lemony Baba Ganoush, and it was delicious!
Grilling the eggplant until the skin is charred gives it a wonderfully smoky flavor. The addition of both lemon zest and juice brightens the dish and adds a nice bit of tang.
Optionally, you can refrigerate the cooked eggplant, covered, until you want to make this dish. This method comes in handy when you're grilling other things but want to take advantage of the flame for a future meal. I've made this twice now, and both times refrigerated the cooled eggplant for a day or two before making this recipe.
Charred Lemony Baba Ganoush
Big Flavors from a Tiny Kitchen - Ashley Covelli
1 large eggplant (or 2 medium - you want about 2 cups total after it's been grilled)
Zest of 1 lemon (about 1 teaspoon)
1 tablespoon freshly squeezed lemon juice
3 cloves garlic, roughly chopped
2 tablespoons tahini
2 tablespoons fresh parsley, roughly chopped, plus more for garnish
½ teaspoon ground cumin
½ teaspoon kosher salt
¼ teaspoon freshly cracked black pepper
⅛ teaspoon crushed red pepper flakes
Toasted sesame seeds, for garnish
Toasted sesame oil, for garnish
Pita bread, Naan Crisps or raw veggies, for dipping
Place whole eggplant on a grill over direct heat (get it as close to the coals/fire as possible). When the bottom is totally charred, flip and cook until the whole thing is blackened. Remove from grill to a casserole dish or bowl to catch any liquid that comes out while it cools.
Once the eggplant has cooled down a bit, cut it open and remove the flesh. You can probably peel a lot of the charred skin away, but scooping the insides out may be easier. Add it to a food processor along with any liquid that came out of the eggplant while it rested. Add lemon zest and juice, tahini, parsley, cumin, salt, pepper and pepper flakes. Purée until smooth.
Transfer purée to a bowl, top with toasted sesame seeds and a little drizzle of sesame oil and enjoy!
Big Flavors Rating: 4 Stars