This post may contain affiliate links, which won't change your price but will share some commission.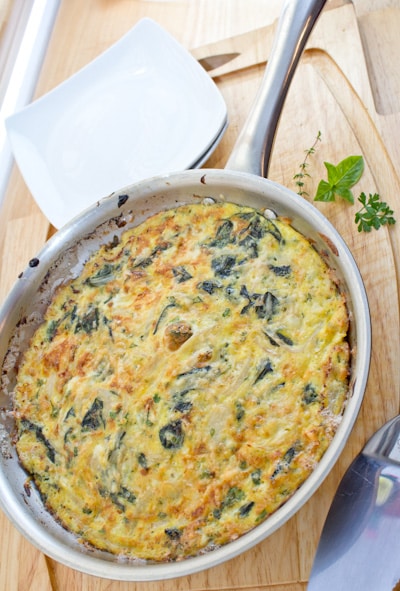 I've had this recipe printed out for a while now, and I finally got around to making it for breakfast this morning. It was great! Cooking the onions and chard really slowly does bring out a really sweet flavor, and the fresh herbs really brighten it up. And who doesn't love adding cheese to breakfast? This is going to be a great treat to bring to work for breakfast this week, too!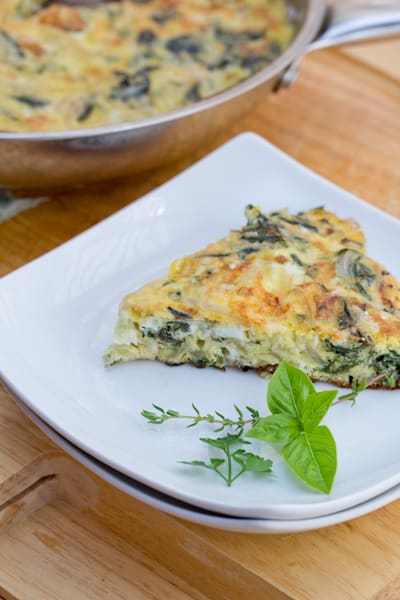 Chard and Onion Omelet (Trouchia)
Epicurious April 2010
Vegetarian Cooking for Everyone - Deborah Madison
yield: Serves 4 to 6
These Provençal eggs, laced with softened onions and chard, never fail to elicit sighs of appreciation. I'm forever grateful to Nathalie Waag for making trouchia when she came to visit—it has since become a favorite. The trick to its success is to cook everything slowly so that the flavors really deepen and sweeten.
3 tablespoons olive oil
1 large red or white onion, quartered and thinly sliced crosswise
1 bunch chard, leaves only, chopped
Salt and freshly milled pepper
1 garlic clove
6 to 8 eggs, lightly beaten
2 tablespoons chopped parsley
2 tablespoons chopped basil
2 teaspoons chopped thyme
1 cup grated Gruyère
2 tablespoons freshly grated Parmesan
Heat 2 tablespoons of the oil in a 10-inch skillet, add the onion, and cook over low heat, stirring occasionally, until completely soft but not colored, about 15 minutes. Add the chard and continue cooking, stirring occasionally, until all the moisture has cooked off and the chard is tender, about 15 minutes. Season well with salt and pepper.
Meanwhile, mash the garlic in a mortar with a few pinches of salt (or chop them finely together), then stir it into the eggs along with the herbs. Combine the chard mixture with the eggs and stir in the Gruyère and half the Parmesan.
Preheat the broiler. Heat the remaining oil in the skillet and, when it's hot, add the eggs. Give a stir and keep the heat at medium-high for about a minute, then turn it to low. Cook until the eggs are set but still a little moist on top, 10 to 15 minutes. Add the remaining Parmesan and broil 4 to 6 inches from the heat, until browned.
Serve trouchia in the pan or slide it onto a serving dish and cut it into wedges. The gratinéed top and the golden bottom are equally presentable.
Big Flavors Rating: 4 Stars