This post may contain affiliate links, which won't change your price but will share some commission.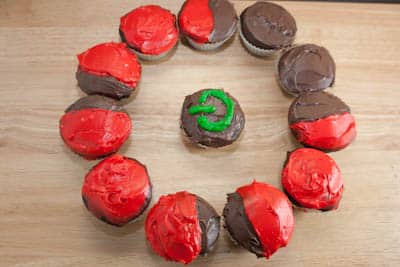 Anyone who knows very well knows that I'm a huge gamer nerd. Yep, I even worked at Gamestop my last year of college purely for the employee discount. It was awesome. Anyway, my brother drove out here from Indiana to visit, and since his birthday was at the end of February, I decided to make him some birthday cupcakes. Since I've had the unfortunate experience of getting the infamous "red ring of death" on my Xbox 360 a whopping FOUR times now, I thought a little gamer nerd humor would be great. This recipe says it makes 12 cupcakes, but the box mix I got says if you're making cupcakes, it can make 24. So I made 12 cupcakes and took the rest of the cake mix and filling, swirled them together and made a square cake to go with it. After a 12 hour drive to NY from Indiana, he was greeted with this awesomeness. It turned out really well - he said they may have been the best cupcakes he's ever had. I picked these 2 recipes from Allrecipes and they both worked wonderfully!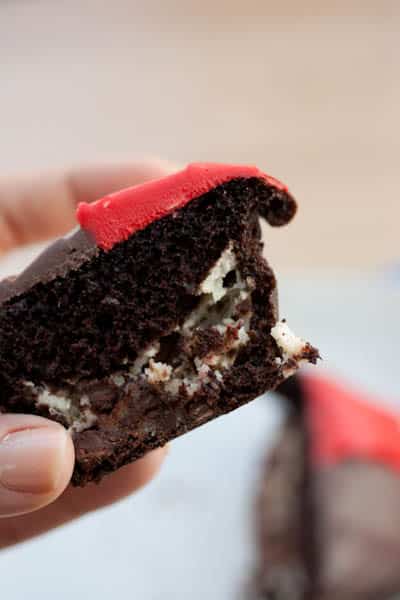 Self-Filled Cupcakes I
Allrecipes - Star Pooley
"A new twist on plain chocolate cupcakes!"
Yield 1 dozen
1 (8 ounce) package cream cheese, softened
½ cup white sugar
1 egg
1 cup semisweet chocolate chips
1 (18.25 ounce) package chocolate cake mix
1. Preheat the oven to 350 degrees F (175 degrees C), or to the temperature recommended on the cake mix package.
2. Prepare chocolate cake mix according to package directions, but do not bake. In separate bowl cream together cream cheese and sugar until smooth. Beat in the egg until well blended, then stir in chocolate chips.
3. Line cupcake tins with cupcake papers. Fill ⅔ full with chocolate cake batter. Add 1 teaspoon cream cheese mixture to the center, and top with more cake batter.
4. Bake according to package directions for cupcakes. Cool and frost with chocolate or cream cheese frosting.
Nutritional Information:
Calories: 355 | Total Fat: 17.8g | Cholesterol: 38mg
Big Flavors Rating: 5 Stars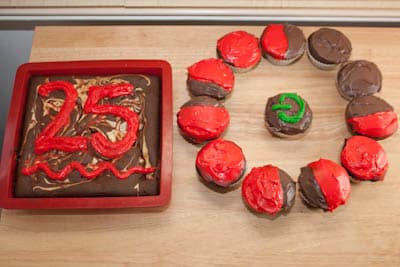 Cream Cheese Frosting II
Allrecipes - Janni
"This is a wonderfully creamy frosting that goes well with pumpkin bread, carrot cake, chocolate cake, on cookies, or between cookies. If you want chocolate frosting, add ¼ to ½ cup cocoa, according to how rich you want it."
Yield 3 cups
2 (8 ounce) packages cream cheese, softened
½ cup butter, softened
2 cups sifted confectioners' sugar
1 teaspoon vanilla extract
1. In a medium bowl, cream together the cream cheese and butter until creamy. Mix in the vanilla, then gradually stir in the confectioners' sugar. Store in the refrigerator after use.
Nutritional Information:
Calories: 140 | Total Fat: 10.4g | Cholesterol: 31mg
Big Flavors Rating: 5 Stars