This post may contain affiliate links, which won't change your price but will share some commission.
I got a Mini Cupcake Factory with my Geek Points over on ThinkGeek and decided to try it out for the first time with this banana bread muffin recipe. They turned out good, but I forgot that making a full batch of batter was going to end up taking as long (or longer) as it would have taken to do full sized muffins, since I had to do it in batches of 7. Anyway, this wasn't the best banana muffin recipe out there, but it was still good.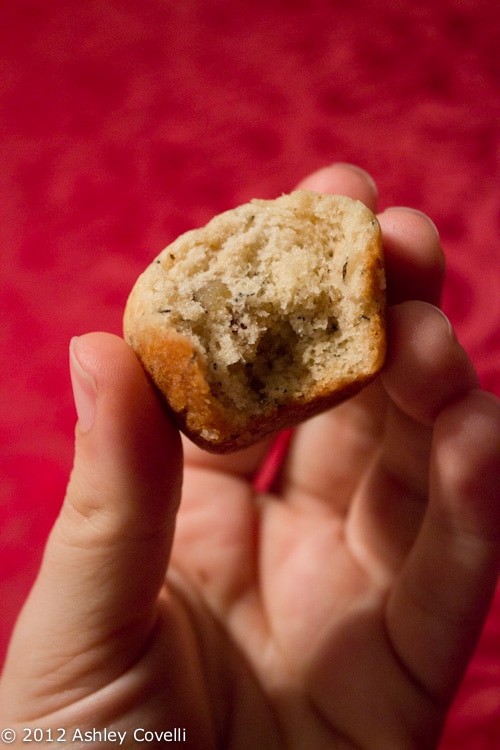 Sarah's Banana Bread Muffins
Allrecipes - Sarah
"This is a recipe for people who like banana bread and muffins. These are great breakfast muffins! You may substitute coconut for some or all of the walnuts if you wish."

Prep Time: 10 Min
Cook Time: 35 Min
Ready In: 45 Min
Servings: 12
1 cup white sugar
1 egg
2 cups all-purpose flour
½ teaspoon salt
½ cup vegetable oil
3 ripe bananas, mashed
¼ cup chopped walnuts
1 teaspoon baking soda
Preheat oven to 350 degrees F (175 degrees C). Place muffin cups in muffin tin, or grease with a little butter.
Mix sugar, oil, and egg until creamy and light yellow. Add bananas and walnuts. Add flour, baking soda, and salt. Stir until completely smooth. Spoon the batter into the muffin tin.
Bake for 30 to 40 minutes, until toothpick poked in center muffin comes out clean.
Nutritional Information
Amount Per Serving
Calories: 270 | Total Fat: 11.5g | Cholesterol: 18mg
Big Flavors Rating: 4 Stars