This post may contain affiliate links, which won't change your price but will share some commission.
Oatmeal is such a nice, comforting way to start the day. I love steel-cut oats, but they take some time to prepare. I also enjoy regular oats, but they can be a little... meh. I mean, once you've had a bowl of beautiful, chewy steel-cut oatmeal, it's kind of hard to go back. So when I saw this recipe that called for a 50/50 mix of both types of oats, I was immediately interested. I had planned on making this at some point for the last few weeks, but finally got around to it today. It was really rainy and dreary outside, so it was the perfect bowl of comfort. This porridge is rich and creamy, and subtly sweet. I used maple syrup to sweeten it, and it was fantastic. My son really liked it, too. My husband won't get to indulge, since he's lactose intolerant. I wonder if this would be as good with soy or almond milk. Hmm... Anyway, this doesn't take a lot of time, just make sure you stay near the stove to stir it so you don't end up with oats stuck to your saucepan. I only used ½ teaspoon of salt - I figured I could add some later if it needed more. I let this simmer while I was prepping the beef stew for my friends, and it was great. My house smelled ridiculously amazing all morning!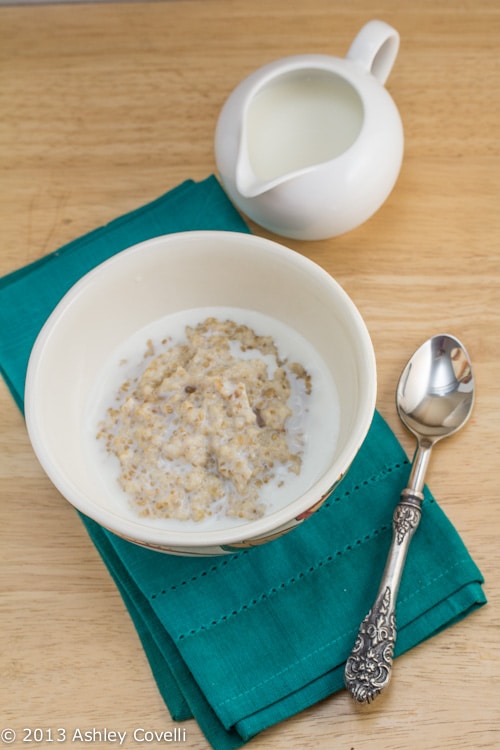 April Bloomfield's English Porridge
Food52
Author Notes: This porridge is just right. Bloomfield calls for equal parts of two styles of oats, which means the steel-cut bits keep their pop, while the rolled oats melt around them -- and getting them to the perfect texture only takes 20 minutes. Cooking with half milk, half water is enough to make it feel rich and loving, without slogging you down first thing in the morning. This will seem like a lot of salt. But it won't be too much, because at the end you'll add something sweet and something milky and it will all live in harmony. Adapted slightly from A Girl and Her Pig (Ecco, 2012)
Serves 2 to 3
1 ½ cup whole milk, plus a few generous splashes
1 ½ cup water
1 ½ teaspoon Maldon, or other flaky sea salt (if using finer salt, start with ½ teaspoon and add to taste)
½ cup rolled oats
½ cup steel-cut oats
About 2 tablespoons sugar (maple, brown, or white) or maple syrup
Combine the milk, water, and salt in a medium pot (a 2-quart pot should do it) and set over high heat. As soon as the liquid comes to a gentle simmer, add both kinds of oats and lower the heat to medium. Cook the oats at a steady simmer, stirring frequently and lowering the heat as necessary to maintain the simmer. After about 20 minutes at the simmer, the rolled oats will have turned a bit mushy, while the steel-cut oats will be just tender and pop when you bite them. Taste for seasoning -- it should be on the salty side. Add sugar or syrup. Spoon the porridge into warm bowls and let it sit for a minute. Then carefully pour a little cold milk around the edges of each bowl, so it pools all the way round. Sprinkle a five-fingered pinch of sugar or drizzle the syrup in the center of each and let it melt, then serve right away.
Big Flavors Rating: 5 Stars