This post may contain affiliate links, which won't change your price but will share some commission.
This month's Supper Club theme was Tyler Florence. We all made one of his recipes, and everything was fabulous! This mac and cheese is amazing! I was going to copy and paste the recipe from the Food Network website, but it's slightly different from the recipe in my cookbook, so I typed it up. This is definitely worth a try! The bacon and pea mixture puts it over the top into umami land! The picture doesn't really do it justice - it was pretty dark in the house that I took it to, so I had to play with the levels a lot to get it to look presentable.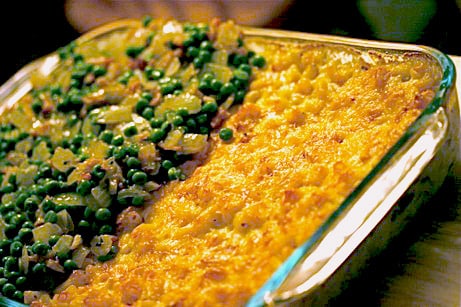 The Ultimate Macaroni and Cheese with Peas and Bacon
Tyler's Ultimate: Brilliant Simple Food to Make Anytime - Tyler Florence
I don't know a man, woman or child who doesn't love a bowl of great mac and cheese. Sweet peas and bacon spooned on top take it to a whole new level. This is the one and only macaroni and cheese recipe you will ever need.
Serves 6 to 8.
kosher salt
1 pound elbow macaroni
3 tablespoons unsalted butter
3 tablespoons all-purpose flour
4 cups warm milk
5 ½ cups shredded sharp white Cheddar cheese
freshly ground black pepper
¼ cup fresh flat-leaf parsley
Extra-virgin olive oil
4 slices bacon, cut crosswise into thin strips
1 large onion, diced
2 cloves garlic, smashed
Leaves from ¼ bunch of fresh thyme
2 cups frozen peas, thawed in colander under cool water
Bring a pot of salted water to a boil over high heat. Add the macaroni and cook for 8 to 9 minutes, until al dente. Drain.
Preheat the oven to 400°F.
Melt the butter in a large, deep skillet over medium heat. Whisk in the flour and cook for 1 minute, stirring constantly to keep lumps from forming. Gradually whisk in the milk and, whisking vigorously, cook until the mixture is thick and smooth. Stir in 4 cups of the cheese and continue to cook and stir to melt the cheese. Season with salt and pepper. Add the cooked macaroni and the parsley and fold that all in to coat the macaroni with the cheese mixture. Scrape into 3-quart baking dish and sprinkle with the remaining 1 ½ cups cheese. Bake for 30 minutes, or until hot and bubbly.
While that's going, heat a 2-count of olive oil in a sauté pan. Add the bacon, onion, garlic and thyme and cook for about 5 minutes to soften the onion. Fold in the peas and season with salt and pepper.
To serve, scatter the pea and bacon mixture over the mac and cheese. Use a big spoon to scoop out servings, making sure you get some of the smoky pea mixture on each spoonful.
MacGourmet Rating: 5 Stars