This post may contain affiliate links, which won't change your price but will share some commission.
This post was created in partnership with Rodney Strong Vineyards. As always, all opinions are 100% my own.
The folks over at Rodney Strong Vineyards sent over a beautiful assortment of wine for me to review in celebration of their 25th anniversary. They sent me the same wines that were served at a four-city celebrity chef event benefiting the James Beard Foundation on September 20th.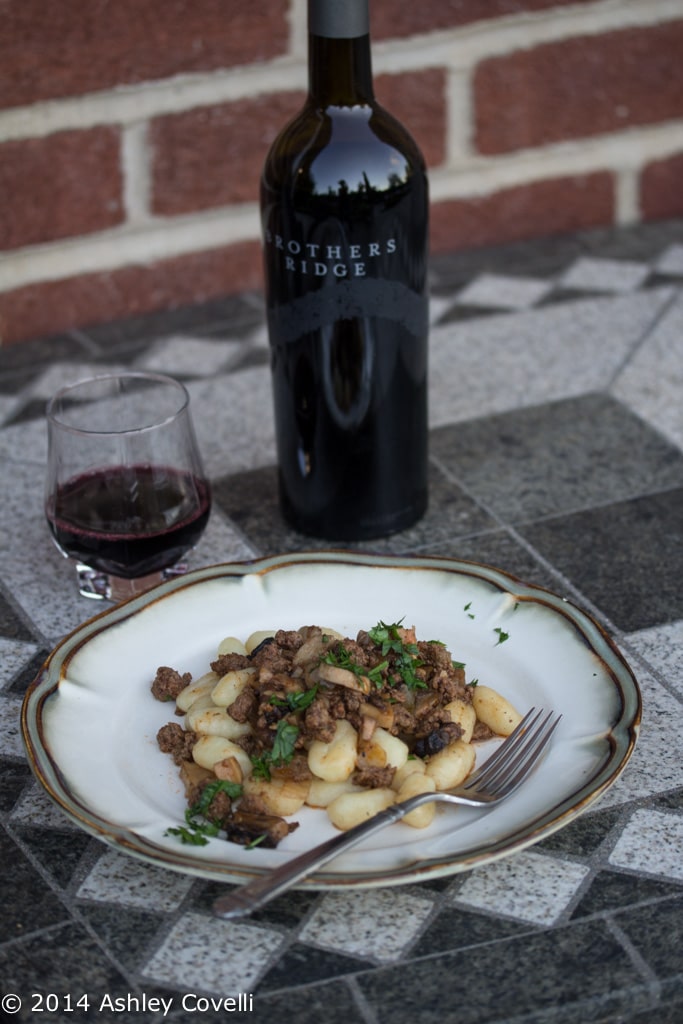 The first wine that I decided to try was the 2010 Brothers Ridge Cabernet Sauvignon. I was inspired to create a main course featuring grass-fed beef and a hearty mix of mushrooms to go with this bold red. I used the mushrooms that were leftover from when I made the Chef Jehangir Mehta's Mushroom Blended "Graffiti" Burgers, which is why the amounts I used are so precise.
The mushrooms added a nice depth of flavor to the beef, and the tomato paste and Worcestershire make it wonderfully rich. I served this over gnocchi to get a kind of "meat and potatoes" vibe going, but it would be great over rice or pasta, too. Maybe even over mashed potatoes. Hmm...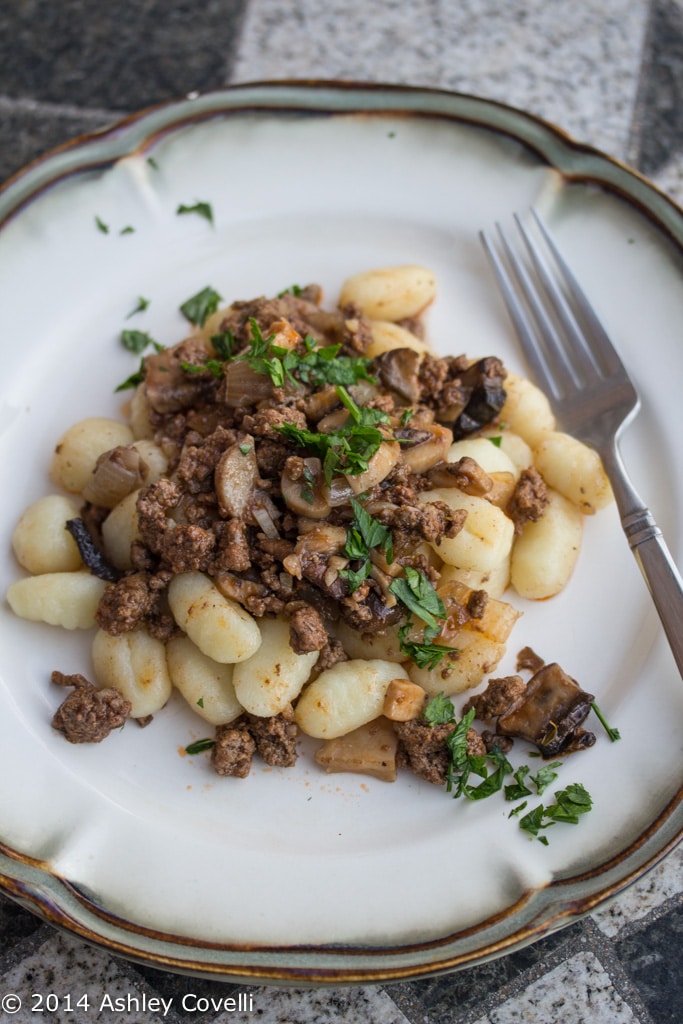 The wine went perfectly with this dish. I was seriously impressed with how smooth yet bold it was. It had a really deep, dark fruit flavor that I absolutely adored. My husband doesn't drink wine very often (he's more of a craft beer guy), but he was blown away with it too, and has since been interested in trying out each of the other bottles that they sent over.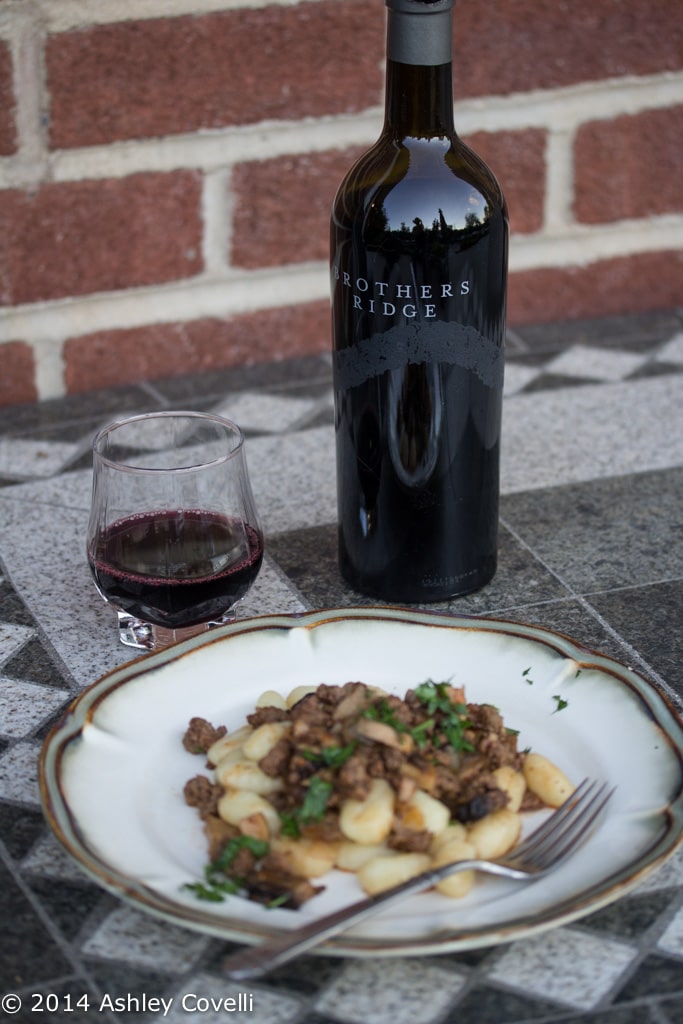 This meal was pure comfort food heaven! I may not have gotten to attend the 25th anniversary celebrations, but this meal was definitely fit for a special occasion.
Wild Mushrooms and Grass-Fed Beef Over Gnocchi
Big Flavors from a Tiny Kitchen - Ashley Covelli
Serves 4
2 tablespoons extra virgin olive oil
1 medium yellow onion, chopped
2 cloves garlic, minced
Kosher salt and freshly cracked black pepper
1 pound ground beef (preferably organic grass-fed)
7.5 ounces king trumpet mushrooms, chopped (about 2 ½ cups)
3.7 ounces portobello mushrooms, chopped (about 2 cups)
2 tablespoons tomato paste
1 teaspoon Worcestershire sauce
1 teaspoon fresh thyme leaves, chopped
1 cup reduced sodium beef broth
17.6 ounce package gnocchi
Flat leaf parsley, chopped, for garnish
Heat oil in a large, non-stick skillet (one that has a lid) over moderate heat. Add onion and garlic, seasoning with salt and pepper and sauté until the veggies start to soften. Add beef and cook, breaking it up with a spoon or spatula, until evenly browned. Drain any excess fat from the pan.
Add mushrooms and season again with salt and pepper. Cook the mushrooms, stirring occasionally, until they have melted down a bit. Add tomato paste, Worcestershire and thyme and stir to combine. Let this mixture cook for a minute or two and add the beef broth. Bring the liquid to a boil, cover the pan, reduce the heat to low and allow to simmer while you cook the gnocchi.
Bring salted water to a boil in a medium saucepan. Cook gnocchi according to package directions and drain. Put gnocchi back in the pot and stir in a little of the mushroom-beef sauce to keep the gnocchi from sticking. You can also add a little olive oil if you wish. Taste the sauce and add more seasoning if necessary. If it isn't thick enough for your liking, bring it to a boil, uncovered, until the amount of liquid reduces a bit.
To serve, place gnocchi on plates, top with some of the mushroom-beef sauce. Sprinkle with chopped parsley, if desired.
Big Flavors Rating: 5 Stars