This post may contain affiliate links, which won't change your price but will share some commission.
Dino got a grilling cookbook from his mom for Christmas, and we were surprised to see how many of the recipes in it looked great! We wanted a side to make on the grill while the kebabs were cooking, so we picked this one. It couldn't be easier, and the end result is wonderful! I could see preparing tomatoes like this and then pureéing them into a sauce for pasta, too. The wine flavor is great, and the flesh of each tomato is lusciously soft and sweet. Dino doesn't usually like tomatoes on their own, but he really enjoyed these!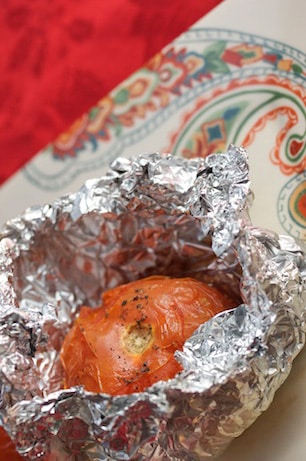 Whole Tomatoes in Wine
The Book of Grilling & Barbecuing - Cecilia Norman
8 medium-size firm tomatoes
2 tablespoons plus 2 teaspoons dry red wine
Salt and freshly ground black pepper to taste
Green leaf lettuce leaves or watercress
Cup each tomato in a double thickness of foil, but do not completely enclose.
Pour 1 teaspoon of wine over each tomato. Season with salt and pepper. Securely mold foil around tomatoes to prevent juices from escaping.
Cook foil packets on side of a rack over medium coals about 10 to 15 minutes. Unwrap and transfer to serving plates, spooning wine flavored juices over tomatoes. Serve on lettuce leaves. Makes 8 servings.
Note: These tomatoes are particularly delicious as an accompaniment to barbecued steaks or burgers which can be cooked at the same time.
MacGourmet Rating: 4 Stars