This post may contain affiliate links, which won't change your price but will share some commission.
This pork dish was really tasty, but I have to once again complain about recipes that ruin panko. Panko is super crunchy and delicious. Why would you instruct someone to ruin that fabulousness by spooning a sauce over it? Crunchy turns soggy and it's just a mess. Now a dipping sauce, yes. This sauce is delicious, but it should be thickened and served on the side so you don't compromise the integrity of the panko. This has been a public service announcement. We now return to your regularly scheduled meal.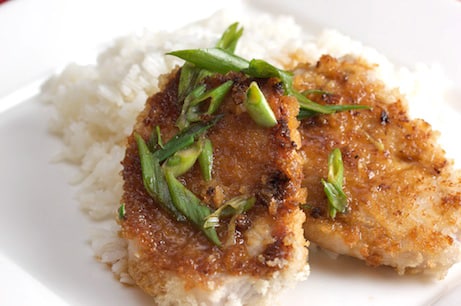 Wasabi and Panko-Crusted Pork with Gingered Soy Sauce
Cooking Light March 2006
Panko are coarse white breadcrumbs used in this quick and easy interpretation of the Japanese dish tonkatsu. Look for panko and wasabi paste in the ethnic-foods section of the supermarket. Substitute chicken broth if you don't have sake or sherry on hand. Serve with rice and steamed snow peas and carrots for a complete meal.
Yield: 4 servings (serving size: 1 pork chop and about 1 tablespoon sauce)
⅔ cup panko (Japanese breadcrumbs)
1 large egg white, lightly beaten
4 (4-ounce) boneless center-cut loin pork chops (about ½ inch thick)
1 teaspoon peanut oil
Cooking spray
⅛ teaspoon salt
1 tablespoon bottled ground fresh ginger (such as Spice World)
⅓ cup fat-free, less-sodium chicken broth
2 tablespoons sake or dry sherry
2 tablespoons low-sodium soy sauce
2 teaspoons sugar
1 teaspoon wasabi paste
⅓ cup thinly sliced green onions
Place panko in a shallow dish. Place egg white in another shallow dish. Dip pork in egg white; dredge in panko.
Heat peanut oil in a large nonstick skillet coated with cooking spray over medium-high heat; add pork. Cook for 4 minutes on each side or until done. Remove pork from pan; sprinkle with salt.
Reduce heat to medium. Add ginger to pan; cook 30 seconds, stirring constantly. Combine broth and the next 4 ingredients (through wasabi) in a small bowl, stirring well with a whisk. Add broth mixture to pan, scraping pan to loosen browned bits. Stir in green onions. Spoon sauce over pork.
Nutritional Information
Calories: 215 (28% from fat)
Fat: 6.8g (sat 2.1g,mono 2.9g,poly 0.8g)
Protein: 24.5g
Carbohydrate: 10.8g
Fiber: 0.9g
Cholesterol: 65mg
Iron: 1.1mg
Sodium: 454mg
Calcium: 15mg
MacGourmet Rating: 4 Stars