This post may contain affiliate links, which won't change your price but will share some commission.
I love trying new vegetarian recipes, and this one looked really interesting. I used fresh udon noodles instead of dried. This was a really nice combination of flavors that I would have never thought of putting together before. We ended up adding a bit more Sriracha and tamari on top of each of our bowls and stirring it in at the end to give it a little more punch. This was a nice, light meal that I'd definitely consider making again.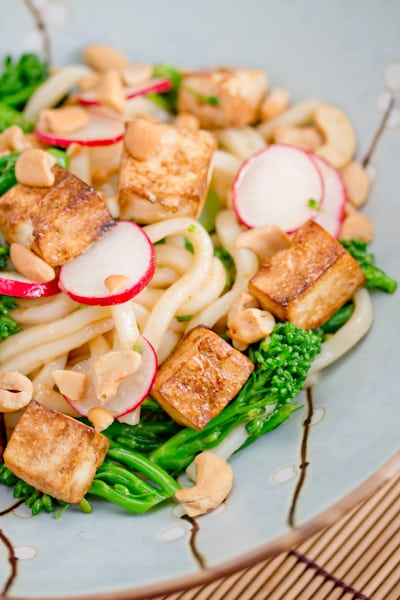 Udon Noodle Salad with Broccolini and Spicy Tofu
Cooking Light May 2011
Broccolini is blanched in salted water to get the vegetables crisp-tender while also keeping them bright green and full-flavored. If you make the salad ahead, wait to dress it until just before serving to preserve the Broccolini's color.
Hands On: 25 Minutes
Total: 1 Hour
8 ounces water-packed extra-firm tofu
5 tablespoons peanut oil, divided
2 tablespoons lower-sodium tamari or soy sauce
1 ½ teaspoons Sriracha (hot chile sauce, such as Huy Fong), divided
Cooking spray
6 ounces uncooked dried udon noodles (thick Japanese wheat noodles)
6 cups water
1 ½ teaspoons kosher salt
8 ounces Broccolini
3 tablespoons rice wine vinegar
1 tablespoon grated peeled fresh ginger
1 teaspoon dark sesame oil
½ cup thinly sliced radishes (about 3 medium)
2 tablespoons chopped dry-roasted cashews, toasted
1. Cut tofu into ¾-inch-thick slices. Place tofu slices in a single layer on several layers of paper towels; cover with additional paper towels. Let tofu stand for 30 minutes to drain, pressing down occasionally. Remove tofu from paper towels, and cut into ¾-inch cubes.
2. Preheat oven to 350°.
3. Combine 2 tablespoons peanut oil, tamari, and 1 teaspoon Sriracha in a large bowl, stirring well with a whisk. Add tofu cubes to tamari mixture, and toss gently to coat. Let stand for 15 minutes. Remove tofu from bowl with a slotted spoon; reserve tamari mixture in bowl. Arrange tofu in a single layer on a foil-lined baking sheet coated with cooking spray, and bake tofu at 350° for 10 minutes or until lightly golden.
4. Cook udon noodles according to package directions, omitting salt and fat. Drain and rinse with cold water; drain well.
5. Combine 6 cups water and salt in a large saucepan over high heat, and bring to a boil. Add Broccolini to pan; cook for 3 minutes or until crisp-tender. Drain and plunge Broccolini into ice water; drain well. Chop Broccolini.
6. Add remaining 3 tablespoons peanut oil, remaining ½ teaspoon Sriracha, rice wine vinegar, ginger, and sesame oil to reserved tamari mixture in bowl; stir mixture well with a whisk. Add baked tofu, udon noodles, Broccolini, and ½ cup thinly sliced radishes to bowl; toss gently to coat. Sprinkle salad with cashews.
Nutritional Information
Amount per serving
Calories: 438
Fat: 24.7g
Saturated fat: 4.1g
Monounsaturated fat: 10.1g
Polyunsaturated fat: 8.2g
Protein: 14.3g
Carbohydrate: 38.4g
Fiber: 3.4g
Cholesterol: 0.0mg
Iron: 3mg
Sodium: 572mg
Calcium: 97mg
Big Flavors Rating: 4 Stars