This post may contain affiliate links, which won't change your price but will share some commission.
I've been wanting to check out this book for quite some time now. Being half Persian, I absolutely adore Persian cuisine and don't eat it nearly often enough! This book is absolutely beautiful and celebrates traditional Persian dishes with a modern twist.
There are a lot of meat-laden Persian meals, so the author includes notes after those recipes for making them vegetarian-friendly (usually by swapping the meat for mushrooms or tempeh). Modernizations like this and the use of whole grains really makes this book stand out among my other go-to cookbooks.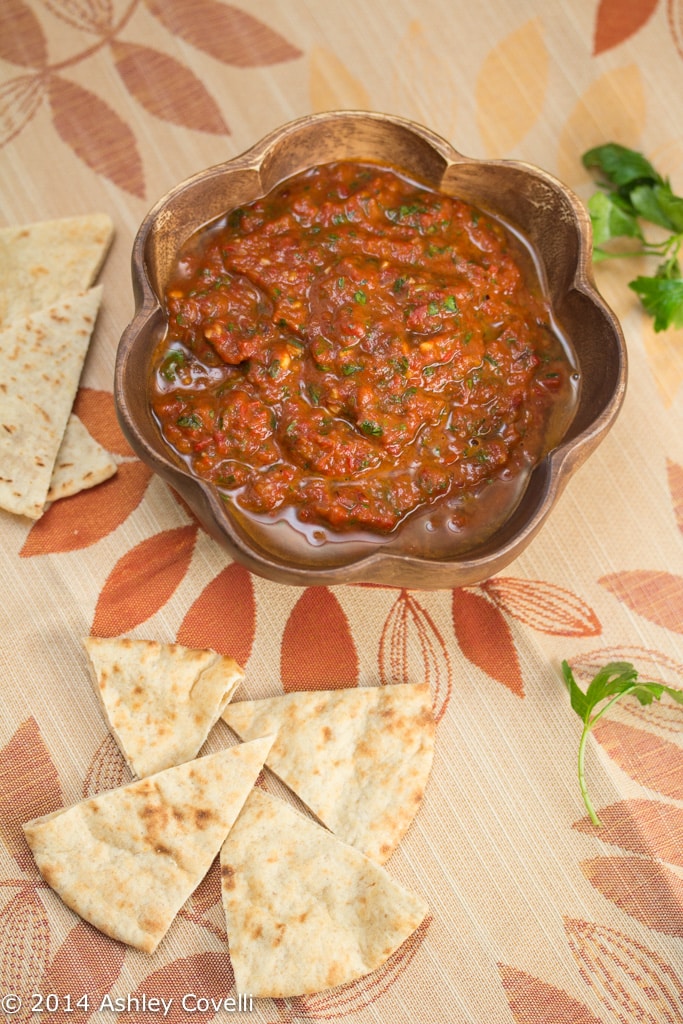 The first dish I made from this cookbook was this Turkish Roasted Tomato and Red Pepper Dip. It was absolutely delicious! It reminded me of a super fresh version of the Muhummara that I've been making for several years now.
Fresh tomatoes and a red bell pepper are tossed with oil and roasted together until they get nicely caramelized. The veggies are then blended with a mix of aromatic ingredients to form a smooth dip that's rich and full of Middle Eastern flavor.
I served this with some pita bread, and it disappeared really quickly!
Turkish Roasted Tomato and Red Pepper Dip
The New Persian Kitchen - Louisa Shafia
Makes 2 cups
3 medium to large tomatoes (1 ½ pounds), halved
1 red bell pepper, halved and seeded
1 tablespoon grapeseed oil
Sea salt and freshly ground black pepper
2 cloves garlic, minced
1 shallot, minced
3 tablespoons extra virgin olive oil
1 tablespoon pomegranate molasses
1 teaspoon smoked paprika
1 cup loosely packed fresh flat-leaf parsley
Preheat the oven to 400°F.
Combine the tomatoes and red pepper in a large bowl and drizzle with grapeseed oil. Season with salt and pepper, and toss well to coat. Spread the vegetables on a baking sheet, and roast, stirring occasionally, for 45 minutes, until tender. Let cool.
In a small bowl, whisk the garlic and shallot with the extra-virgin olive oil, pomegranate molasses, paprika, and a pinch of salt.
Combine the roasted vegetables, parsley, and marinade in a food processor and pulse several times until mostly smooth. Season to taste with salt and pepper, and serve.
Big Flavors Rating: 5 Stars