This post may contain affiliate links, which won't change your price but will share some commission.
This was a really light and simple meal. It takes some time to soak the beans overnight, and cook them the next day, but it's worth it. I'm sure this would be good with canned beans, too, if you were in a rush. We drizzled a little topper oil on at the end and it made it really great.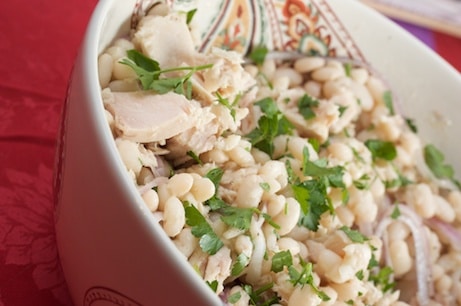 Tuna with Beans
The Food of Italy: A Journey for Food Lovers – Sophie Braimbridge and Jo Glynn
Serves 4
400 g (14 oz) dried beans, such as cannellini
1 bay leaf
1 garlic clove
125 ml (½ cup) olive oil
1 small red onion, finely sliced
2 tablespoons finely chopped parsley
400 g (14 oz) tin tuna in olive oil, drained
SOAK the beans overnight in plenty of cold water. Rinse them and transfer to a very large saucepan. Cover with plenty of cold water and bring to the boil. Add the bay leaf, garlic and 1 tablespoon olive oil., cover and simmer for 1-1 ½ hours or until tender, depending on the age of the beans. Salt the water for the last 15-20 minutes of cooking. The beans should keep their shape and have a slight bite rather than being soft.
DRAIN WELL, remove the bay leaf and garlic and transfer the beans to a shallow serving dish. Add the onion and remaining olive oil and season with salt and pepper. Toss well, then chill.
TOSS through two-thirds of the parsley and taste for seasoning. Break the tuna up into bite-sized pieces and toss through the beans. Sprinkle the remaining parsley over the top and serve.
MacGourmet Rating: 4 Stars