This post may contain affiliate links, which won't change your price but will share some commission.
This post features the 12 posts that got the most traffic on Big Flavors from a Tiny Kitchen in 2018. Sweet & savory recipes, kitchen tips, & more!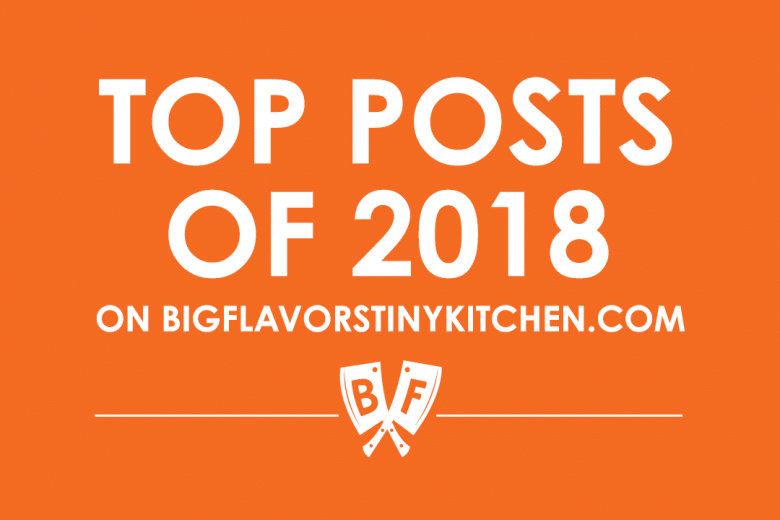 This post may contain affiliate links.
It's hard to believe that it's already 2019! I don't know about you, but my family still has our Christmas tree and all of the holiday cards up around the house.
I'm just not quite yet ready to tear it down yet this year.
So while my mind is still lingering on the past, I thought I'd check out the posts that got the most traffic in 2018 here on Big Flavors.
It's always fun to see which posts bring the most visitors my way, and I hope that once someone pops in for one recipe post, they'll be encouraged to stick around and find some more to try out down the line.
The top 12 posts from 2018 include some of my family's absolute favorites (like the Steak Fajitas, Melt-in-Your-Mouth Buttermilk Chocolate Cookies, Sausage and Peppers, Italian Cream Cheese and Ricotta Cheesecake, and Instant Pot Braised Lamb Shanks with Tomato.
It also includes two of the recipes that I've prepared as part of my new series of live cooking videos over on my Facebook page: Ricotta Cookies and Falafel-Spiced Chickpea Flatbreads.
So here they are - the 12 most popular posts, based on traffic, from 2018. Did your favorite make the list?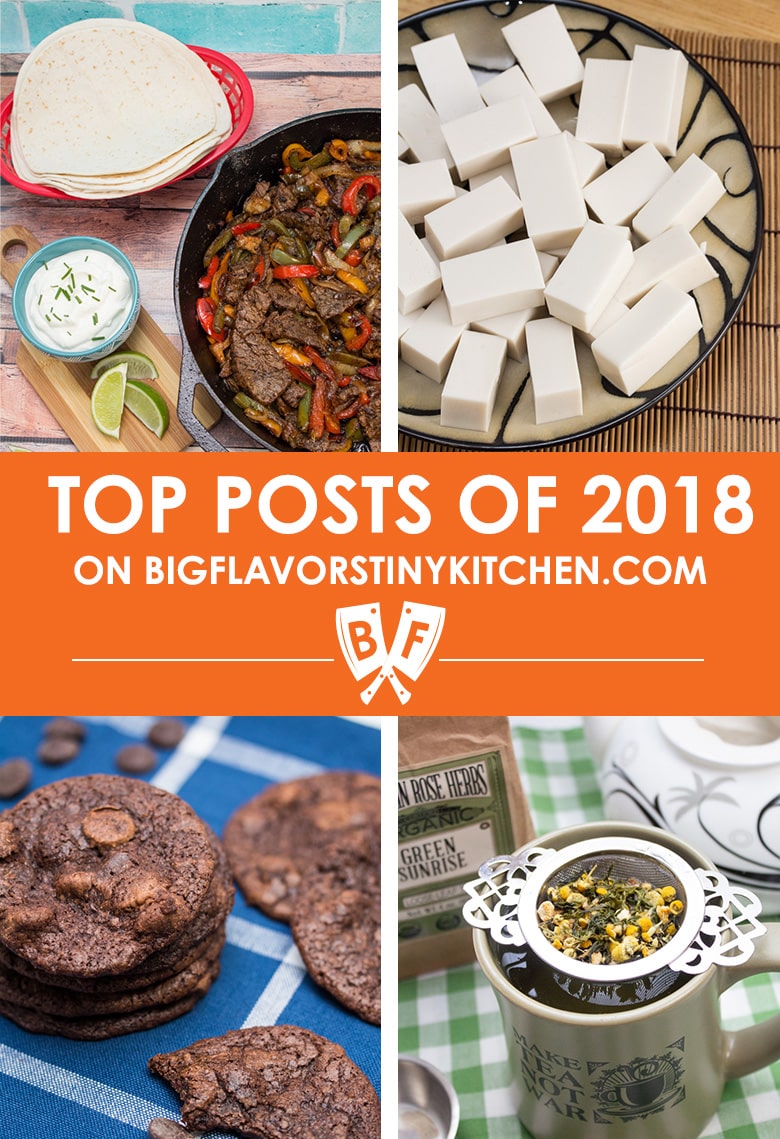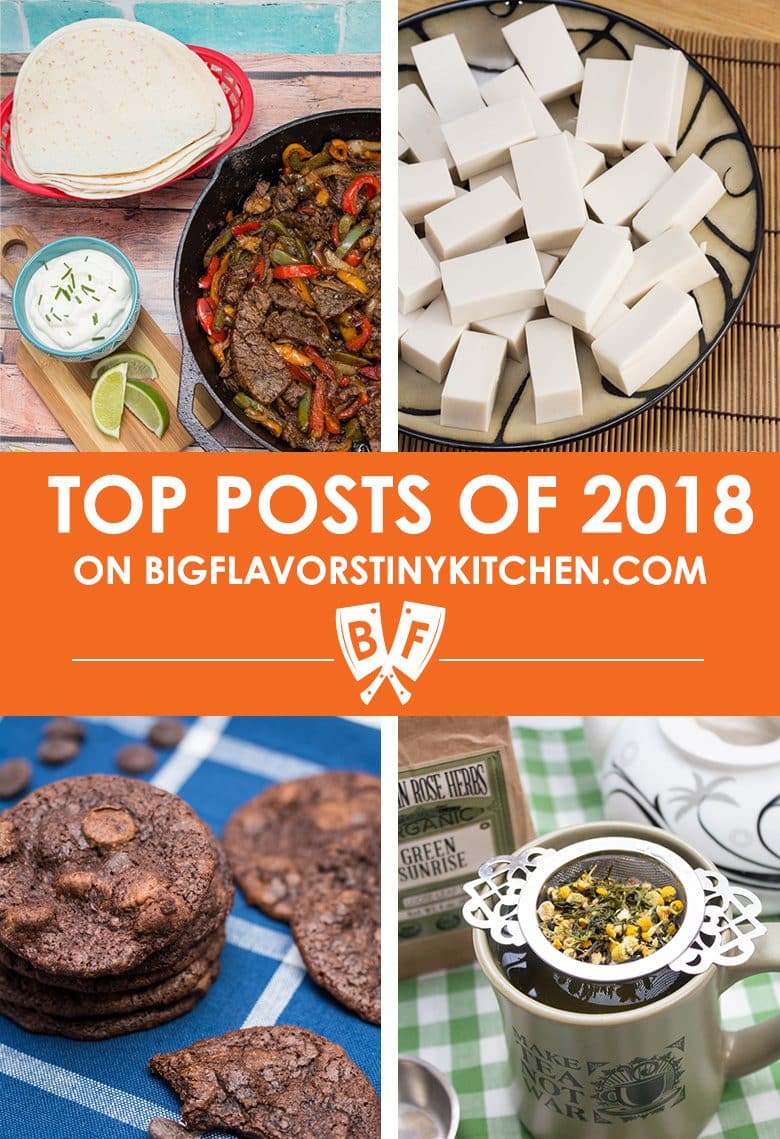 12. Our Favorite Steak Fajitas - These tender steak fajitas are one of my family's very favorite meals – a perfect Tex-Mex dinner made in a single cast iron skillet.
11. Coconut Jelly - A silky smooth, slightly sweet way to end any dim sum party! These luxuriously smooth treats take only 5 ingredients and 10 minutes on the stovetop, then just stash them in the fridge until party time!
10. Melt-in-Your-Mouth Buttermilk Chocolate Cookies - These supremely chocolatey cookies are a great way to use a partial container of buttermilk – guaranteed to satisfy even the strongest chocolate cravings.
9. 30 Tips for Reducing Kitchen Waste - This list of 30 tips for reducing kitchen waste is full of ideas to help build money-saving, eco-friendly habits for an environmentally conscious lifestyle.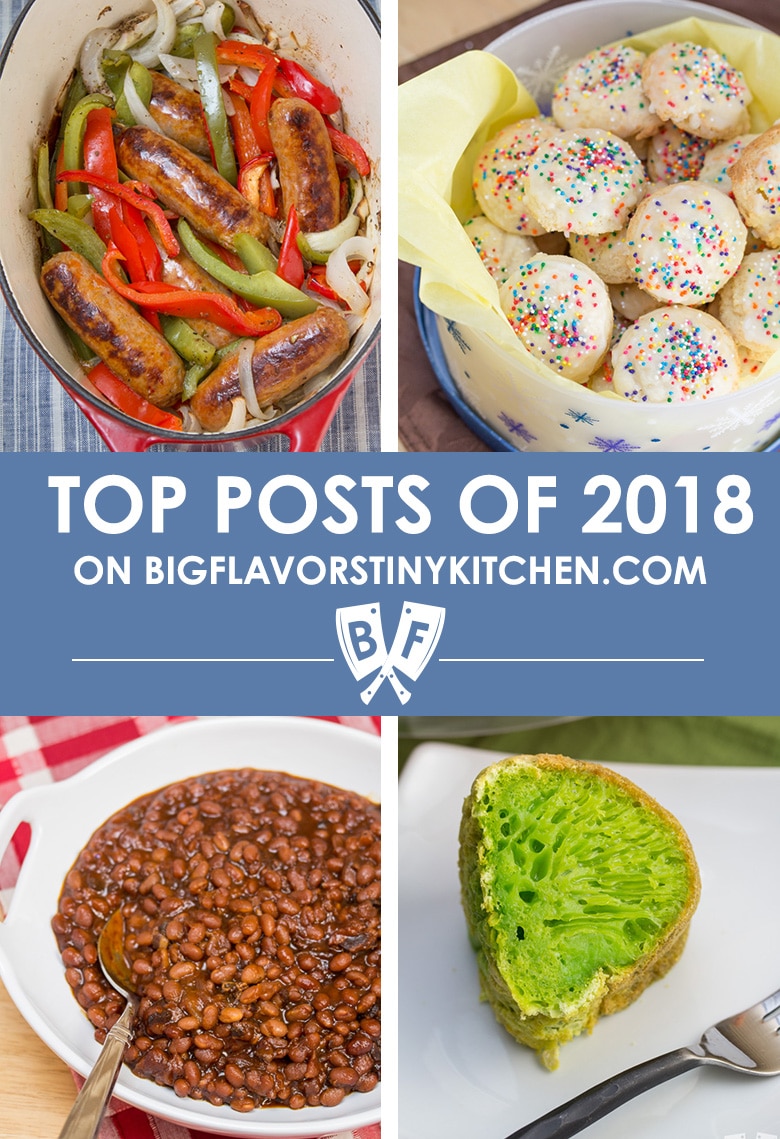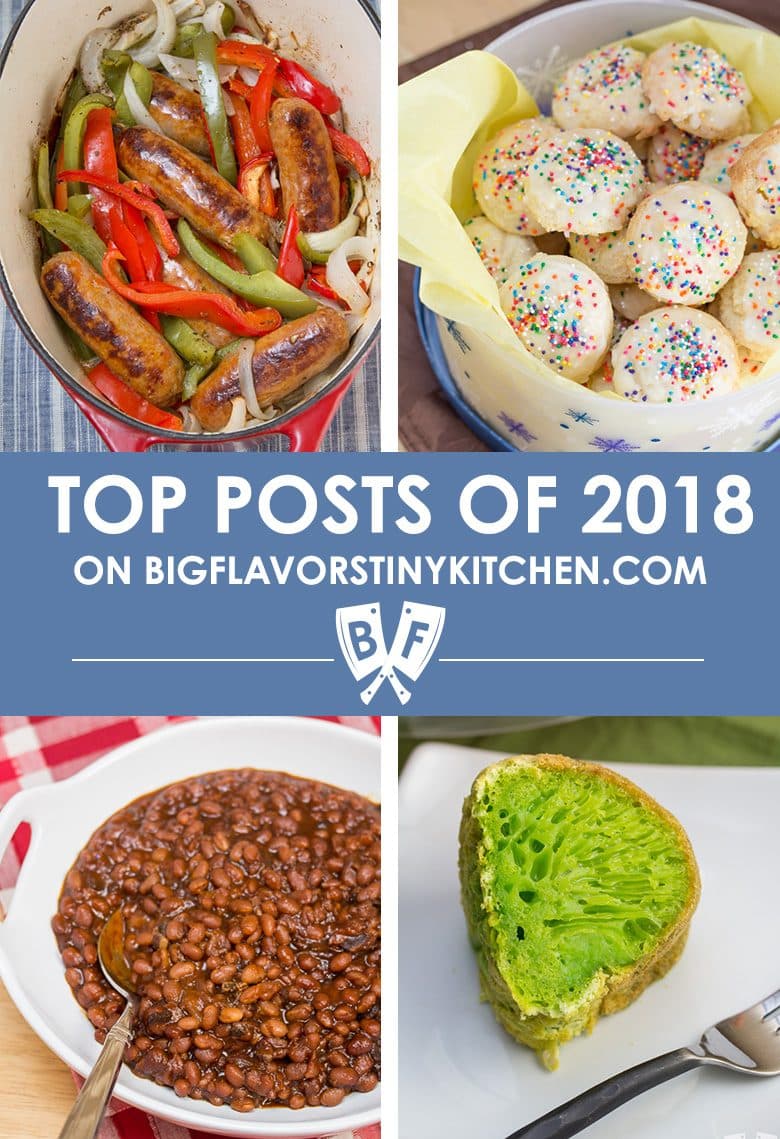 8. Sausage and Peppers - This simple, classic Italian comfort food recipe makes a perfect weeknight meal and is easily scaled up to feed a crowd. Inspired by my Calabrese father-in-law!
7. Ricotta Cookies - This simple dessert recipe makes lots of pillowy soft, tender cookies that are sure to be a family favorite! Perfect for cookie exchanges & holiday parties.
6. Instant Pot "Baked" Beans - Bacon and molasses take this sweet-and-salty side dish to the next level!
5. Bánh Bò Nướng: Vietnamese Honeycomb Cake - Pandan extract gives this traditional Vietnamese cake a vibrant, green hue.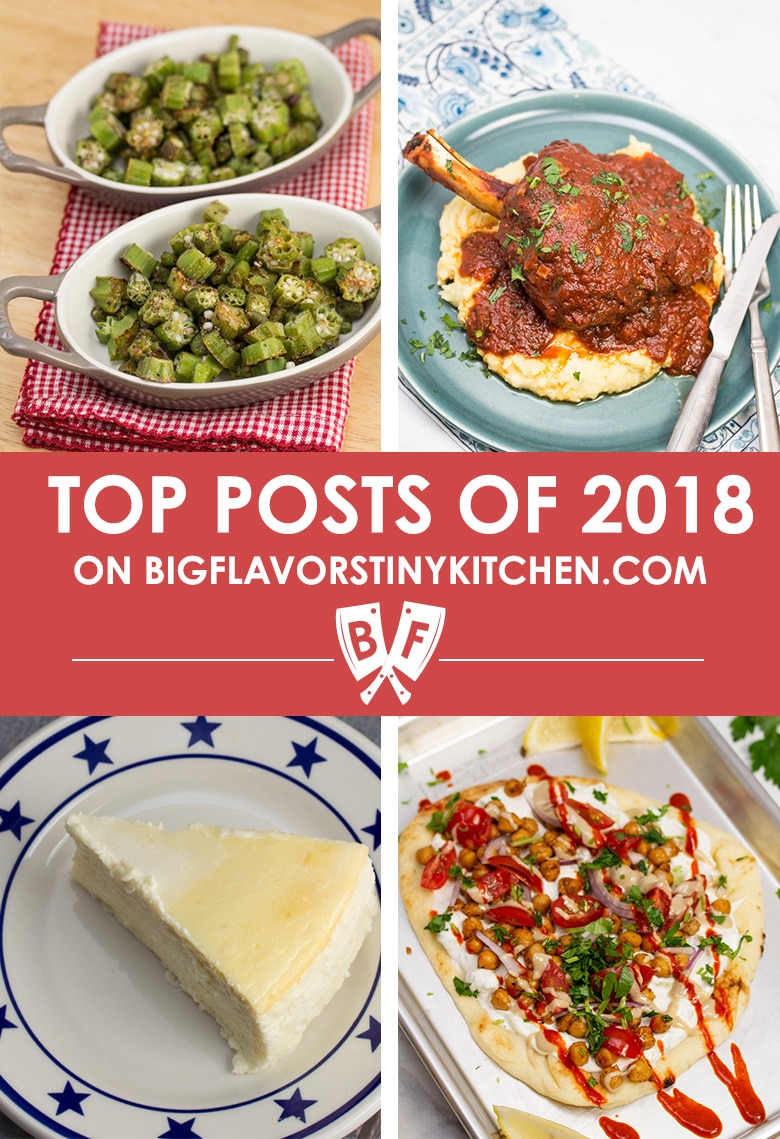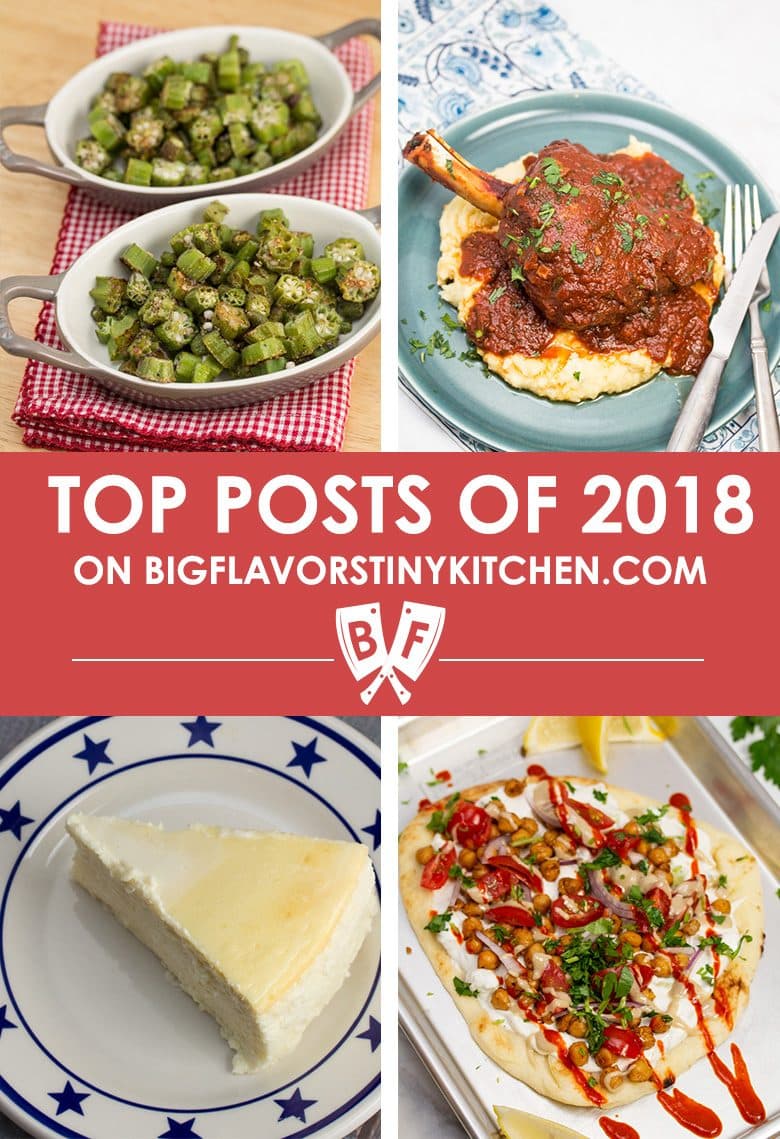 4. Roasted Okra - Just 3 pantry staples turn fresh okra into a deliciously golden, nutty side dish or snack. This roasted okra recipe is simple, quick, and delicious.
3. Instant Pot Braised Lamb Shanks with Tomato - Beautifully tender, fall-off-the-bone lamb shanks are possible in a fraction of the time thanks to an electric pressure cooker!
2. Italian Cream Cheese and Ricotta Cheesecake - This super rich, creamy, tangy, no frills, crustless Italian-style cheesecake is easier than you'd think to prepare at home! It's always a HUGE hit with everyone at the table. Perfect for holiday desserts, dinner parties, and celebratory meals.
1. Falafel-Spiced Chickpea Flatbreads - Naan is covered in garlicky tzatziki sauce, Middle Eastern-spiced chickpeas, tahini, fresh herbs and Sriracha in this street food/comfort food mashup.
I also had a pretty fun assortment of top posts from 2018 over on Instagram. There are a few in there with recipes that will be posted to Big Flavors soon.
View this post on Instagram
There were certainly a lot of delicious recipes that came out of my tiny kitchen last year, and I look forward to sharing many, many more in the future!
If you have any specific requests for new recipes, feel free to drop me a note over on my contact page, or message me on social media! You can find me on Facebook, Google+, Instagram, LinkedIn, Pinterest, Twitter, and YouTube.
And if you're in the mood to do some online shopping, you can  check out my Amazon Shop page for recommendations!
As always if you make one of my recipes, I'd love to see your photos! Tag me on social media and use #cookbigflavors.
Looking for some of my personal favorites from the past 12 years? You can find all of my family's top-rated recipes here.