This post may contain affiliate links, which won't change your price but will share some commission.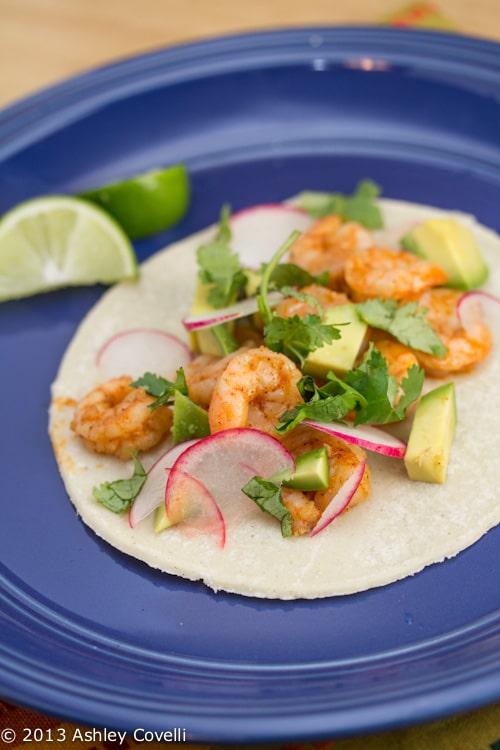 I'm pretty proud of myself right now. I managed to get a Cinco de Mayo recipe made and am actually posting it a few days early. It's even a recipe that I made up myself. Wow! I love cooking for holidays, but usually do it on the actual holiday and then don't end up posting it until a day or three later. Not that that's a bad thing, but I realize that some people like to see something new from me in time to actually make it for (insert holiday here).
I was working on a tight deadline for my part-time job, and waiting to hear back from my boss on something. We had been out-of-town all weekend, and I really wanted to make something homemade for dinner, but I needed to go to the grocery store. I didn't have a ton of energy, so I started thinking about what I could make that would be easy enough for a crazy Monday night. I knew that I wanted to make something Mexican for the upcoming holiday, and I wanted to try something new. I've never eaten a shrimp taco before, but I was inspired to try to come up with a way to make them. Shrimp cook up really quickly, and are a lot lighter than some of the other meaty Mexican dishes I've made. So I put this together and it turned out awesome! Super simple and really flavorful. The only mistake I made at first was that I didn't warm the tortillas. I don't use corn tortillas very often, and I forgot how brittle they are. So Dino had a great method to heat them up - put 2 corn tortillas on top of each other on a paper towel lined plate, then cover with a paper towel, stack 2 more tortillas, and cover with a paper towel. Microwave for 30 seconds. Having a double layer of the warmed tortillas really makes these easier to eat.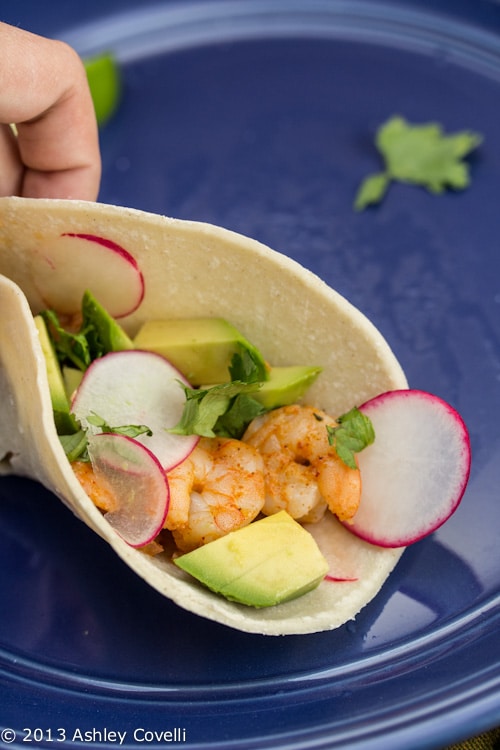 Tequila-Lime Shrimp Tacos
Ashley Covelli
Makes 6 tacos
1 tablespoon extra-virgin olive oil
1 pound medium shrimp, peeled and deveined
2 cloves garlic, minced
2 tablespoons shallot, minced
½ teaspoon chili powder
Kosher salt, to taste
1 tablespoon tequila
1 lime, halved (and cut one of the halves into wedges)
12 small corn tortillas
avocado, diced
cilantro, chopped
radishes, thinly sliced
Heat oil in a large, non-stick skillet over medium-high heat. Add the shrimp, garlic and shallots. Season with chile powder and salt and stir. Sauté until shrimp are pink and almost cooked through. Squeeze the juice of half of the lime over the shrimp, add tequila and stir. Let the shrimp finish cooking and remove from heat.
To serve, place shrimp on a double layer of warmed tortillas. Top with avocado, cilantro and radishes. Squeeze a lime wedge over each taco before digging in, if desired.
Enjoy!
Big Flavors Rating: 5 Stars