This post may contain affiliate links, which won't change your price but will share some commission.
So this is what we were able to rig in the kitchen until we have a countertop and plumbing - Dino put one of the shelves for the bottom cabinets up on top so I have a "counter" to put my new butcher block on. I was able to make a simple, homemade dinner and I was super excited! I've missed cooking so much! I don't like having to wash dishes in a room other than the kitchen, but after this week, that will finally be over...YAY!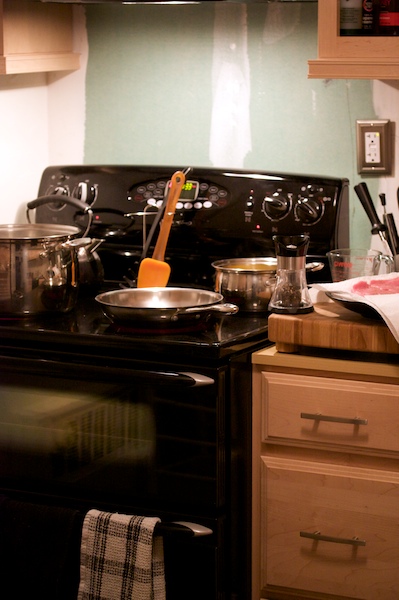 Special shoutout to my mom for getting me the standing spoon rest that I wanted for Christmas. It's so great - I had the pasta spoon and my spoonula in there at the same time.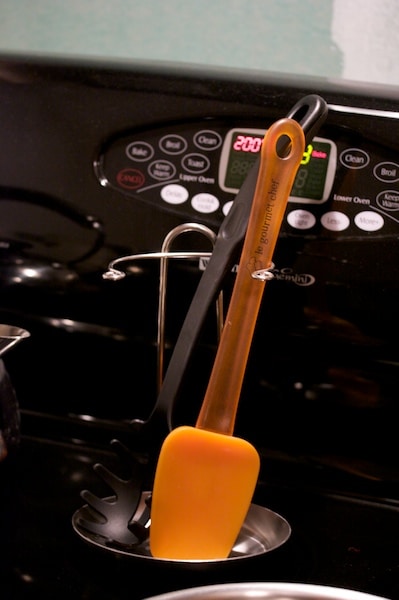 I bought some beautiful veal scallopini from the store and fried them up simply with some salt and pepper and a Penzeys spice blend called Mural of Flavor, which has shallots, onion, garlic, thyme, rosemary, basil, coriander, lemon peel, citric acid, black pepper, chives, green peppercorns, dill weed, and orange peel. It was simple and delicious, and didn't make much of a mess in the quasi-kitchen.