This post may contain affiliate links, which won't change your price but will share some commission.
These shrimp dumplings were a bit of a hassle to put together, even though we made the filling early in the day. We doubled the recipe, but it made a TON of dumplings. We had to cook them in batches, which ended up taking quite a bit of time, too. Luckily, they were delicious! They definitely need the dipping sauce, so don't forget to make that. The flavor of the filling is wonderful, and you get a nice bit of crunch from the water chestnuts.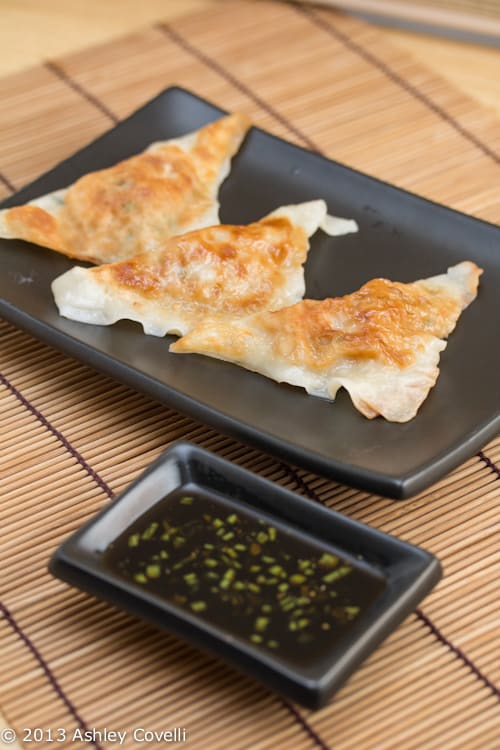 Shrimp Dumplings
Gourmet January 1999
Serves 2
½ pound shrimp (about 8 large)
½ cup drained canned water chestnuts
2 scallions
1 large egg white
1 tablespoon grated peeled fresh gingerroot
3 tablespoons soy sauce
14 won ton wrappers, thawed if frozen
½ teaspoon sugar
2 tablespoons vegetable oil
¾ cup boiling-hot water
Peel shrimp and, if desired, devein. In a food processor purée 3 shrimp. Rinse and drain water chestnuts. Finely chop water chestnuts and remaining shrimp. Finely chop scallion greens, reserving white parts for another use. Lightly beat egg white and put 1 tablespoon in a bowl. Stir in puréed and chopped shrimp, water chestnuts, about two thirds each of scallion greens and gingerroot, and 1 tablespoon soy sauce.
Put 7 won ton wrappers on a dry surface, keeping remaining wrappers in package, and lightly brush edges with water. Mound about 1 tablespoon filling in center of each wrapper. Fold each wrapper over filling to form a triangle. Press down around filling to force out excess air and seal edges well. Make additional dumplings with remaining wrappers and filling in same manner.
In a small bowl stir together sugar and remaining scallion greens, gingerroot, and soy sauce to make dipping sauce.
In a 12-inch nonstick skillet heat oil over moderately high heat until hot but not smoking and brown dumplings on both sides, about 3 minutes total. Add boiling-hot water to skillet and cook, covered, 5 minutes. Serve dumplings with sauce.
Big Flavors Rating: 5 Stars