This post may contain affiliate links, which won't change your price but will share some commission.
This is one of our favorite Mexican beverages, so we figured it would be fun to try to make them ourselves for the Supper Club. It takes a while, but most of the time is just letting the rice soak. It's a really easy recipe. We forgot to get a picture of these before they were all gone - oops! But here's a photo of 95% of the night's tastiness: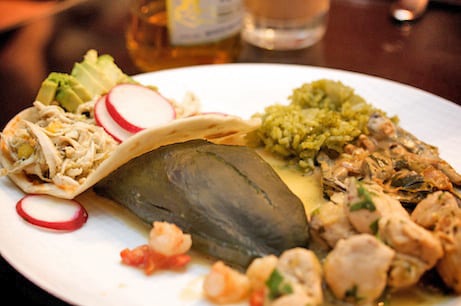 Lola's Horchata
Allrecipes - LOLA
"A very easy way to make great horchata!"
Prep Time: 10 Min
Ready In: 3 Hrs 10 Min
Yield 6 cups
1 cup uncooked white long-grain rice
5 cups water
½ cup milk
½ tablespoon vanilla extract
½ tablespoon ground cinnamon
⅔ cup white sugar
1. Pour the rice and water into the bowl of a blender; blend until the rice just begins to break up, about 1 minute. Let rice and water stand at room temperature for a minimum of 3 hours.
2. Strain the rice water into a pitcher and discard the rice. Stir the milk, vanilla, cinnamon, and sugar into the rice water. Chill and stir before serving over ice.
Nutritional Information:
Amount Per Serving:
Calories: 213 Total Fat: 0.6g Cholesterol: 2mg
MacGourmet Rating: 4 Stars