This post may contain affiliate links, which won't change your price but will share some commission.
This month's Supper Club theme was Southern, and I had a feeling it might be a heavy meal, so I set out to find a light(ish) recipe to contribute. I've never made succotash, and I got it in my head that I wanted to try it out. This recipe is really easy - it just takes a bit of time to chop all the veggies. I usually use olive oil when I'm sautéing veggies, but in this case, the butter adds a nice richness. I really enjoyed the flavor of the fresh marjoram, too. My only note is that unless you have a gigantic iron skillet, you're going to run out of room. I started it in one but had to transfer it to something bigger to fit everything. This was a nice, colorful addition to our meal!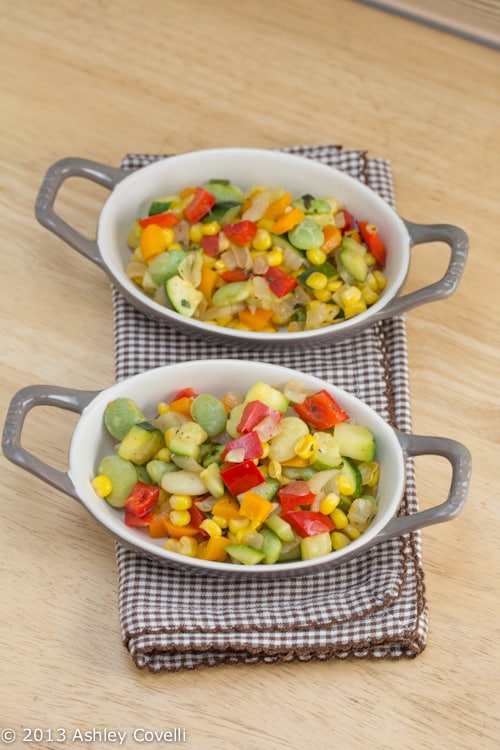 Iron-Skillet Succotash
Bon Appétit November 2010
3 tablespoons butter
1 large white onion, cut into ½-inch pieces (about 2 ½ cups)
18 ounces medium zucchini (about 4), trimmed, cut into ½-inch cubes
1 large red bell pepper, cut into ½-inch pieces (about 1 ½ cups)
1 large orange bell pepper, cut into ½-inch pieces (about 1 ½ cups)
1 10-ounce package frozen lima beans or shelled edamame, partially frozen
1 10-ounce package frozen corn kernels, partially frozen
1 tablespoon minced fresh marjoram
Coarse kosher salt
The technique: Skillet-roasted
Cooking veggies over moderate heat for a bit longer than you would for a typical sauté helps meld flavors while retaining texture. The added benefit? Side dishes cooked on the stovetop preserve precious oven space.
Preparation
Melt butter in heavy large skillet (preferably cast iron) over medium-high heat. Add onion; cook until golden, about 5 minutes. Add zucchini and peppers; cook until beginning to soften, stirring often, about 5 minutes. Add lima beans and corn; cook until heated through, stirring constantly, about 5 minutes. Mix in marjoram. Season with coarse salt and black pepper. Transfer succotash to large bowl and serve.
Big Flavors Rating: 4 Stars