This post may contain affiliate links, which won't change your price but will share some commission.
This is one of our favorite tofu dishes, and I haven't made it in a few years. It's perfect for a busy weeknight, because it comes together pretty quickly, and the toasted pine nuts sprinkled over top give it a nice bit of crunch. This time around, I accidentally used half-sharp paprika and it was MAJORLY spicy. Oops! I served this with No-Fuss Sweet and Spicy Carrot Salad and Balsamic-Roasted Brussels Sprouts with Pine Nuts and Parmesan.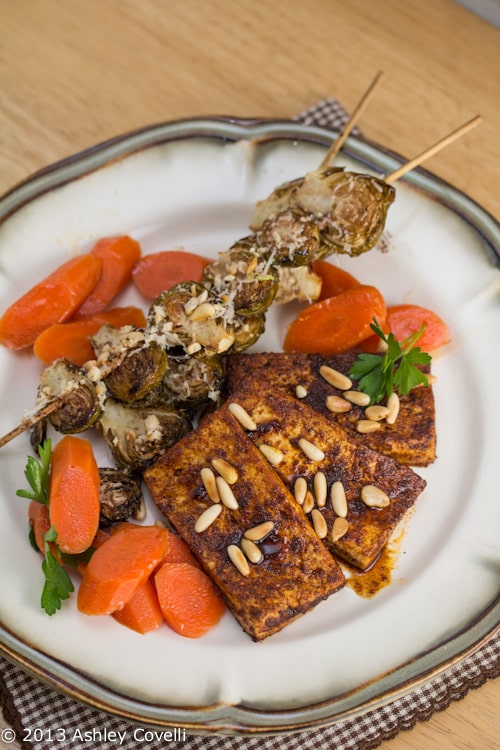 Spice-Crusted Tofu
Eating Well Spring 2004
3 tablespoons pine nuts
1 tablespoon paprika
1 teaspoon ground cumin
1 teaspoon ground coriander
½ teaspoon coarse kosher salt, or to taste
Freshly ground pepper to taste
1 14-ounce package extra-firm tofu
3 tablespoons boiling water
2 tablespoons lemon juice
4 teaspoons honey
1 tablespoon extra-virgin olive oil
1. Toast pine nuts in a small dry skillet over medium-low heat, stirring constantly, until golden and fragrant, 2 to 3 minutes. Transfer to a bowl to cool.
2. Mix paprika, cumin, coriander, salt and pepper in a small bowl. Drain tofu and pat dry with paper towels. Cut crosswise into 8 ½-inch-thick slices. Dredge the tofu liberally with the spice mixture, coating all sides. Mix boiling water, lemon juice and honey in a small bowl.
3. Heat oil in a large nonstick skillet over medium-high heat; swirl to coat the bottom. Add tofu and cook on one side until brown and crusty, 4 to 5 minutes; flip and cook for another 3 minutes. Add the honey mixture to the pan (it will bubble up and evaporate very quickly) and shake to coat the tofu. Serve immediately, sprinkled with the toasted pine nuts.
Makes 4 servings.
Nutritional notes:
Per serving: 206 calories; 15 g fat (2 g sat, 4 g mono); 0 mg cholesterol; 10 g carbohydrate; 12 g protein; 2 g fiber; 248 mg sodium.
Big Flavors Rating: 5 Stars