This post may contain affiliate links, which won't change your price but will share some commission.
These crispy, flavorful skewers were a HUGE hit at the dinner table, and it's a good thing, because let me tell you... threading Brussels sprouts onto skewers was something I will never do again a test of patience, to say the very least.
These were highly addictive, and went perfectly with the rest of tonight's dinner. I already had to toast pine nuts for the Spice-Crusted Tofu, so I just toasted some extra to chop and put on top of these beauties.
I loved the way the Parmesan melted down slightly on top of the veggies, and the crispy outer edges were just awesome.
I'll definitely make this again, but I may outsource the skewering or just forego that altogether next time around.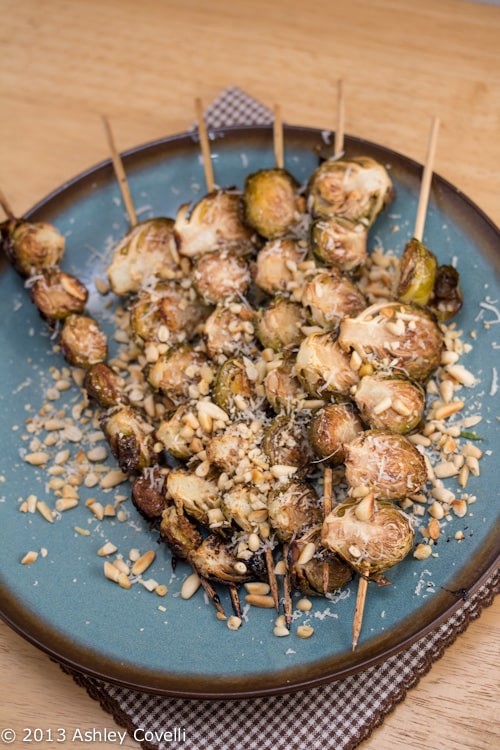 Balsamic-Roasted Brussels Sprouts with Pine Nuts and Parmesan
Jerry James Stone
1 pound of Brussels sprouts
⅛ cup pine nuts, finely diced
Balsamic vinegar
Olive oil
Parmesan cheese
1. Trim and peel away the outer leaves of each Brussels sprout and then half them.
2. Slide the Brussels sprout halves onto the skewers, about six to eight halves per skewer.
3. Line a baking dish with parchment paper and places the skewers halved-side up.
4. Drizzle olive oil and balsamic vinegar over each skewer, trying to "fill up" the Brussels sprouts.
5. Bake the skewers at 400 degrees for about 30 minutes until they are cooked and crispy.
6. Plate the skewers on a serving tray and cover them with shaved Parmesan and the pine nuts.
Big Flavors Rating: 5 Stars