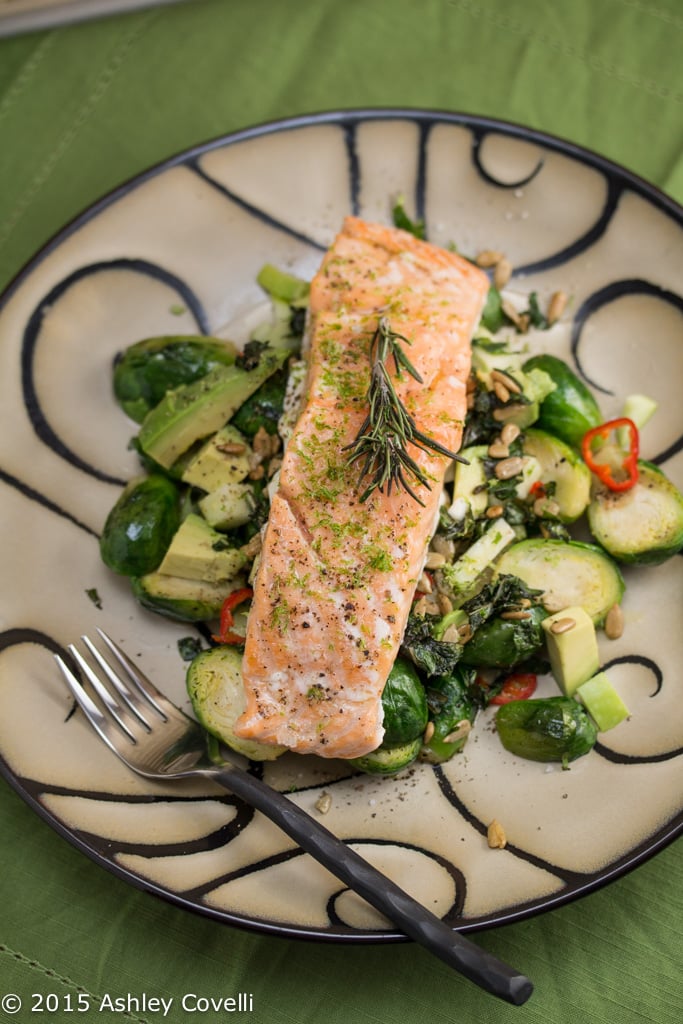 Slowly Cooked Salmon with Roasted Brussels Sprouts, Avocado & Apples
This post may contain affiliate links. Thank you for supporting the brands that keep me creative in my tiny kitchen!
This post was created in partnership with JCPenney. As always, all opinions are 100% my own.
Last month, I was fortunate enough to be invited to attend a party for the newly revamped Epicurious.com and the launch of their new cookware collection exclusive to JCPenney.
Chef Dan Kluger hosted an exclusive cooking demo at NYC's Bouley Botanical to show off the cookware and chat with Epicurious Food Editor Rhonda Boone and Restaurant Editor Matt Duckor.
I really enjoyed watching him cook, and getting tips on the best way to slow roast fish at home (200-250°F, nice and low).
I had a wonderful time sampling several delicious dishes and cocktails while I was there, including the salmon dish that Chef Kluger prepared. The recipe was printed out on recipe cards, and I made sure to grab one so I could recreate that deliciousness at home!
Another one of my favorites was Chef Camille Becerra's Black Rice & Radishes w Puffed Kasha, Flax & Mint. It was such a fresh and interesting dish. I definitely snuck an extra serving of this beauty!
The new Epicurious cookware is absolutely gorgeous! It's professional-grade and comes in hard anodized, aluminum non-stick, stainless steel and enamel cast iron light options. All except the enamel cast iron have a unique belly shape and silicone handles, which stay cool to the touch.
I really like the glass lids, since they help you see what's going on inside the pots and pans while you're cooking. They're oven safe up to 350°F, which is great for recipes like this salmon where you do both stove top and oven cooking for the same recipe.
So finally, on to the salmon!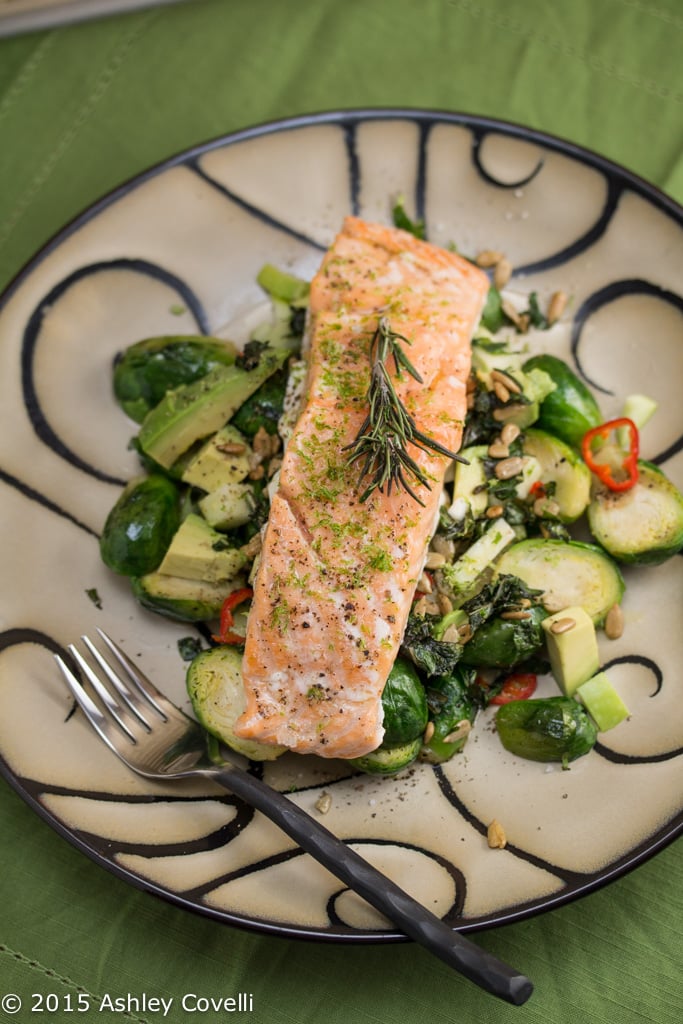 I made this at home knowing it was going to be a bit of an undertaking, since it had so many separate components. It turned out fabulously, but there were definitely a few snags I ran into while working with the recipe.
For me, this recipe made enough Brussels sprouts for 2 main course servings and a lot of dressing (which was fine, as I've been enjoying using the leftovers on other dishes!). Then when I got to the salmon, I knew one 4 1/2 ounce piece wouldn't be enough for us, so I used 1 pound total, cut into 2 portions so my husband and I would each have a nice-sized piece of fish. I used 2 sprigs of rosemary – one for each piece of fish. I left the garnish as written, without scaling it up or down and it was enough for both of us (although it was SO tasty that a bit more wouldn't have hurt!).
Since the Epicurious cookware is oven safe, I used one of the sauté pans with the lid on to cook the salmon, and it came out beautifully. I attempted to cover it with 2 layers of plastic wrap, as directed, but it didn't want to cooperate, so on with the lid. Easy peasy.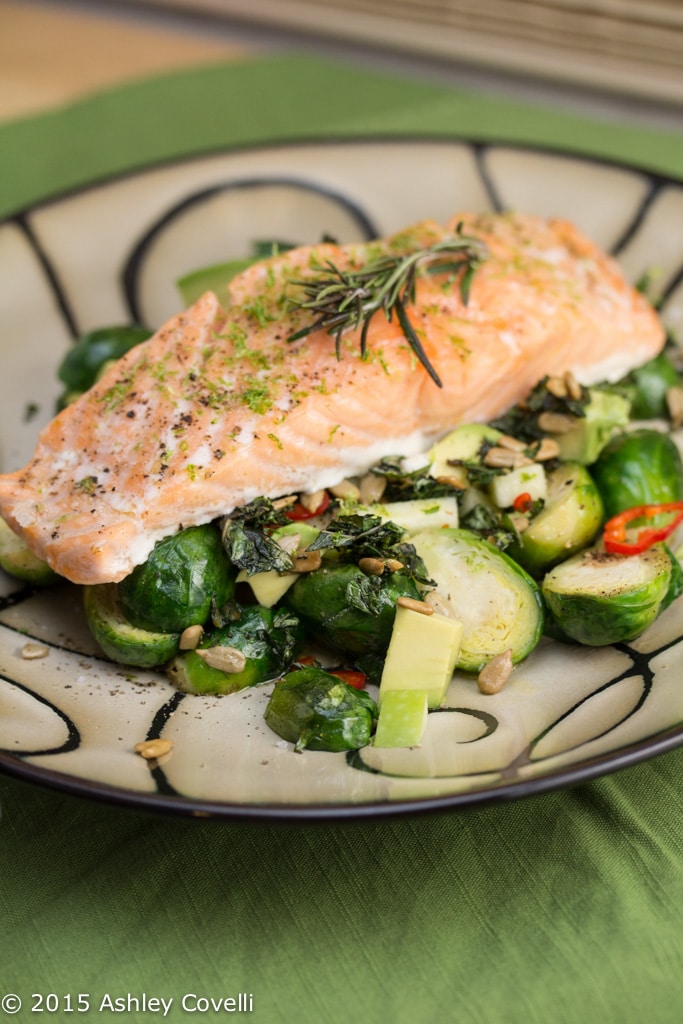 Pan-fried herbs, red chili peppers and sunflower seeds adorn this succulent seafood dish. The salmon just melts in your mouth so beautifully! The slow cooking method is absolutely spot on for this. I really loved the tanginess of the dressing and the crunch of the apples with the creamy avocado and roasted Brussels sprouts.
The next time I make this (and there will most definitely be a next time!), I'll work on scaling things a little differently to prevent some of the confusion in the kitchen. It's a dish that has a lot going on, but it all works together incredibly harmoniously. It was a huge hit at my dinner table!
Slowly Cooked Salmon with Roasted Brussels Sprouts, Avocado & Apples
Dan Kluger for Epicurious
Brussels Sprouts:
2 cups medium-sized Brussels sprouts, blanched, shocked, and cut in half
1/4 cup California Olive Ranch Arbequina olive oil
1 Tbsp. kosher salt
Black pepper, freshly milled, to taste
Dressing:
1/2 cup lime juice
1/4 cup Champagne vinegar
1/4 cup California Olive Ranch Arbequina olive oil
1 Tbsp. Dijon mustard
1 tsp. whole grain mustard
2 tsp. honey
1 1/2 tsp. Tabasco
2 tsp. kosher salt
Salmon:
4 1/2 oz. Salmon or Arctic Char fillet without skin, cut on slight bias
California Olive Ranch Arbequina olive oil
1 sprig rosemary
Dish:
1 Tbsp. extra virgin olive oil
1/2 cup basil, picked, roughly chopped
1/4 cup mint, picked, roughly chopped
2 Tbsp. sunflower seeds, toasted
1/2 piece Red Fresno chili, thinly sliced with seeds
1/2 large avocado, 1/2-inch cubes
1/4 Mutsu apple, 1/2-inch dice with skin and held in lemon water
3 Tbsp. dressing (see recipe)
1 lime for zesting
Maine sea salt, coarse
Black pepper, freshly milled
Cooked salmon (see recipe)
Brussels Sprouts:
Fill a large pot with water and bring to a rapid boil. Blanch Brussels sprouts in small amounts for 2 minutes or until tender but not fully cooked. Shock in ice water and dry on towels. Preheat oven to 400°F. In a hot sauté pan, add olive oil, Brussels, salt, and pepper to taste. Place in the oven; cook for about 5-8 minutes, stirring occasionally to ensure even roasting. Remove from oven; transfer onto paper towel lined tray.
Dressing:
In a mixing bowl, combine together and whisk.
Salmon:
Heat oven to 200°F. Salt salmon on both sides, coat with olive oil, and place in a small baking dish or sauté pan. Top with rosemary and cover with two layers of plastic wrap. Place pan in oven; cook for about 12 minutes or until salmon begins to turn more opaque with bits of white albumen on the edge.
Dish:
Using the same pan the Brussels were roasted in, on medium-high heat, add olive oil and quickly fry leaves of basil and mint. Add sunflower seeds and chili; toss. Plate Brussels on a platter, sprinkle evenly with avocado and apple. Drizzle dressing, top with herb mix, then salmon. Finish with lime zest, sea salt and black pepper.
Can be prepared with the Epicurious 10″ Open Fry Pan
Big Flavors Rating: 5 Stars