This post may contain affiliate links, which won't change your price but will share some commission.
I made yet another winner from this cookbook tonight! I followed one of the tips and substituted shrimp for salmon. It was really tasty and not nearly as spicy as it sounds like it will be. The coconut milk really tames the heat of the chiles. I'd make this again, and I'd love to try it with other seafood.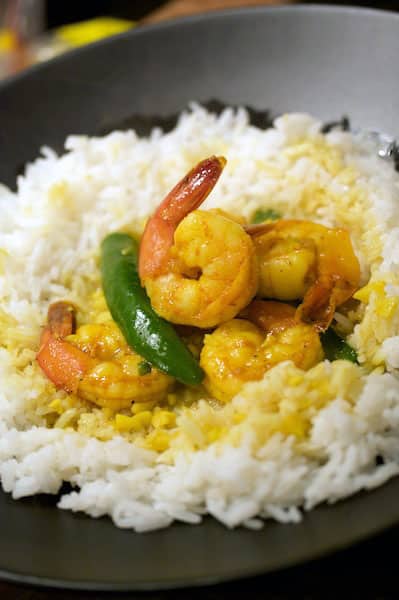 Salmon with Garlic and Turmeric (Lasoon Aur Kaldi Waale Mucchi)
660 Curries: The Gateway to Indian Cooking - Raghaven Iyer
1 ½ teaspoons coarse kosher or sea salt
1 teaspoon ground turmeric
6 medium-size cloves garlic, finely chopped
1 pound boneless, skinless salmon fillet
2 tablespoons canola oil
½ cup unsweetened coconut milk
½ teaspoon black peppercorns, coarsely crushed
2 fresh green Thai, cayenne, or serrano chiles, stems removed, cut in half lengthwise (do not remove the seeds)
1. Mix the salt, turmeric, and garlic together in a small bowl. Sprinkle this rub over the top of the salmon fillet, and rub it in. Refrigerate the fish, covered, for at least 30 minutes or as long as overnight, to allow the flavors to permeate the flesh.
2. Heat the oil in a large skillet over medium heat. Add the salmon, spice-covered side down, and sear it for about 2 minutes (this will brown the fish and the garlic in the rub, and also cook the turmeric). Turn the fillet over and sear the underside until browned, about 2 minutes.
3. Measure out the coconut milk in a measuring cup, and add the peppercorns and the chiles. Lift the fillet with a spatula and tilt the skillet slightly to allow the spiced coconut milk to run under it and release the browned bits of garlic, spice, and fish. Reduce the heat to medium-low, cover the skillet, and braise the salmon, spooning the sauce over it occasionally, until the flesh is barely starting to flake, 3 to 5 minutes.
4. Transfer the fish to a platter, pour the curry over it, and serve.
Tips: Shrimp or scallops make an excellent alternative to the salmon, as does any firm-fleshed fish like cod, bass, or catfish. Farm-raised tilapia is also a palatable option.
The Two sources of heat in this curry, chiles and peppercorns, should not deter you from trying this recipe - they exude a hushed presence in the unsweetened coconut milk. The fresh chiles are slit open to reveal the vein that harbors the potent capsaicin, but since they are not chopped, they will generate less heat.
MacGourmet Rating: 4 Stars