This post may contain affiliate links, which won't change your price but will share some commission.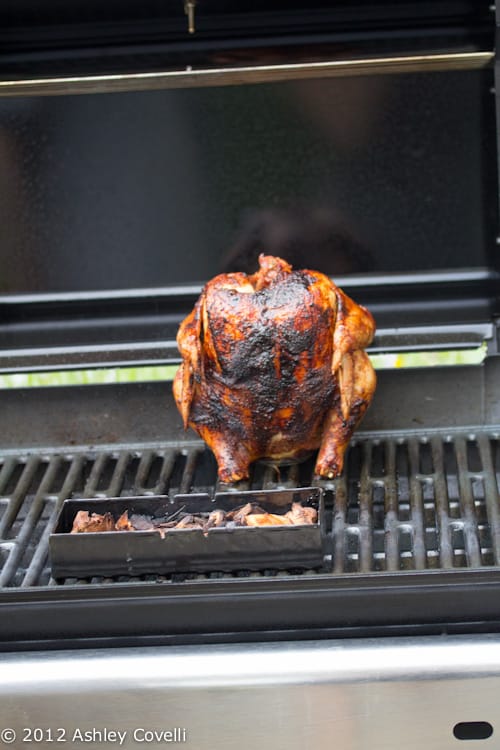 This is the second time we've made this chicken recipe. It's awesome. We don't take the skin off of the chicken when we make it for a few reasons...first off, the skin adds a lot of flavor (even though I'm a weirdo who doesn't typically eat chicken skin), secondly, I misread the recipe BOTH times and didn't see that it said "skinned" until after I applied the spice rub. Lastly...skinning a chicken sounds like a royal pain in the you-know-what to me, so eh...I say leave it on. The root beer can bastes the chicken from the inside, making the meat insanely moist. This time around, Dino used mesquite wood chips (soaked in beer) to add a smoky flavor to the chicken.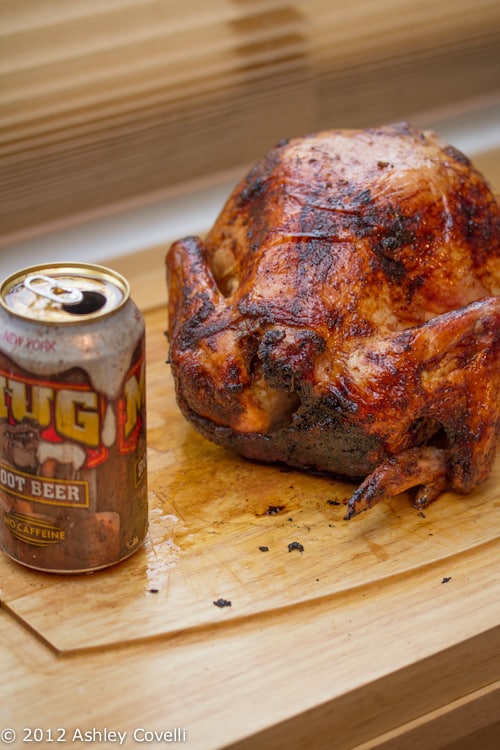 Root Beer-Can Chicken
Cooking Light June 2010
This is a family-friendly take on beer-can chicken in which we use an opened root beer can to support a whole bird on the grill. The liquid inside the can adds moisture, resulting in succulent, tender meat. Complete the meal with roasted red potatoes and a sweet-tart broccoli slaw.
Yield: 4 servings (serving size: 1 breast half or 1 leg quarter)
1 ½ teaspoons Hungarian sweet paprika
1 teaspoon brown sugar
½ teaspoon garlic powder
½ teaspoon onion powder
½ teaspoon ground red pepper
½ teaspoon chili powder
¼ teaspoon ground allspice
¾ teaspoon kosher salt, divided
2 (12-ounce) cans root beer, divided
2 tablespoons chilled unsalted butter, cut into pieces
2 teaspoons cider vinegar
1 (3 ½-pound) whole chicken, skinned
1. Prepare grill for indirect grilling, heating one side to medium.
2. Combine first 7 ingredients and ½ teaspoon salt in a small bowl.
3. Open both root beer cans; pour 18 ounces into a small saucepan. Set remaining root beer aside (in the can). Bring 18 ounces root beer to a boil. Cook until reduced to ⅓ cup (about 20 minutes). Remove from heat. Add remaining ¼ teaspoon salt, butter, and vinegar, stirring until smooth.
4. Rub paprika mixture evenly over chicken. Holding chicken upright with the cavity facing down, insert reserved opened root beer can into cavity. Place chicken on unheated side of grill. Spread legs out to form a tripod to support the chicken. Cover and grill for 1 hour and 30 minutes or until a meat thermometer inserted into meaty portion of thigh registers 160°, basting chicken every 20 minutes with sauce.
5. Lift chicken slightly using tongs; place spatula under can. Carefully remove chicken and can from grill; place on a cutting board. Let stand 10 minutes. Gently lift chicken using tongs or insulated rubber gloves; carefully twist can and remove from cavity. Discard can. Carve chicken.
Nutritional Information:
Calories: 371
Fat: 15.1g (sat 6.2g,mono 5g,poly 2.4g)
Protein: 35.6g
Carbohydrate: 21.4g
Fiber: 0.2g
Cholesterol: 121mg
Iron: 1.9mg
Sodium: 502mg
Calcium: 32mg
Big Flavors Rating: 5 Stars