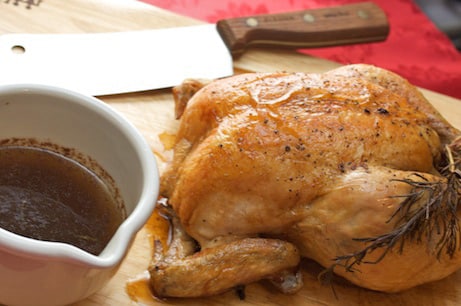 Roast Chicken with Rosemary
This post may contain affiliate links. Thank you for supporting the brands that keep me creative in my tiny kitchen!
I don't cook with whole chickens too often, but I decided that this would be a good time to try it out in my new convection oven. Oh…my…deliciously moist chicken!! This is a super simple recipe that packs a lot of flavor! The only change I made was to add a little cornstarch slurry to the pan juices at the end, because they weren't thickening up quickly enough. This had gorgeous flavor, and the meat was insanely moist. Dino actually said it was the best chicken he's ever had…and that's saying a lot, especially from the self-proclaimed rosemary hater! The sauce was rich and made the perfect accompaniment to the meat. All in all it was a big winner!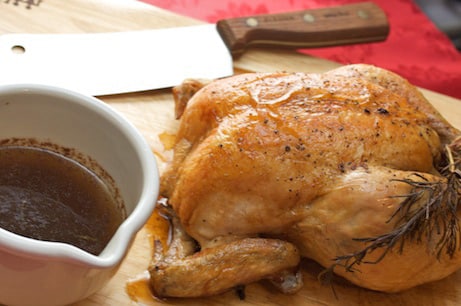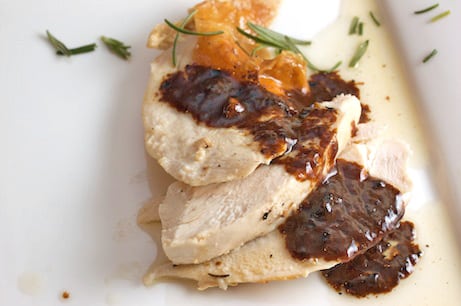 Roast Chicken with Rosemary
The Food of Italy: A Journey for Food Lovers – Sophie Braimbridge and Jo Glynn
Turning the chicken regularly during roasting keeps the breast meat beautifully moist – the juices run into it instead of draining away into the tin. The regular turning also keeps the bird from flattening on any one side.
Serves 4
2 sprigs of rosemary
3 garlic cloves
1 teaspoon balsamic vinegar
1 x 1.5 kg (3 lb 5 oz) chicken
2 tablespoons extra virgin olive oil
2 tablespoons olive oil
125 ml (1/2 cup) chicken stock
PREHEAT the oven to 200°C (400°F/Gas 6). Put one rosemary sprig , the garlic and balsamic vinegar inside the cavity of the chicken. Add a large pinch of salt and a few grinds of black pepper. Truss the legs together.
RUB the extra virgin olive oil over the chicken skin. Pour the olive oil into a roasting tin and put the chicken in the tin, breast up. Place the second rosemary sprig on top.
TRANSFER TO the oven and roast for 1 hour, turning the chicken and basting with the pan juices every 15 minutes.
PUT the chicken on a warm serving plate and discard the rosemary sprig. Spoon the fat from the roasting tin and place it over high heat on the stovetop. Add the chicken stock and deglaze the pan. Boil until reduced and thickened. Taste for salt and pepper, then pour into a sauceboat to accompany the chicken. Serve with roast rosemary potatoes.
MacGourmet Rating: 5 Stars