This post may contain affiliate links, which won't change your price but will share some commission.
This is the post over at Baking Bites that made me want to send in some treats for Dino's co-workers, since it's been a while. They turned out really tasty! They really do taste like pumpkin pie. I couldn't find the pumpkin spice marshmallows, so I used this Pumpkin Pie Spice recipe, and it worked out great! The major difference is that you don't get the same bright orange color as you would if you used the pre-spiced marshmallows. I suppose if you really wanted it, you could add a bit of food coloring to the marshmallows after they're melted. The only real trouble I had with this recipe is that the crust didn't really stay together too well. I crushed some graham crackers in a bag, and I may not have crushed them finely enough, and asked Dino to measure them out into the bowl for me. So I'm assuming the full amount made it into the bowl...but I didn't get a super thick layer on the bottom of the pan or anything. Either way, they tasted great, and I love this as a variation on standard Rice Krispie treats.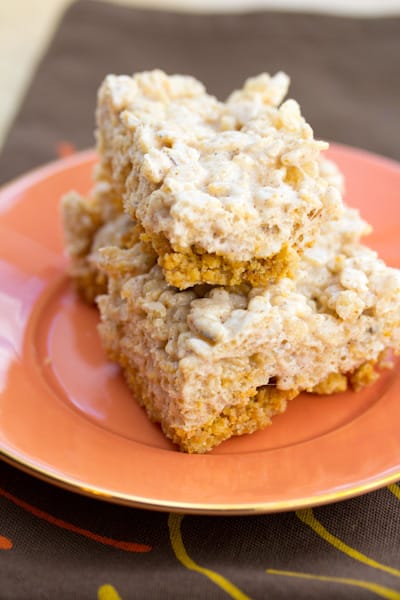 Pumpkin Pie Rice Krispie Treats
Baking Bites
Graham Cracker Crust
1 ½ cups graham cracker crumbs
¼ cup sugar
pinch salt
6 tablespoon butter, melted and cooled
Pumpkin Spice Rice Krispie Layer
4 tablespoon butter, room temperature
10-oz Pumpkin Spice Marshmallows (1 large bag)
or 10-oz plain marshmallows + 2 teaspoon pumpkin pie spice mix
6 cups rice krispies/puffed rice cereal
Preheat oven to 350F.
In a medium bowl, stir together all graham cracker crust ingredients.
Pour into a 9×13-inch pan and press into an even layer.
Bake for 10-12 minutes, until lightly browned. Cool completely before using.
To make the cereal bars, combine butter and marshmallows in a large, microwave-safe bowl. Microwave on high for 60-90 seconds, until marshmallows have melted. Stir the marshmallow mixture (adding spices, if using), then add in the cereal. Stir with a large spatula until everything is evenly combined.
Spoon the cereal mixture evenly over the graham cracker crust. Using a large spatula or lightly greased hands, press down into an even layer. Allow bars to cool to room temperature before slicing.
Makes 24 bars
Big Flavors Rating: 4 Stars