This post may contain affiliate links, which won't change your price but will share some commission.
I wanted to make a Pumpkin Pie Rice Krispie Treat recipe that I saw over at Baking Bites, but I couldn't find the pumpkin spice marshmallows. I wasn't going to buy pumpkin pie spice, so I tried out the recipe that was posted along with the dessert recipe. It really does smell like pumpkin pie! It made a nice amount of spice mix, so I'll definitely have to use it to make some other pumpkin-y goodies soon! It smells heavenly, and I love cardamom, so I definitely left that in this recipe. Yum! There's also an apple pie spice recipe on that page, which I'm sure would be great as well.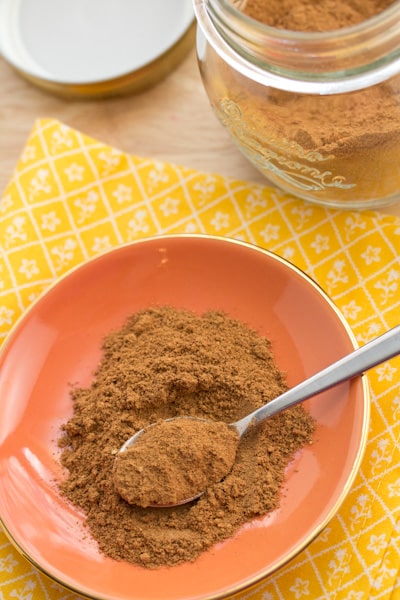 Pumpkin Pie Spice
Baking Bites
¼ cup ground cinnamon
2 tablespoon ground ginger
2 teaspoon ground cloves
1 teaspoon ground nutmeg*
½ teaspoon ground cardamom (optional)
Combine all ingredients for desired mix and blend well. Store in a small, airtight container. Feel free to experiment with amounts to get a blend that works for you.
*If using freshy ground nutmeg, you might want to cut back a little bit because the flavor can be quite strong. Since you're going to be storing the mix anyway, it is not crucial to use freshly ground here. I personally find it to be a bit overwhelming if there is a ton of nutmeg in something.