This post may contain affiliate links, which won't change your price but will share some commission.
I have a confession to make: I got a pressure cooker in 2009. That year, I only used it 5 times. I didn't use it again until about a month ago, when I made this tasty Lamb Rogan Josh.
That means it sat in the cabinet for just over 4 years before it saw the light of day again. Not exactly what I had in mind when I added it to my kitchen arsenal. Hats off to my husband for pestering me about this neglected item that was taking up precious cabinet space reminding me that this awesome tool was sitting in the cabinet, just begging to be used more often.
After using it again last month, I remembered how easy it was to make comfort food dishes - ones that usually take hours and hours of simmering time - in way less time. Determined to use my pressure cooker more often, I decided to delve into the fragrant and exotic flavors of Morocco.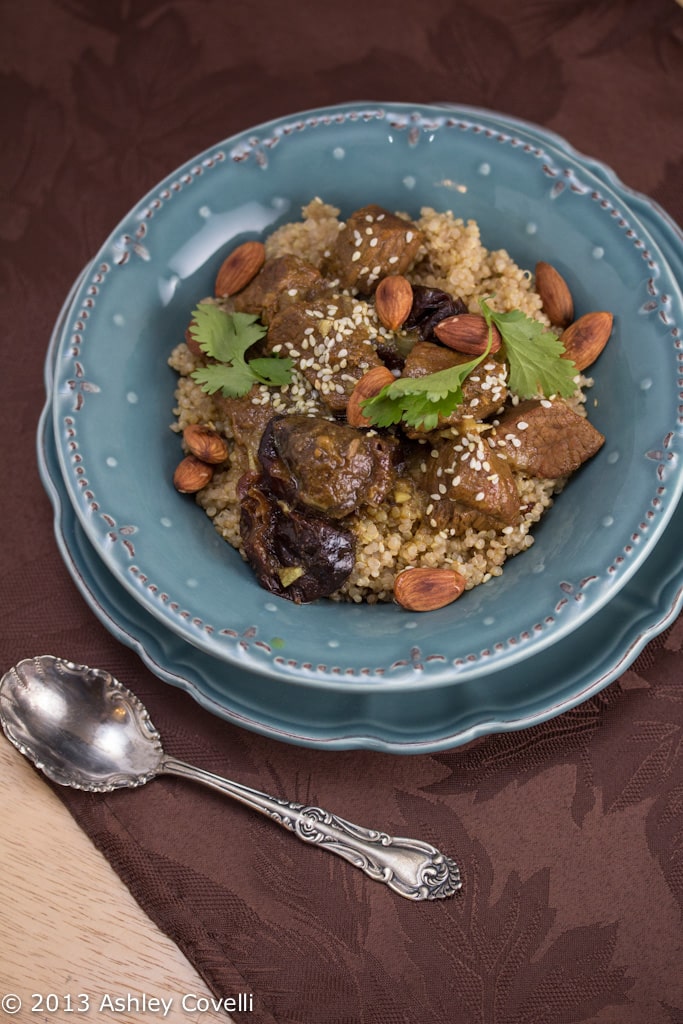 I love the idea of making a tajine in the pressure cooker. The lamb gets slathered with a wonderful spice paste that consists of cinnamon, turmeric, ginger and garlic.
That's right - this dish smells great before it even hits the heat.
While it steams away in the pressure cooker, dried plums (the word "prunes" just doesn't sound as appetizing) reconstitute in boiling water, and are added to the stew at the very end for plump bits of sweetness.
I served this on top of some couscous cooked in vegetable stock. The toasted almonds on top added a lovely amount of crunch to this otherwise melt-in-your-mouth dish. I wasn't able to find already peeled almonds, so I just toasted them with the skins on. You know, because peeling almonds sounds like a form of Medieval kitchen torture to me.
And it was great! A nice, piping hot bowl of comfort food made on a weeknight.
Sorry, pressure cooker. Sorry I left you alone for so long. Let's make up for lost time now, k?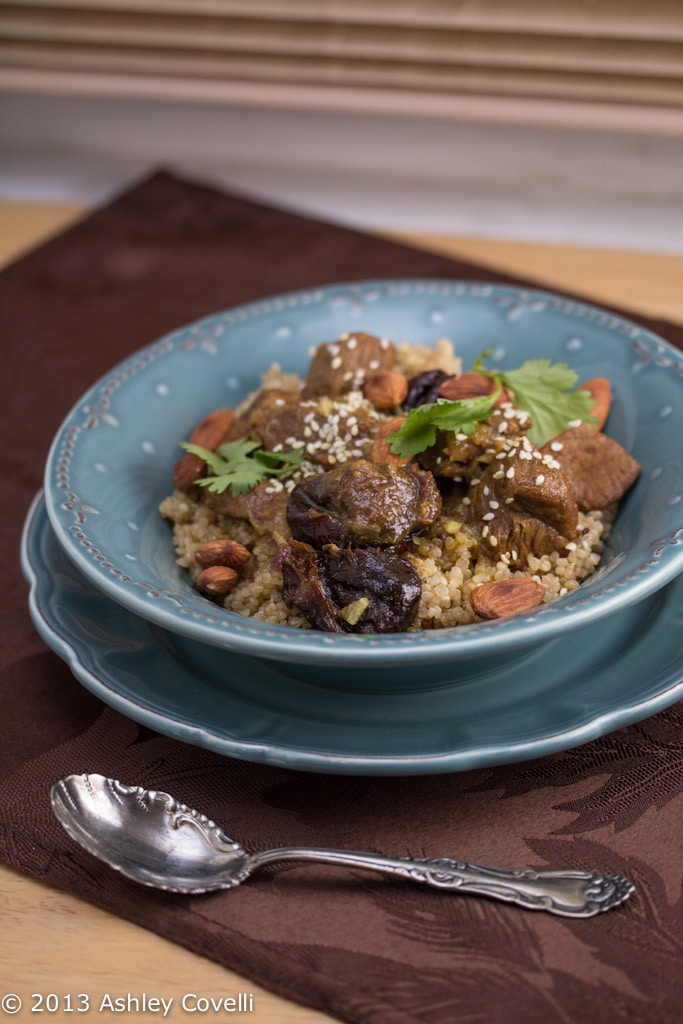 Pressure Cooker Moroccan Lamb Tajine
Hip Pressure Cooking
Prep time: 10 mins
Cook time: 25 mins
Total time: 35 mins
Serves 4-6
about 2.5 lbs or 1.2 kg lamb shoulder, cut into pieces
1 teaspoon Cinnamon powder
1 Tsp. Ginger powder
1 Tsp. Turmeric powder
1 Tsp. Cumin powder
2 Garlic cloves, crushed
2 Onions, roughly sliced
10 oz or 300g Prunes, soaked (or a mix of Apricots and Dried Raisins)
1 Bay Laurel Leaf
1 cup or 250ml Vegetable Stock
1 Cinnamon stick
3 Tbsp. Honey
1 teaspoon pepper
salt
3.5 oz or 100g Almonds, shelled, peeled and toasted
Sesame Seeds
Olive Oil
Mix the ground cinnamon, turmeric, ginger, garlic with 2 spoons of olive oil to make a paste, cover the meat with this paste and set aside.
Put the dried prunes in a bowl, and cover with boiling water cover and, set aside.
In the preheated pressure cooker, with the lid off on medium heat, add two swirls of olive oil and onions and let them cook until softened (about 3 minutes). Pour out the onions, and set aside. Add the meat, and brown on all sides (about 10 minutes). Then, de-glaze the pressure cooker with the vegetable stock, ensuring to scrape the bottom well and incorporating any brown bits into the rest of the sauce. Then, add the onions, bay leaf and cinnamon stick
Close and lock the lid and pressure cook for 25 minutes at high pressure. When time is up, open the pressure cooker with the natural release method - move the pressure cooker to a cool burner and wait for the pressure to come down on it's own (about 10 minutes)
Add to the pressure cooker, with the lid off on medium heat, salt, rinsed and drained prunes, honey and reduce the liquid (about 5 minutes). Fish out the bay leaf and cinnamon stick.
Sprinkle with toasted almonds and sesame seeds and serve.
Big Flavors Rating: 4 Stars