This post may contain affiliate links, which won't change your price but will share some commission.
This curry was exactly the excuse I needed to break out the pressure cooker again. It's been quite some time, and I think I forgot how easy it is to use! You can make curries and stews and things like this awesome lamb shank recipe that usually take hours to make in only a fraction of the time. It needs to marinate overnight, but I kind of liked having that part ready to go the next day when I went to cook it. I wasn't able to find lamb shoulder, so I substituted boneless leg meat and it worked out perfectly. It had a lot of flavor, and a nice, mild spice. All it needed was some salt at the end. I served this with Garlic Naan, which was the perfect thing to dip in the sauce, steamed basmati rice and some yogurt that I stirred chopped cucumber, dried mint and salt into. It was a nice, warm, comforting meal for a cool autumn evening.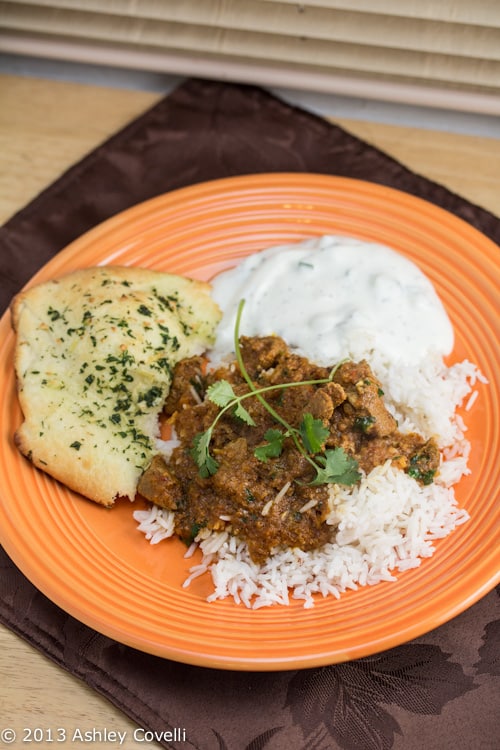 Lamb Rogan Josh
CD Kitchen
2 pounds lean lamb shoulder, trimmed and cut into chunks
½ cup plain yogurt
4 green cardamom pods
1 small cinnamon stick OR ½ teaspoon ground cinnamon
2 teaspoons paprika
1 teaspoon turmeric
1 teaspoon ground coriander
1 teaspoon cumin
½ teaspoon cayenne pepper
2 teaspoons garam masala
2 cups canned tomatoes
2 cloves garlic, peeled
1 large onion, chopped
1 piece (2-inch size) ginger root
3 tablespoons vegetable oil
1 cup water
2 tablespoons chopped cilantro
cilantro sprigs for garnish
In a bowl or zippered plastic bag, toss lamb with yogurt. In a blender or spice grinder, pulverize whole cardamom and cinnamon. Add to lamb mixture with paprika, turmeric, coriander, cumin and cayenne. Cover and refrigerate overnight.
In a food processor, combine garam masala, tomatoes, garlic, onions and ginger; puree until smooth.
In a pressure cooker, heat oil over medium heat. Add tomato mixture and cook for 5 minutes. Stir in lamb and marinade. Stir in water.
Lock the lid in place and bring cooker up to full pressure over medium-high heat. Reduce heat to medium-low, just to maintain even pressure, and cook for 20 minutes. Remove from heat and release pressure quickly. The lamb should be fork tender. If not, return to full pressure and cook for another 5 minutes. Release pressure quickly.
Remove lid and bring to boil. Reduce heat and simmer curry until nicely thickened. Stir in cilantro just before serving. Garnish with cilantro sprigs.
Big Flavors Rating: 4 Stars