This post may contain affiliate links, which won't change your price but will share some commission.
My husband's family is from Calabria, Italy. His dad is an amazing cook, so I don't often make Italian food at home, since he makes it for us often, and I don't want to make sub-par versions of their favorites.
I make exceptions when it comes to recipes from people like Lidia Bastianich or Rosetta Costantino, because they know what they're doing, and their recipes are wonderful!
I've been trying to cook out of the stash of cookbooks that I own more frequently, so I dug out My Calabria. I found a vegetarian meatball recipe that I wanted to make, and figured it would be great over pasta with tomato sauce.
I was glad to find this recipe that was quick and easy to make. I used canned San Marzano tomatoes and a chile de arbol, and it turned out beautifully. My husband LOVED it!
His only note was that it was a little sweet. He said that when he makes sauce, he adds a bay leaf in with the garlic at the beginning, which he said tames the sweetness of the tomatoes. Next time! This is a great recipe, and I'll definitely make it again.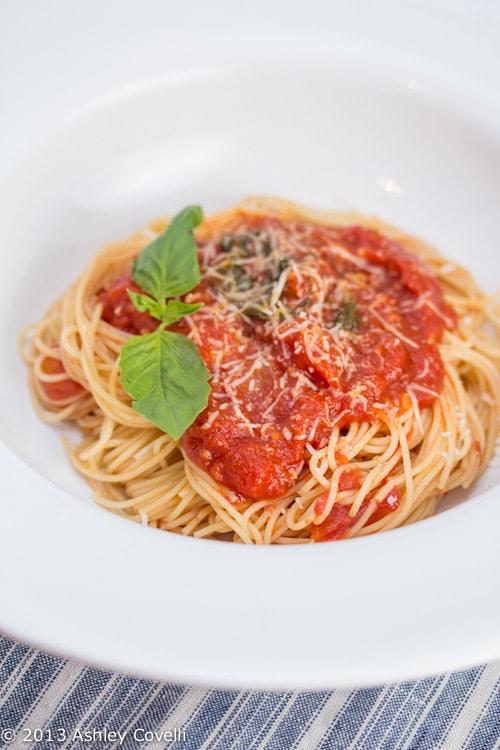 Sugo di Pomodoro (Quick Tomato Sauce)
My Calabria - Rosetta Costantino
3 ½ pounds (1 ½ kilograms) fresh tomatoes, peeled, seeded, and diced, or 1 quart (1 liter) Home-Canned Peeled Tomatoes (page 296) or one 28-ounce can Italian San Marzano tomatoes, with juice
3 tablespoons (45 milliliters) extra virgin olive oil
2 large garlic cloves, halved
5 fresh basil leaves
2 teaspoons kosher salt
1 small fresh or dried hot red pepper, halved, optional
If you are using Home-Canned Tomatoes or store-bought canned tomatoes, pour them into a bowl and break them up by hand, discarding any hard cores or bits of skin. I don't want a perfectly smooth sauce, so I don't process the tomatoes further. If you prefer a smooth sauce, pass the tomatoes (fresh or canned) through a food mill fitted with the medium disk, or puree them in a food processor or blender.
Heat the olive oil in a skillet over moderately high heat, add the garlic, and sauté until golden, about one minute. Add the tomatoes and their juices carefully. (They will splatter.) Tear the basil in half and add along with the salt. Add the hot pepper, if using. Simmer briskly, stirring occasionally, until you have a thick, chunky sauce. Fresh tomatoes and Homemade Canned Tomatoes will take 10 to 15 minutes. Store-bought canned tomatoes will cook down more quickly, as they often contain tomato puree. Remove the garlic cloves before serving.
Makes about 2 ½ cups
Big Flavors Rating: 5 Stars