This post may contain affiliate links, which won't change your price but will share some commission.
I'll get right to it - this pasta dish rocks! It's simple and delicious, and a nice change of pace from the standard quick pasta dishes that I've had in the past.
Gather your ingredients and cook 'em all at once in this simple Mediterranean inspired pasta dish. The water that cooks the pasta and it all gets infused with wonderful aromatics that reduce to a beautiful sauce.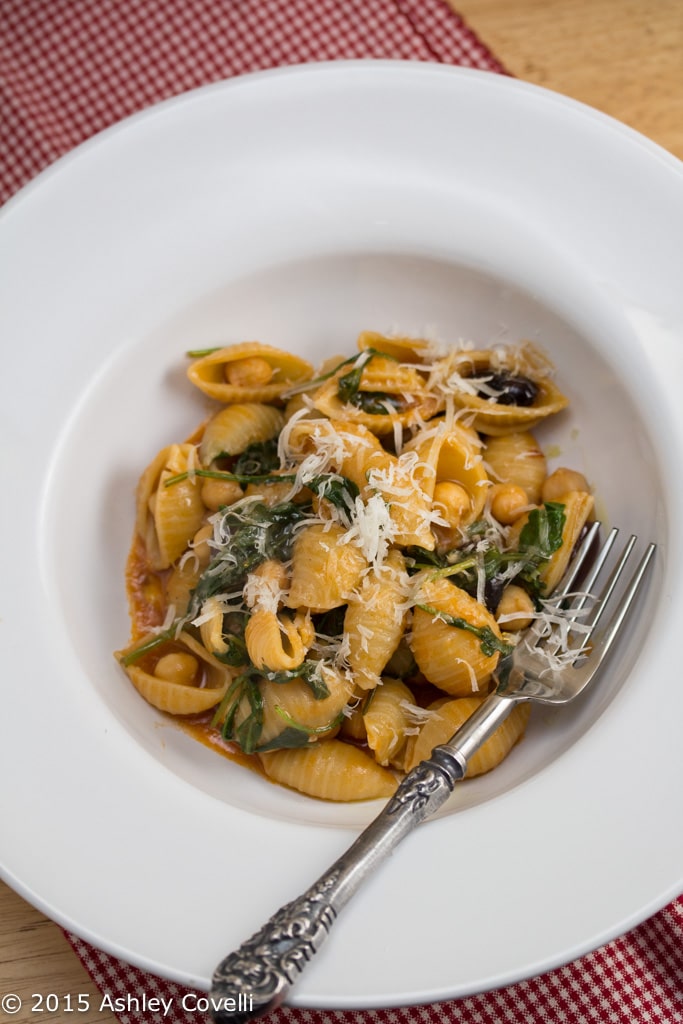 I wasn't able to get orecchiette, so I ended up using large shells and it worked out beautifully.
I was majorly impressed with this dish. I kept going back for more. My husband isn't usually a big fan of olives, but they really helped balance the flavors in this dish, which he enjoyed.
The chickpeas make it nice and substantial, and the fragrant rosemary and spicy pepper flakes tied it all together. And wilting the greens down into the pasta means that salad is included in the bowl. Winning!
12 ounces orecchiette
1 can (15.5 ounces) chickpeas, drained and rinsed
½ cup Kalamata olives, pitted
2 tablespoons tomato paste
3 cloves garlic, thinly sliced
1 6-inch sprig rosemary
3 tablespoons extra-virgin olive oil, plus more for serving
¼ teaspoon red-pepper flakes, plus more for serving
Coarse salt and freshly ground pepper
½ cup grated Parmigiano-Reggiano (about 1 ½ ounces), plus more for serving
2 cups baby arugula (about 2 ounces)
See Martha Stewart Living for the full recipe.