This post may contain affiliate links, which won't change your price but will share some commission.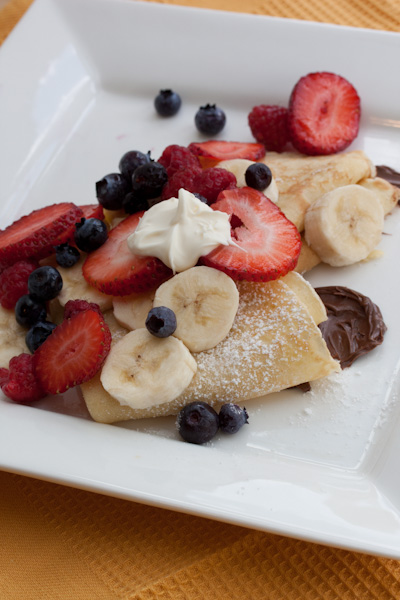 I suggested doing brunch at our house this year for Mother's Day, so Dino and his dad made a big batch of crepes. They were phenomenal! They dusted them with powdered sugar and served them with sliced bananas, strawberries, raspberries, blueberries, Nutella and crème fraiche. WOW. These are definitely going to be requested more often! Dino made this recipe once before, but this time around, he read through some of the comments on the recipe and adapted it a bit based on them.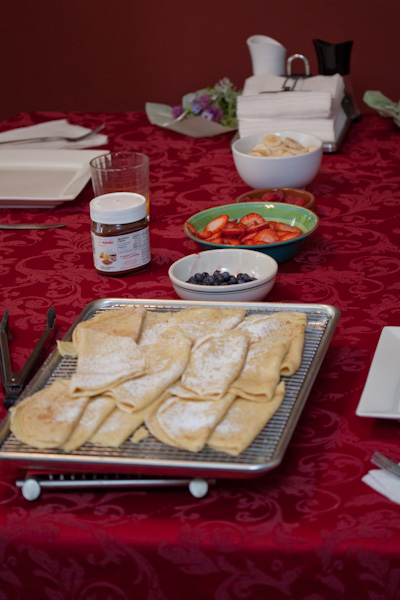 Basic Crepes
Adapted from Allrecipes - JENNYC819
Yield 8 crepes
1 cup all-purpose flour
2 eggs
½ cup milk
½ cup water
¼ teaspoon salt
2 tablespoons butter, melted
Mix dry ingredients in one bowl and wet ingredients in another. Pour wet ingredients into dry and beat until smooth. Cover bowl and refrigerate for at least an hour.
Heat a lightly oiled griddle or frying pan over medium high heat. Pour or scoop the batter onto the griddle, using approximately ¼ cup for each crepe. Tilt the pan with a circular motion so that the batter coats the surface evenly.
Cook the crepe for about 2 minutes, until the bottom is light brown. Loosen with a spatula, turn and cook the other side. Serve hot.
Nutritional Information
Amount Per Serving
Calories: 216 | Total Fat: 9.2g | Cholesterol: 123mg
Big Flavors Rating: 5 Stars