This post may contain affiliate links, which won't change your price but will share some commission.
To use some of the beautiful Fresh Blueberry Vinaigrette that I made, I put together a salad for myself for dinner. My (lactose intolerant) husband had to run out to band practice, so I figured I'd celebrate by frying up some goat cheese and drinking wine. It had been a while since I had a massaged kale salad, so I decided to use that as a base. Not that I'm above just consuming fried cheese and wine for dinner, by any means ;).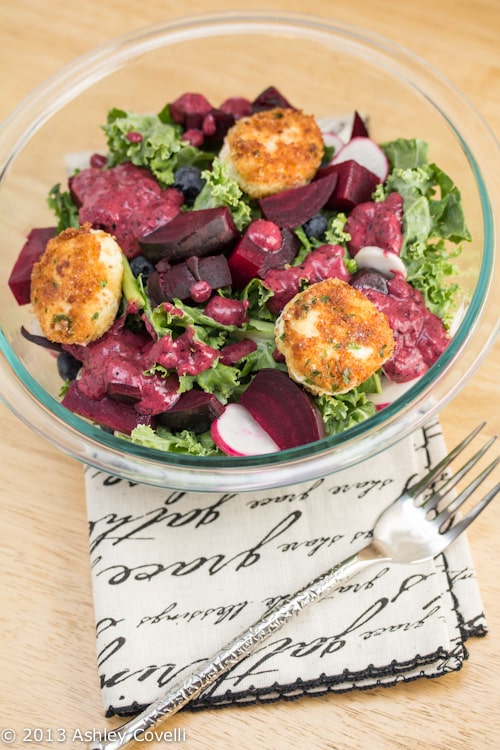 Anyway, to make the massaged kale salad, I sliced some kale leaves, sprinkled on a pinch of sea salt, and squeezed a little lemon juice over the top. Then I just got in there and squeezed and massaged it around for a minute or two. I sprinkled some blueberries and sliced radishes on top, chopped some of the Slow Cooker "Roasted" Beets and tossed those in, and drizzled on some of the blueberry vinaigrette on top. And then, I topped it with some crispy, creamy goat cheese croquettes. Making them is pretty simple:
I took a log of goat cheese and sliced it into pieces that were about a half ounce each. I held each piece in my hand and pressed them into flattened discs - applying enough pressure to kind of smoosh it together so it's not so crumbly. I set all of the discs on a plate and placed it in the fridge to chill.
I poured about an inch of peanut oil into a small frying pan and let it get nice and hot. Then, I set up 3 dishes on the counter - one with flour that I seasoned with salt and pepper, one with a beaten egg, and one with panko breadcrumbs that I mixed with some finely chopped parsley from the garden.
I took the goat cheese rounds out of the fridge and coated each in flour, then egg, then herbed panko, tapping off the excess after each of the "stations". I carefully placed them in the hot peanut oil and fried until golden brown on both sides, flipping halfway. I removed them to a paper towel lined plate and sprinkled some sea salt over the top, while they were still hot. I placed them on top of my salad and enjoyed the warm, crispy, creamy delicious additions to my salad. Yum!
Big Flavors Rating: 4 Stars