When I first moved to New York (almost 10 years ago now!), I got hooked on diner food. Especially during the wee hours of the morning after a long night of bar-hopping, concert going, and all of the other fun things that recent college grads do.
Occasionally, Dino (a native New Yorker) would order something that would catch me completely off guard - something that sounded so weird that I would just stare at him, not sure if I heard him right. Half of the time, I figured he was ordering things just to get a reaction out of me. Like the time he ordered a Happy Waitress (from our not-so-happy waitress!), which I didn't realize was just an open-faced grilled cheese sandwich with tomato and bacon with a side of fries.
Another one of the new-to-me items was an egg cream. I had no idea he was talking about a beverage when he ordered it. Chocolate and vanilla carbonated beverages didn't sound good to me at all! This was back before I kicked my Pepsi addiction so I just couldn't fathom the idea of drinking seltzer that wasn't loaded with high fructose corn syrup and caramel coloring.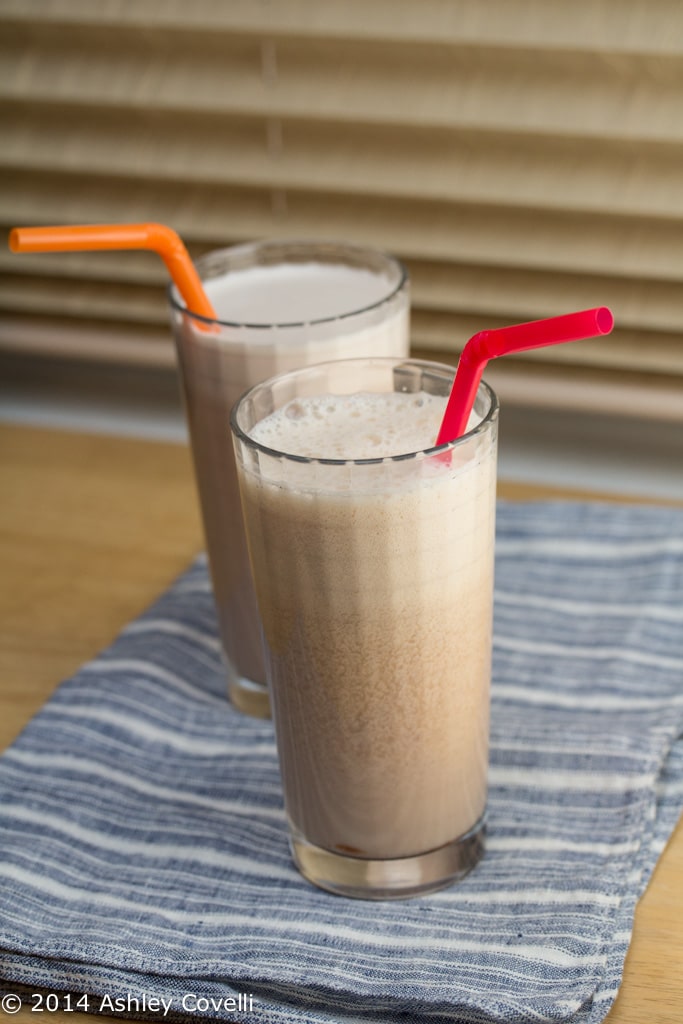 My, how the times have changed. We have since slowed down immensely on our diner outings, and when we do go, it's usually at a time that resembles a "normal" meal time. We also make some of the things that we used to like ordering from diners at home now.
Like this malted egg cream. I like it as a nice, light way to end a meal. It has the richness of a malt without all the heaviness of a full glass of milk. Dino makes mine with regular milk and his with soy milk - the soy milk does tend to separate a bit from the carbonation, but it still tastes good.
I'm a total convert now, and I like having my own soda jerk at home. Ha!
To make a standard egg cream you would normally fill the glass half-way with seltzer, add some flavored syrup, then add the milk while stirring like a mad scientist. This order of things minimizes overflow. But since we're adding a malt powder to this version of the drink, we need to make sure the powder gets an opportunity to fully dissolve. To do that we must reverse the order. There's a good chance you'll make a mess, but if you love egg creams it should be worth it.
Print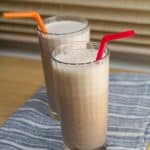 Malted Egg Cream
Author:

Prep Time:

5 minutes

Cook Time:

0 minutes

Total Time:

5 minutes

Yield:

1

serving

1

x

Category:

Drink

Method:

No Cook

Cuisine:

American
---
Description
Trust me,  you'll love this diner staple! I'd never heard of it either, but now I'm a convert.
---
2 tablespoons Ovaltine (or your favorite sweetened malted milk powder)

4 ounces milk

4 ounces seltzer*
---
Instructions
Pour the milk into a tall glass.
Add the Ovaltine and stir until completely blended.
Gently and slowly pour in the seltzer while stirring vigorously- bringing the foam up to the top of the glass.
Pop in a straw and enjoy!
---
Notes
*Freshly made seltzer works best, or a freshly opened bottle will do- the more carbonation, the better.
Nutrition
Serving Size:
Calories:

81

Sugar:

12.9 g

Sodium:

118.2 mg

Fat:

0.1 g

Saturated Fat:

0.1 g

Carbohydrates:

15.9 g

Fiber:

0 g

Protein:

4.1 g

Cholesterol:

2.5 mg
Keywords: egg cream, malted milk, ovaltine, seltzer, diner food
Recipe Card powered by