This post may contain affiliate links, which won't change your price but will share some commission.
This chicken recipe was different from most that I've tried before. It was a little messy at the end, but it was easy to put together. The cayenne gives it a little bit of a kick which goes well with the sweetness of the honey. Another bonus is that this recipe calls for ingredients that I almost always have on hand. I served it with some canned collard greens.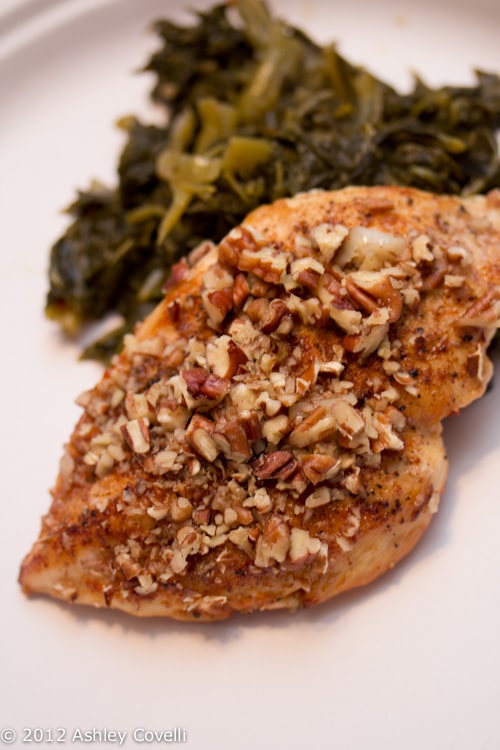 Honey-Pecan Chicken Breasts
Allrecipes - Penny Davis
"We love to entertain, writes Penny Davis from Newman Lake, Washington. This is one of my favorite 'special' recipes to welcome dinner guests. The nuts add an elegant touch, and it fills the house with a great aroma."
Prep Time: 10 Min
Cook Time: 15 Min
Ready In: 25 Min
Servings: 2
2 (6 ounce) skinless, boneless chicken breast halves
¼ teaspoon salt
⅛ teaspoon pepper
⅛ teaspoon cayenne pepper
1 tablespoon butter
¼ teaspoon minced garlic
3 tablespoons honey
2 tablespoons finely chopped pecans
Flatten chicken to ½-in. thickness. Sprinkle with salt, pepper and cayenne. In a large nonstick skillet, brown chicken in butter; add garlic. Reduce heat to medium; cover and cook for 3-4 minutes on each side or until juices run clear. Drizzle honey over chicken; sprinkle with pecans. Cover and cook for 2-3 minutes or until heated through.
Nutritional Analysis: 1 serving equals 382 calories, 15 g fat (5 g saturated fat), 109 mg cholesterol, 436 mg sodium, 27 g carbohydrate, 1 g fiber, 35 g protein. Diabetic Exchanges: 3 lean meat, 2 starch, 1 fat.
Big Flavors Rating: 4 Stars