This post may contain affiliate links, which won't change your price but will share some commission.
I wanted to make some festive cookies for a potluck this week, and when I saw these over on Cookie Madness, I  just knew I had to try them out.
I haven't made our favorite Snickerdoodle recipe in quite some time, and the idea of twisting them up with ginger cookies just sounded fabulous. And it was!!
The two types of dough together worked out so well. I love the depth of flavor that molasses adds to  cookies. Especially the dough. Not that I ate it raw or anything...
These are fun to make - I used a small cookie scoop to get equal amounts of each dough, and rolled them together in my hands. It worked out great, and I was rewarded with a big batch of soft, chewy and absolutely delicious cookies. These will definitely be making a repeat appearance in my kitchen!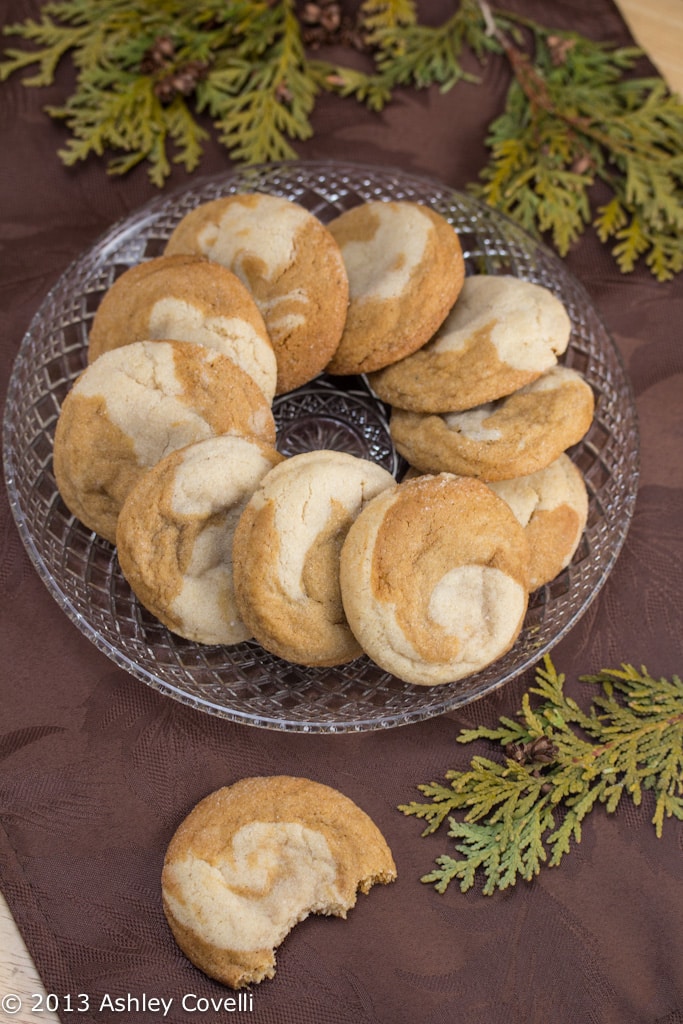 Gingerdoodles
Cookie Madness (Adapted from Land O'Lakes)
A cross between a Snickerdoodle and a ginger cookie.
Prep time: 10 mins
Cook time: 8 mins
Total time: 18 mins
Serves: 48
Ingredients
1 ½ cups granulated sugar
1 cup Land O Lakes® Butter, softened
2 Land O Lakes® Eggs
1 teaspoon vanilla
2 ¾ cups (13.4 oz) all-purpose flour
2 teaspoons cream of tartar
1 ½ teaspoons ground cinnamon
1 teaspoon baking soda
¼ teaspoon salt (or 1 teaspoon if using unsalted butter)
Ginger Dough
3 tablespoons mild molasses
¼ cup all-purpose flour
½ teaspoon ground ginger
½ teaspoon ground cloves
For Rolling: ⅓ cup sugar
1. Heat oven to 400°F. Line baking sheets with parchment paper; set aside.
2. Beat the butter and sugar with an electric mixer until creamy. Add the eggs and vanilla and beat just until incorporated.
3. In a separate bowl, stir together the flour, cream of tartar, cinnamon, baking soda and salt. Add the flour mixture to the butter mixture and stir until blended. Divide dough in half; place in separate bowls.
4. Add molasses to one bowl of dough and stir until it's mixed in. Combine ¼ cup flour, ginger and cloves and add to the molasses dough, stirring until well mixed
5. Twist ¾-inch pieces of each dough together; roll into about 1 ¼-inch balls, creating a marbled effect. Roll balls in sugar.
6. Place, 2 inches apart, onto prepared baking sheets. Bake 8-10 minutes or until edges are light golden brown. Cool 2 minutes on baking sheet; transfer to cooling rack.
Big Flavors Rating: 5 Stars