This post may contain affiliate links, which won't change your price but will share some commission.
Crème Fraîche adds a bit of richness to the veggies in this succulent seafood meal.
I tend to forget how much I enjoy celeriac. It's a delicious, earthy addition to the vegetable mix in this Blue Apron recipe.
The salmon was nice and tender, and the seasoning blend on top had lots of flavor. The lemon juice really brightened up the dish, and we really enjoyed the mix of fresh herbs on top.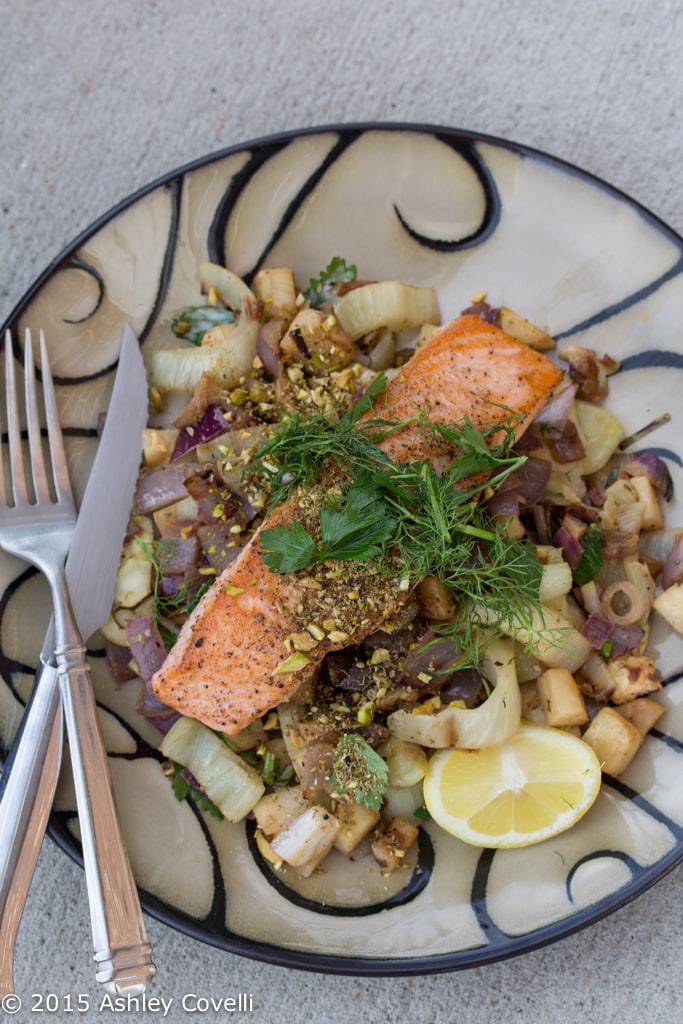 This was a really tasty meal. It did make a TON of veggies, so we had some of those leftover, which was nice for lunch the next day.
2 Skinless Salmon Fillets
1 Fennel Bulb With Fronds
1 Stem Green Garlic
1 Lemon
½ Pound Celeriac
1 Tablespoon Pistachios
2 Tablespoons Crème Fraîche
1 Bunch Parsley*
5 Ounces Mixed Oyster Mushrooms
1 Red Onion
1 Teaspoon Dukkah Salmon Spice Blend (Za'atar, Coarsely Ground Coriander Seeds, Coarsely Ground Fennel Seeds, Coarsely Ground Cumin Seeds, Coarsely Ground Black Sesame Seeds & Fennel Pollen)
See Blue Apron for the full recipe.