This post may contain affiliate links, which won't change your price but will share some commission.
This recipe sounded really interesting to me, so I decided that if my grocery store had enough bunches of parsley, it was a sign that I should try it out. I'm glad I did! It's different than creamed spinach, and the garlic, ginger, shallot and orange zest really add a nice subtle flavor to the background of this dish. Me, Dino and his dad all really liked it, but his mom wasn't crazy about it. She thought it was a little too "grassy". I think you have to really like the flavor of fresh parsley to appreciate this one. The only change I made was to add a few more spoons of crème fraîche and some more cream at the end, because it wasn't really coating it well enough. This is a really interesting meal accompaniment!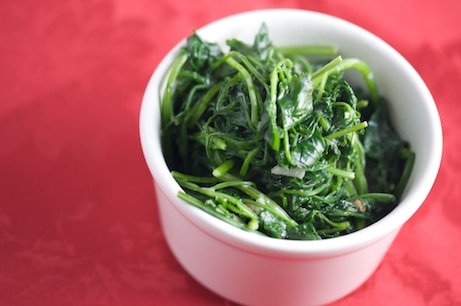 Creamed Parsley
Gourmet September 2008
yield: Makes 4 servings
active time: 40 min
total time: 45 min
In this unusual side dish from Spring restaurant, often under appreciated parsley gets the creamed-spinach treatment—and a little help from aromatic orange zest, mint, and fresh ginger.
12 cups packed flat-leaf parsley sprigs (2- to 3-inch sprigs from about six 2-ounces bunches), tough stems discarded
½ medium shallot, finely chopped
1 tablespoon salted butter
1 unpeeled small garlic clove, lightly smashed
5 thin slices peeled ginger (from a ½-inch-diameter piece)
¼ cup heavy cream
3 tablespoons crème fraîche
2 (3-inch-long) strips of orange zest
1 mint sprig
print a shopping list for this recipe
Preparation
Blanch parsley in a large pot of boiling salted water (2 tablespoons salt for 4 quarts water) 20 seconds. Transfer parsley to an ice bath to stop cooking. Spin dry and blot with paper towels.
Cook shallot in butter with garlic and ginger in a heavy medium skillet over medium heat, stirring occasionally, until softened, 3 to 4 minutes.
Add cream, crème fraîche, and orange zest to skillet and simmer, stirring occasionally, 4 minutes. Add mint and remove from heat. Let stand, uncovered, 2 minutes. Discard garlic, ginger, zest, and mint.
Return sauce to a simmer and add parsley, separating gently with a fork. Season with salt and pepper and simmer, tossing gently, until just heated through, about 2 minutes.
MacGourmet Rating: 4 Stars